Michael Flynn's Legal Saga Isn't Over Yet—Here's What Comes Next as Federal Judge Delays Case, Examines Additional Charges
Eighteen months after pleading guilty for lying about his communication with Russian officials, former national security adviser Michael Flynn is back in the spotlight following bombshell developments in his legal battle.
Last week, the Justice Department abruptly moved to drop the charges against Flynn based on a review of the case tasked by Attorney General William Barr. The internal review found that Flynn's false statements weren't "material" to the Russia probe and therefore weren't a crime.
The move immediately launched a contentious debate in the intelligence community. Former federal prosecutors slammed the decision, arguing it was inappropriate for Barr to step into the case. President Donald Trump and his allies, however, saw it as a fix to an improper prosecution of the former national security adviser.
But the saga isn't over just yet. The case is now in the hands of U.S. District Judge Emmet Sullivan, who signaled that he won't be letting the issue go so quickly.
"This hearing that Judge Sulivan will eventually hold is a very big deal," said former federal prosecutor Gene Rossi. "And I will predict this: The hearing will get very ugly."
Here's everything you need to know about what will happen next.
Outside Perspective
As he weighs whether to agree to the Justice Department's request to exonerate Flynn, Sullivan will allow third parties to comment on the Trump administration's effort to dismiss the case. That means that people outside the Justice Department and Flynn's legal team can give input on what they think Sullivan should do.
It's not clear what the timeline is for the additional briefs to be filed. Sullivan said earlier this week that he will give more guidance on how third parties can submit their arguments to the court about the case "at the appropriate time."
Flynn's attorneys immediately pushed back against allowing outside briefs, stating that "no further delay should be tolerated" in the case.
"There are countless people, including former prosecutors on both sides of the parties, who would like to express their views," Flynn's lawyers wrote to the judge. "But there are many reasons there is no provision for outsiders to join a criminal case in this Court."
Sullivan also appointed former federal judge John Gleeson to present arguments opposing the Justice Department's motion to dismiss the case and to advise him on whether Flynn should be held in contempt of court for perjury.
Additional Charges
"The $64,000 question at this point is what will Judge Gleeson do," said national security law specialist Bradley Moss, "and how much will his arguments and explanations result in Judge Sullivan contemplating imposing criminal penalties upon General Flynn."
Sullivan has requested that Gleeson advise him on whether in trying to rescind his guilty plea about lying the former national security adviser might have committed perjury.
But swapping one charge out with another would set a bad precedent, according to constitutional scholar and criminal defense attorney Jonathan Turley. That would mean that any time a defendant seeks to withdraw a plea they would face a judicially mandated perjury charge.
"Such an unsustainable decision would quickly careen out of control," Turley said, adding that "if Sullivan is truly serious about substituting a criminal charge of his own, the case would in my opinion quickly crash on the rocks of reality."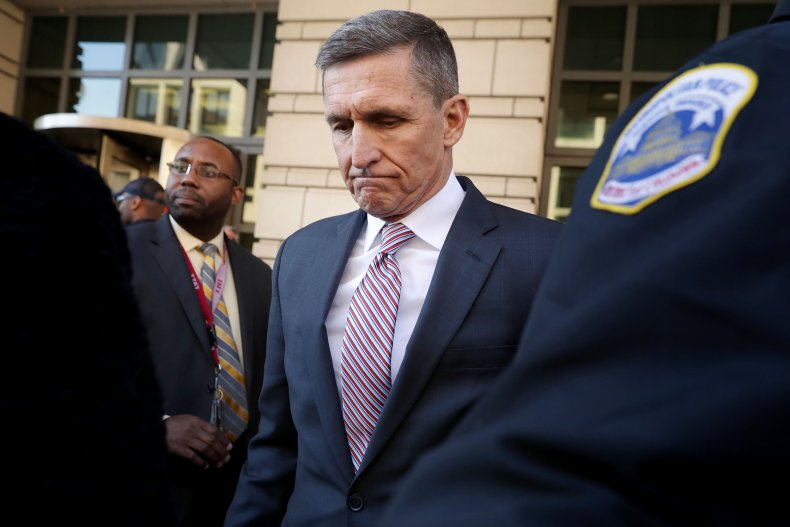 While Sullivan can weigh the matter and delay Flynn's years-long case even longer, legal experts said he doesn't have much leeway to ignore the Justice Department's request for dismissal of the false statements case. And even if he does, the agency could appeal his decision and it's likely he'd be overruled.
But what he can do is dismiss the charges without prejudice, which would mean that future administrations could revisit the charges against Flynn.
"If he does it without prejudice, that means the government can refile the charges if there is a new regime in the Justice Department. If he dismisses with prejudice then Michael Flynn is a free man on those charges," Rossi explained.
There's Still Room for a Presidential Pardon
"For the life of me, I do not know why the president did not simply pardon Michael Flynn," Rossi said, adding that Trump could "get rid of all this circus, all this drama" by doing so.
President Trump has railed against the prosecution of Flynn and has long said he'd consider pardoning him. During an event at the White House on Wednesday night, Trump claimed that the FBI "tormented him" and "destroyed him" during their investigation.
"It looks to me like Michael Flynn would be exonerated based on everything I see," Trump told reporters Thursday. "I'm not the judge, but I have a different type of power. But I don't know that anybody would have to use that power. I think he's exonerated."