Ex-CIA Chief Michael Hayden: Yes, We Spy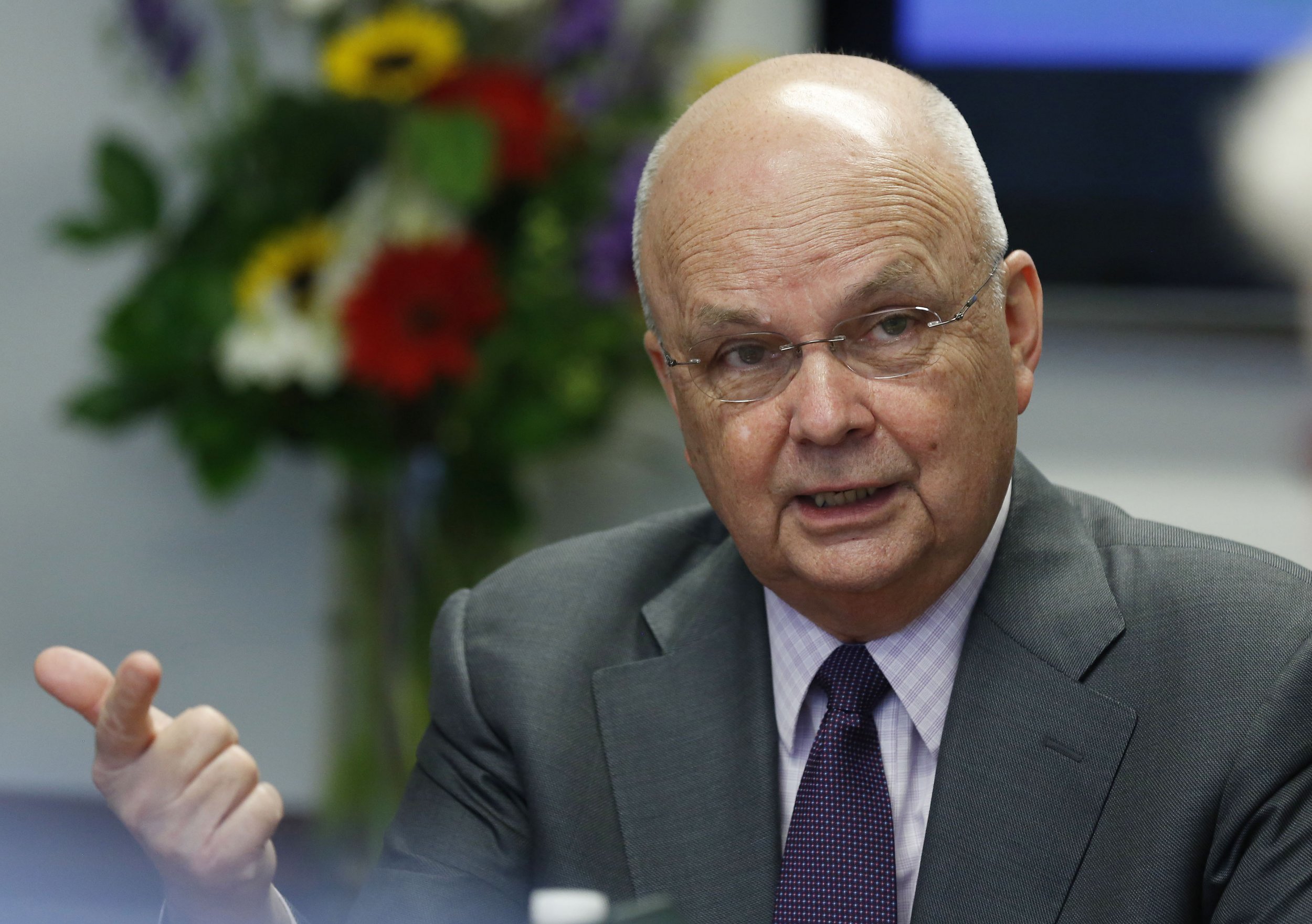 Former CIA chief Michael Hayden drew laughs from a banquet room full of former intelligence officers Friday when he was asked about an assertion by the current spy agency's head, John Brennan, that the CIA doesn't "steal secrets."
In a February 24 interview on National Public Radio that drew public ridicule from some former spies, Brennan was asked about hints from President Barack Obama that he'd like to get the CIA back to "its traditional roots—espionage, stealing secrets—reversing this trend we've seen toward a paramilitary force," as NPR interviewer Mary Louise Kelly put it.
"We don't steal secrets," Brennan responded. "We uncover, we discover, we reveal, we obtain, we elicit, we solicit. All of that."
That came as a surprise to former operatives who spent their careers stealing secrets.
"Is he joking?" a former CIA senior manager, John Sipher, complained in an essay on The Cipher Brief, a national security-oriented website. "Let me be clear…what my colleagues and I did in the CIA was espionage—stealing secrets. We didn't 'discover,' we stole."
In reality, CIA operatives—case officers in spy argot—actually get other people—foreigners, for the most part—to steal secrets for them. Or as Sipher put it: "People with access to secrets who were well aware that they were risking their lives, and possibly those of their families, to steal information for the U.S."
Hayden was asked Friday after a luncheon speech whether Brennan was having "a senior moment" when he made his no-spying statement.
The retired Air Force general chuckled and said, "I suspect that John was trying to soften the image of the agency and probably, or maybe, he over-achieved that." His audience, a gathering of about 150 members of the Association of Former Intelligence Officers, a pro-CIA group based in Virginia, laughed loudly.
Hayden, whose memoir, Playing to the Edge: American Intelligence in the Age of Terror, was recently published, said he was often asked about the difference between the CIA and the U.S. State Department, whose diplomats are also tasked with gathering "intelligence" on the countries they are assigned to.
"One of the things that distinguishes the CIA from the State Department," Hayden said, "is that the CIA is both asked to, and authorized to, steal secrets. So if the question is whether the CIA steals secrets, the answer is yes."
Sipher and other former senior operatives have been complaining that a major recent reorganization of the agency by Brennan, a career intelligence analyst, is designed to diminish the traditional primacy of the spying corps. An internal memo Brennan wrote last year describing CIA station chiefs abroad as "ambassadors" provoked widespread grumbling, a former senior CIA official told Newsweek.
Brennan's defenders said his intent in the NPR interview was to emphasize that the CIA didn't carry out operations that broke U.S. laws. "It is absurd to turn a simple statement about complying with U.S. law into a plot to undermine CIA's clandestine operators," CIA spokesman Dean Boyd told NBC News.
"CIA Director Brennan is fully committed to ensuring that CIA's clandestine operators remain the world's preeminent collectors of human intelligence."