What Michael J. Fox Has Said About Life With Parkinson's Disease As Actor Appears in Lil Nas X Video
Michael J. Fox and Lil Nas X may not be a collaboration anyone expected from 2020 but we like it.
The iconic actor has teamed up with the singer for his highly anticipated new video "Holiday" appearing in a commercial teaser for the single.
The promo premiered during the NFL game between the New Orleans Saints and the Tampa Bay Buccaneers Sunday and follows a time-traveling cowboy who becomes Santa Claus.
And who better to recruit for some time traveling cowboy antics than the star of Back to the Future himself?
The clip seems like sort of a mash-up between the 1994 film, The Santa Clause and Back to the Future Part III, which is set in the wild West, in 1885 to be specific.
Lil Nas X, given name Montero Lamar Hill, then appears to travel through time on Santa's sleigh, prompting Fox to say, "Whatever you do Nas, don't go to 2020."
Sharing the clip, the rapper tweeted: "MY FIRST SINGLE IN ALMOST 2 YEARS "HOLIDAY" IS OUT THIS FRIDAY!
Seeing Fox take part in the video has prompted a reaction from Twitter leading to the 59-year-old's name to start trending on the platform.
Fox was diagnosed with Parkinson's disease in 1991 at age of 29. Despite not revealing his condition to the public until 1998, he has since been open about discussing living with Parkison's.
"Optimism is really rooted in gratitude," the Marty McFly star said in an interview with People this month. "Optimism is sustainable when you keep coming back to gratitude, and what follows from that is acceptance. Accepting that this thing has happened, and you accept it for what it is. It doesn't mean that you can't endeavor to change. It doesn't mean you have to accept it as a punishment or a penance, but just put it in its proper place.
"Then see how much the rest of your life you have to thrive in, and then you can move on."
Fox's recent declaration about his health comes as his memoir "No Time Like the Future" is due to hit stands later this month.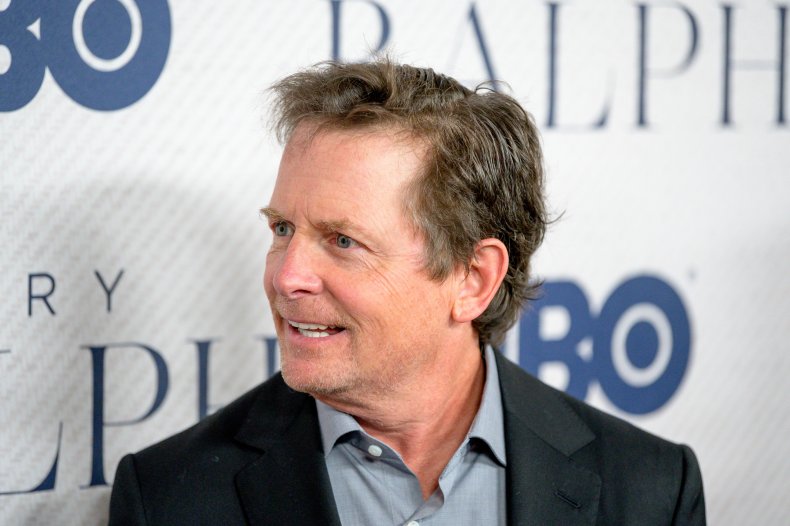 "My life now is quiet, and I'm actually having a really good time," Fox said. "People don't believe me, but I love life. I love being with my family. I love being with Tracy. I love that I don't do a lot of useless stuff that I used to do, because I don't have the energy or the time. I'm grateful that I went through a crucible there in my late 50s. I figured some of this crap out finally, and it didn't haunt me into my 70s and 80s."
Speaking about one of his "darkest times" Fox explained how underwent a risky spinal cord surgery to remove a noncancerous tumor.
"I was heading for paralysis if I didn't get it operated on," he told People.
However, Fox shattered his arm in an accident in his home afterward.
"That was definitely my darkest moment," he said, adding: "I just snapped. I was leaning against the wall in my kitchen, waiting for the ambulance to come, and I felt like, 'This is as low as it gets for me.' It was when I questioned everything. Like, 'I can't put a shiny face on this. There's no bright side to this, no upside. This is just all regret and pain.'"
Fox is married to Tracy Pollan and the couple share four children; son Sam, 31, twins Aquinnah and Schuyler, both 25, and daughter Esmé, 19.
Fox set up a foundation, The Michael J. Fox Foundation, to help advance every promising research path to curing Parkinson's disease.
"Holiday" the new single from Lil Nas X drops this Friday, November 13.
"No Time Like the Future" by Michael J. Fox is released to booksellers on November 17.