Michael Jackson Fans and Nephew Furious Harry Styles Named 'King of Pop'
Harry Styles has inadvertently upset passionate Michael Jackson fans after a magazine referred to him as the "new King of Pop."
Jackson's fans, and even his nephew Taj Jackson, voiced their displeasure at Styles' new apparent title. The October/November issue of Rolling Stone UK magazine features former One Direction singer Styles on the front cover where he is awarded his new royal title.
"Harry Styles: How the new King of Pop set the music world aflame," reads the Rolling Stone front cover. The "Watermelon Sugar" singer stands on the front cover shirtless wearing a white furry coat, and holding a birthday cake with candles lit.
Thousands upon thousands of Jackson fans spoke out on Twitter.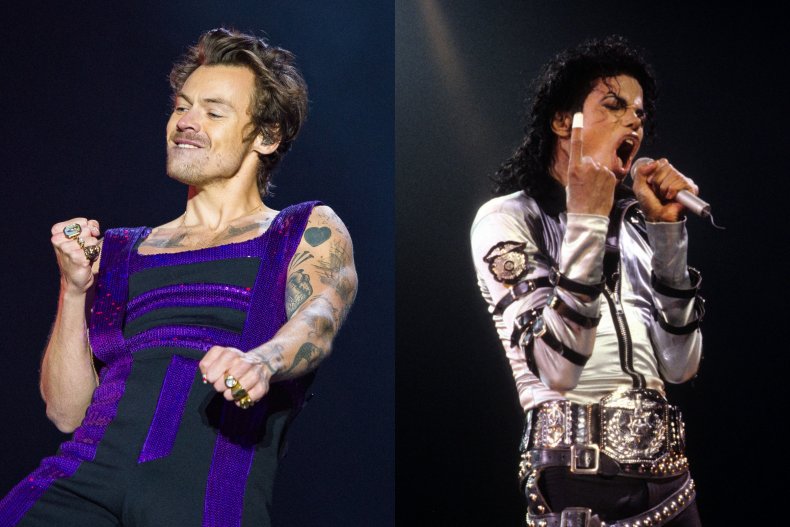 "There is no new King of Pop. You don't own the title @RollingStone, and you didn't earn it, my uncle did," Michael Jackson's nephew Taj wrote on Twitter, retweeting the cover shoot. "Decades of dedication and sacrifice. The title has been retired. No disrespect to @Harry_Styles, he's mega talented. Give him his own unique title."
Community actress Yvette Nicole Brown weighed in to the debate within Taj's comments. "Words can't express how much I love me some @tajjackson3! Let 'em know, friend!" she wrote retweeting MJ's nephew. She also replied to a fan who suggested that the "King of Pop" title isn't retired yet. "The title IS retired. They would never try calling someone else the 'King of Rock & Roll.' Miss me with this mess." Brown wrote, referring to Elvis Presley.
Twitter @iamveronica777 received thousands of plaudits for her take on the situation. "This title belongs to the black man who worked his ass off since the age of 5, who was a veteran by the age of 15, broke racial barriers and revolutionized the music industry. Michael Jackson is THEE King of Pop of EVERY generation," they wrote.
Many commenters raised the issue of race and suggested industry insiders were trying to replace a Black man with a white man.
"A WHITE MAN? THE KING OF POP? they love disrespecting black artists that had to work a million times harder for their achievements," wrote @ultralovedeluxe.
"They would never do this to Elvis and crown someone the new King of Rock & Roll, especially a black artist. But they do it to Michael Jackson all of the time with mediocre white artist, while pulling s*** like calling him 'the self-proclaimed King of Pop,'" @AmalieB94 wrote.
Ohio-based journalist Alexis Oatman asked "Did Rolling Stone really call Harry Styles the 'new' King of Pop?" and used a short Jimmy Neutron meme to express her fury. Sports broadcaster Chris Williamson retweeted the Rolling Stone cover and wrote: "I don't see Michael Jackson here so why is new King of Pop mentioned here?
"A prerequisite to even coming close to being coined the 'new king of pop' is being black. cuz the current king of pop is black, meaning that's who you're 'competing' with. if you don't have to shatter racial boundaries, you cannot compete," wrote hip hop artist Chika.
Writer Tenille Clarke commented on how despite being dead for years, Jackson is still inciting such passion from his fans and debate online: "Now THAT is a legacy." Clarke also pointed out that Rolling Stone also called Justin Timberlake the "new King of Pop" on a cover story back in 2003.
Rapper Chuck Inglish admitted that while he's a Styles fan, it was an "aggressive as hell move" to name him the "King of Pop." "Dont do that.. Yall gon set my dog up for failure," he said.
Journalist Marc Griffin called the new title for Styles "extremely telling" and "equally embarrassing."
Newsweek has reached out to Styles' representatives for further comment.
While Jackson's legacy was celebrated by some, others raised the issue of the multiple child sexual abuse accusations made against him, though he was never found guilty in a court of law. More details of alleged abuse committed by Jackson were highlighted after his death in the 2019 HBO documentary Leaving Neverland. Jackson, who died in 2009, has always denied the allegations.
Responding to Taj Jackson's tweet defending his uncle, @jezuzroze openly asked "So nobody has seen Leaving Neverland?" Actress Yvette Nicole Brown replied, "Lies of Neverland, you mean," adding the hashtags "KickRocks" and "MJInnocent."