Why Didn't Michael Jackson Go to Jail? Everything You Need to Know About His Trial Ahead of 'Leaving Neverland'
Michael Jackson has long been accused of sexual assault against young boys, even years after his death. The King of Pop died a decade ago, in 2009, and allegations against him are taking center stage in the new HBO documentary Leaving Neverland. In it, two Jackson accusers speak about their close relationships with Jackson, and the alleged non-consensual encounters they had.
In Leaving Neverland, Wade Robson and James Safechuck, who were boys when they knew Jackson, speak of their alleged abuse by the star. The stories detail molestation and sexual encounters while both were minors. Robson met Jackson when he was aged five. Safechuck met Jackson when he was 10.
But this isn't the first media frenzy surrounding Jackson's alleged behavior. In 2005, Jackson went to court over allegations from a 13-year-old boy and his family, stemming from another documentary. Gavin Arvizo, Jackson's accuser, appeared in the documentary Living With Michael Jackson, which premiered in February 2003. In it, Arvizo is seen holding Jackson's hand as the pop star speaks of sharing his bed with children during sleepovers.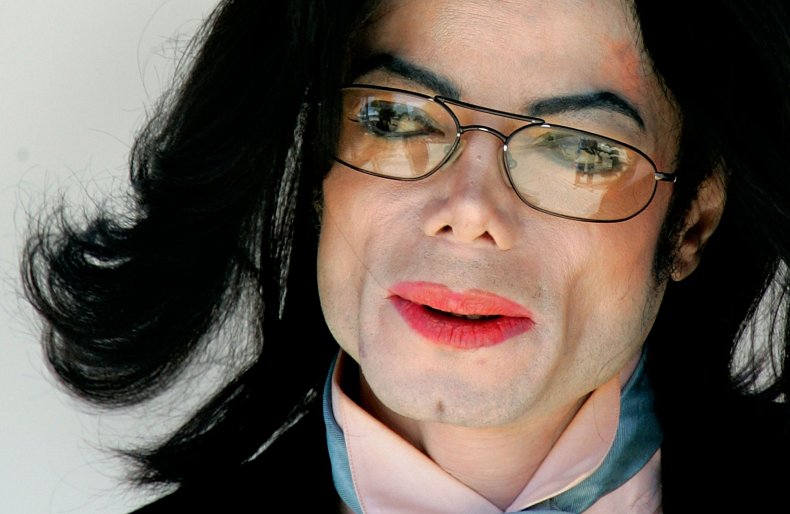 "Why can't you share your bed?" Jackson asked in the documentary. "The most loving thing to do is to share your bed with someone."
After the documentary, police raided Jackson's property, Neverland Ranch. The home of the singer was also designed as a kid-friendly amusement park with amenities like a movie theater and a zoo.
Jackson was brought to trial with 10 charges including child abduction and false imprisonment. He also allegedly provided the minors with alcohol, sometimes wine, which he called "Jesus juice."
Prosecutors outlined Jackson's said manipulation tactics against the young boys, which included watching pornographic video and looking at pornographic literature. Prosecutors questioned Jackson's sexual conversations. "They learned about human sexuality from someone who was all too willing to be their teacher," Senior Deputy District Attorney Ron Zonen explained at the trial, according to ABC News. "Are you comfortable with a middle-aged man getting in bed with a teenage boy as he possesses material like this that excites him?"
Jackson was found not guilty by the jury. There was said to be reasonable doubt in Arvizo's testimony, as he said Jackson had molested him twice, but before the trial, told a school teacher nothing had happened between him and Jackson. Jackson spent no time in prison.
An outtake tape from the documentary was also played at the trial. Jackson spoke of the allegations. "I would slit my wrists if I were to hurt children," he said along with "I'm a completely innocent guy."