When I was a child, all I ever wanted was to be a soldier, and at 19, I joined the British Army. But after 5 years, I was on operations in Iraq and was offered a job by a private security company there who were looking after an American oil company. Over three years in the early 2000s, I moved around as a private security contractor in Iraq. It was dangerous. Lots of guys who stayed in our hotel in Baghdad went out and didn't come back.
When I started a new contract bringing in convoys of medical supplies and generators from places like Jordan and Kuwait, we would be hit every day. It could be anything from a roadside bomb to a full ambush. Every vehicle had to carry two body bags, that's not normal on a private security job. I did that for just over a year, and then I went to Afghanistan and spent two years working for what used to be The Foreign and Commonwealth Office (FCO) looking after the British government.
In 2006, I was home on leave from that job when I got a call asking if I was available to work in London. I was told that there was a gentleman travelling in from America for ten days. They wouldn't tell me who it was but asked if I would work as private security for him and told me the job started the next day. I agreed to do it.
When I arrived at Heathrow Airport the following day, I was given a document that told me who the client was: it was Michael Jackson.
He had come to London for the World Music Awards in 2006 and was staying at the Hempel Hotel in Bayswater. There were fans who had flown in from all over the world and bought rooms in the hotel just so they could be in the lobby when he came down each day. They all had black cabs booked for the whole day so they could run out, jump in the black cab and follow us wherever we went. His fans weren't violent, but it was the sheer volume of them, and the fact that they were always there.
So we only moved Michael if he absolutely had to be somewhere. He wouldn't go out just because he fancied it. On the night of the World Music Awards, we ended up driving the car right into the arena, which you weren't allowed to do. It was just the only way we could get him in, because even other artists wanted to see him. But he was nice; very calm and very quiet. I always remember him being very polite. He wasn't loud and he didn't move around quickly. He would slowly sit down and slowly lean forward. He was pleasant and softly spoken.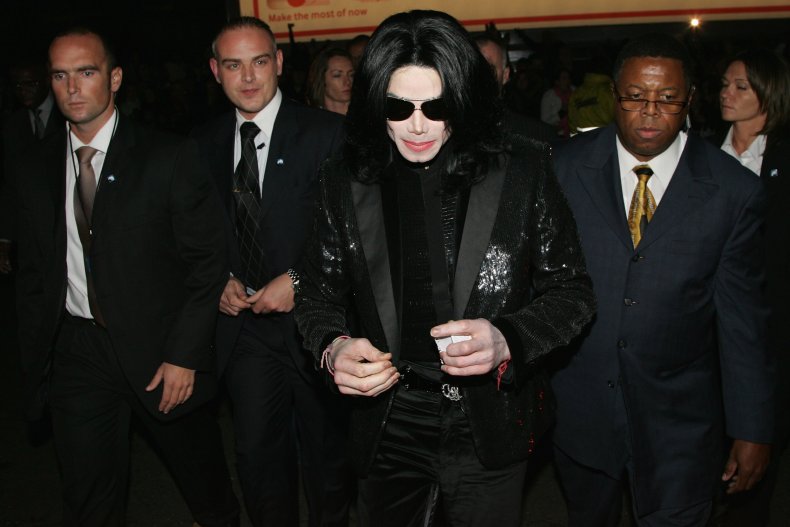 It wasn't until many years later that I realized what a big deal that job was. I never used to tell people, but others would say of me: "he's looked after Michael Jackson."
After that job, I spent another 18 months in Afghanistan and then I worked as part of the private security team for the Dubai royal family in London for two years, followed by several years out in the Persian Gulf protecting oil tankers from pirates.
However, in 2010 I had also started my own private security company. So when I eventually returned to London in 2013, I started working as a bodyguard for other celebrities. I did some security work at Kate Moss' house and I looked after her once at a fashion show and I was Rita Ora's bodyguard on various trips outside the U.K. I did quite a bit of work with Naomi Campbell over the years. It was very enjoyable at times but unfortunately it got to a stage where, with other work, I was always unavailable.
At London Fashion Week in 2014, I worked as a bodyguard for Kendall Jenner, and then again when she next came to London, but I did work with her much more as I soon became Bella Hadid's bodyguard when she was in London. Bella was only about 18 when we first met in 2015 and quite new to modelling.
The younger models I have worked with, Kendall Jenner, Bella Hadid and Gigi Hadid, are all very similar. They were very polite, very nice, they listened to what you asked them to do and were always very accommodating. They were very easy to work with. I didn't work with Gigi often, but if her regular bodyguard wasn't around I would cover for him. I certainly didn't know her like I did Bella, but like Kendall and Bella, she was genuinely nice. I never saw another side to any of them which made me think they must be pretending. And, while they weren't Michael Jackson status, they would get a lot of fan build up pretty quickly.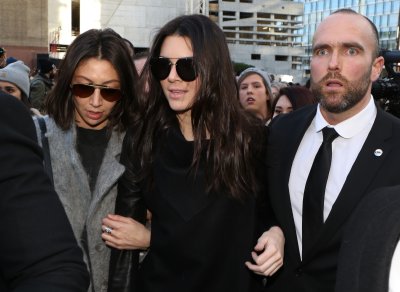 With Bella we would move around fairly hassle-free if she put a jacket and a hat on. If there was a fashion show, of course, everyone knew she was coming, but if we were trying to go out for dinner or to shops, we would try to go discreetly, or on occasion, ask if a shop could be empty, say an hour earlier than opening time on a Sunday.
Although the way I look doesn't help, I tried not to be "the bodyguard" sometimes. I'd walk along with my hands in my pockets, so to anyone else we look like friends. Otherwise I ended up drawing attention to her. But then, there were times when I had to be more visible and let people know that she had a security person with her.
She would come to London for dress fittings, fashion shows and shoots, and in between that there might be dinner and shopping if there was time. But often, especially with shoots, she was up at 5.30am, at a shoot at 6.30am and finished at 7pm at night with multiple outfit and hair and makeup changes. It was hard work.
Bella used to like some of my outfits but I didn't get style tips from her, even though I was featured in Vogue when I worked with her. I like items that no one else has and I often get pieces shipped in that are harder to find. I just seem to have an eye for what suits me.
I didn't coordinate with Bella but I would wear an outfit appropriate for the job that day. If she wanted to go shopping, and I'm wearing a black suit and white shirt and she's in a tracksuit because she's shopping, I look like a bodyguard, which is not that advantageous. So, I would wear jeans, t-shirts and a smart pair of trainers or shoes. But if you're going to a black tie event the same evening, you can't turn up in jeans and trainers. It was important for Bella as well that I looked appropriate, what would it have looked like if her bodyguard had marks on his shirt? You're trying to protect the client's image as well as them as a person.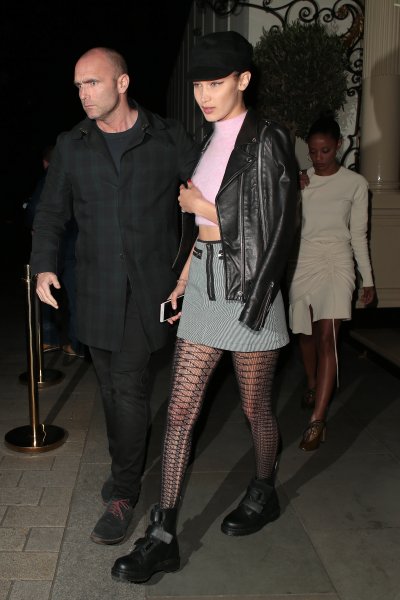 Sometimes celebrities I've worked with might have had a sticker on their luggage. It would be totally innocent, just a simple, inoffensive opinion. But I would suggest that to save the hassle they take it off or cover it up. The normal things people do—Bella might not notice that a clothing label was showing—might not be ideal for paparazzi to see. There's nothing wrong with it, but when the whole world sees it you'd probably end up wishing they hadn't.
Bella was great, we always got on. That's why I stayed on the job for several years. I didn't have to look after anyone—I was a freelance bodyguard— and there were a lot of people I turned down over the years because I didn't think we'd be a good fit. But Bella was always a pleasure to work with.
Over the 15 years I worked in private security, I've probably been on red carpets for about an hour. But that's what aspiring bodyguards out there see. That day, I would have actually got up at 5am and been at the celebrity's hotel at 6am. I'd have worked all day with them at shoots or events or fittings, and then an evening event and a club afterwards that might have ended at 4am.
But I never had to mitigate any serious danger with any celebrities. It's not just because I've been lucky. A lot of planning goes into moving people around. For example, where to park the car, the size of the gap between the cars when the celebrity steps out, or calling on in-house security to help if the crowd is too large.
I can also talk to people. My eyes look like they pop out in pictures, so I look angry, but I'm not. There were a few times I had to push people out the way, but it's all about how you do it. I wasn't punching, I was slowly moving people away. Mainly, I just used to talk to people; I never leaned into the image of being that "rough, tough" bodyguard.
I was lucky enough to look after quite a number of celebrities and I built a business out of it. With working in Afghanistan and Iraq, for the Dubai royal family and going out onto oil tankers, there was nothing in the security industry that I wanted to do or hadn't done, so I stopped doing bodyguard work myself in 2018. I've probably made $3,400,000 (£2,500,000) for my freelance private security work over about 15 years. That's just me personally, not my company.
I had already been involved in the movie industry from as far back as 2010. I had finished working with the Dubai royal family that year and had called an agency that represented military advisors for movies. A colleague in Iraq had mentioned them to me four years earlier. A week later I was called to fly out to work for two months on the movie Green Zone with Matt Damon. I was a U.S. special forces soldier so I helped with the battle choreography and continuity on the costumes and weapons. The same company called me to work on Sherlock Holmes: A Game of Shadows, in that, we were working with really old muskets and shooting them. I also did some work as a double for Dave Bautista in the movie Final Score in 2018. I don't really know how I got the job. I had to wear his costume and the shoulders of it fell right down my arm. I definitely wasn't the right dimensions!
That work was good, but in the end, I wanted to be acting. In 2020, I finished acting school at Pinewood Studios. I still have a voice coach and take classes on screen combat. I have several movies in the pipeline and I'm always at castings for soldiers, gangsters, prison inmates or prison or police officers. But I don't mind if I get typecast. The Rock and Jason Statham do well out of that!
My dream role would be James Bond. I think that's probably unrealistic, but to be in a Bond movie in some capacity is one of my goals. I'm 42 now and I'm starting a new career, so I don't think I'd get that big that I'd need a bodyguard, but perhaps I would hire one if it became necessary. Some actors, like Samuel L. Jackson, achieved success later in life, but realistically, I don't know how far my career will go. However, it will certainly go far enough for me to be satisfied that I have done what I wanted to do.
I judge everything in life by: will it kill me? That's how I used to judge things because of the type of work I was in. If I went out and did a job, would it get me killed? There was a chance it might. Now I still have the same mentality. If I get it wrong, or make a mistake on set, is that going to kill me? No.
I just get on with it and have a go.
Simon Newton is an actor, entrepreneur and former bodyguard, living and working in London. He is the director of Askari Secure Ltd. You can find out more about Simon at simonnewtonlondon.com and follow him on Instagram @simon.newton.
All views expressed in this article are the author's own.
As told to Jenny Haward.