Michael Jackson's Brothers Defend His Sleepovers With Children Ahead of 'Leaving Neverland' Release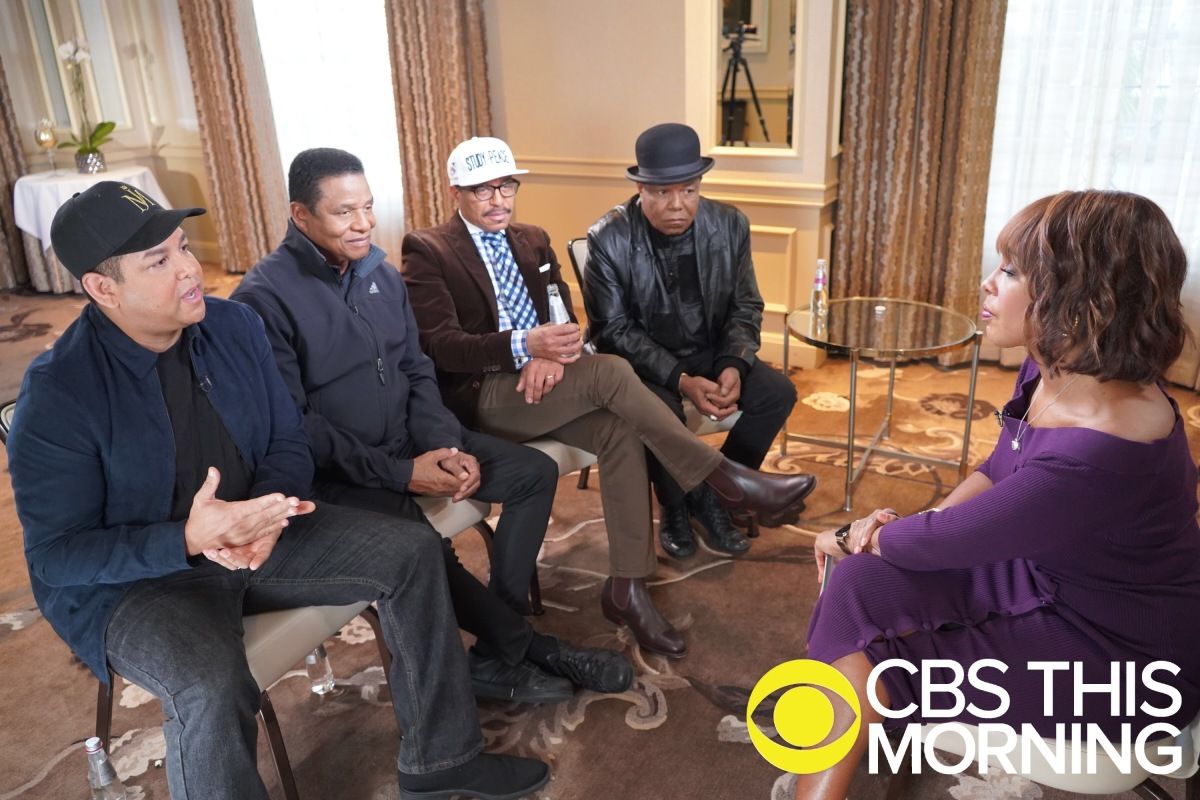 Michael Jackson's relatives are defending his name and reputation as the premiere of HBO's Leaving Neverland nears. The documentary, which will air Saturday and Sunday, is slated to tell the story of two boys who were allegedly molested by Jackson for years. In a new interview, Jackson's family spoke of the alleged victims—Wade Robson and James Safechuck—and their sleepovers with Jackson.
Jackson's nephew, Taj, and Jackson's brothers—Jackie, Marlon and Tito—appeared on CBS This Morning Wednesday to speak with Gayle King about the allegations against their late family member.
When King asked about Jackson having sleepovers with children, the family did not deny them, arguing the overnight get-togethers were innocent. "It has been well documented your brother spoke many times about sharing his bed with young children," King began before she was cut off by Marlon.
"Well, see—when you phrased that, you know, 'sharing' his bed, young kids have sleepovers, camp out and just everybody in the bed and fall asleep," he explained. "His kids were there. Taj was little at the time. And they all fall asleep in the bed and watching movies. And so you can twist it, saying, 'Sharing his bed,' but, yes, but it makes you think something else."
Taj spoke of his time at Neverland Ranch, Jackson's estate, which had an amusement park, movie theater and events space for children. It has been alleged many of Jackson's said child abuses took place at the ranch. "I grew up in it. So for me, it wasn't odd," Taj explained. "You know, I think to the outside world, yes, I think it can be odd. I mean, I'm not oblivious to what it sounds like. But when you're actually there in that atmosphere, and you're around it, and you're watching movies, yes, with his kids. It's very innocent. But I think the fault on my uncle was he just—he didn't have that bone in his body to look at it the other way. His naivete was his downfall in a way. And I think that's what hurts me more than anything is knowing his innocence, but then knowing how the world is."
Jackson's nephew also spoke of "love letters" Jackson gave to children and said written letters were a common form of communication for Jackson. "My uncle gave letters like that all the time to people that he cared about and there's nothing salacious about it, when you actually know there's a lot of people—he even did it to fans."
Jackson always said he was innocent about the sex abuse allegations. He went to court for one case in 2005. The boy will not be featured on Leaving Neverland. Jacksonwas acquitted.