Michael Jackson's Nephew Taj Slams 'Leaving Neverland,' Wants to Tell the 'Truth': 'Facts Don't Lie, People Do'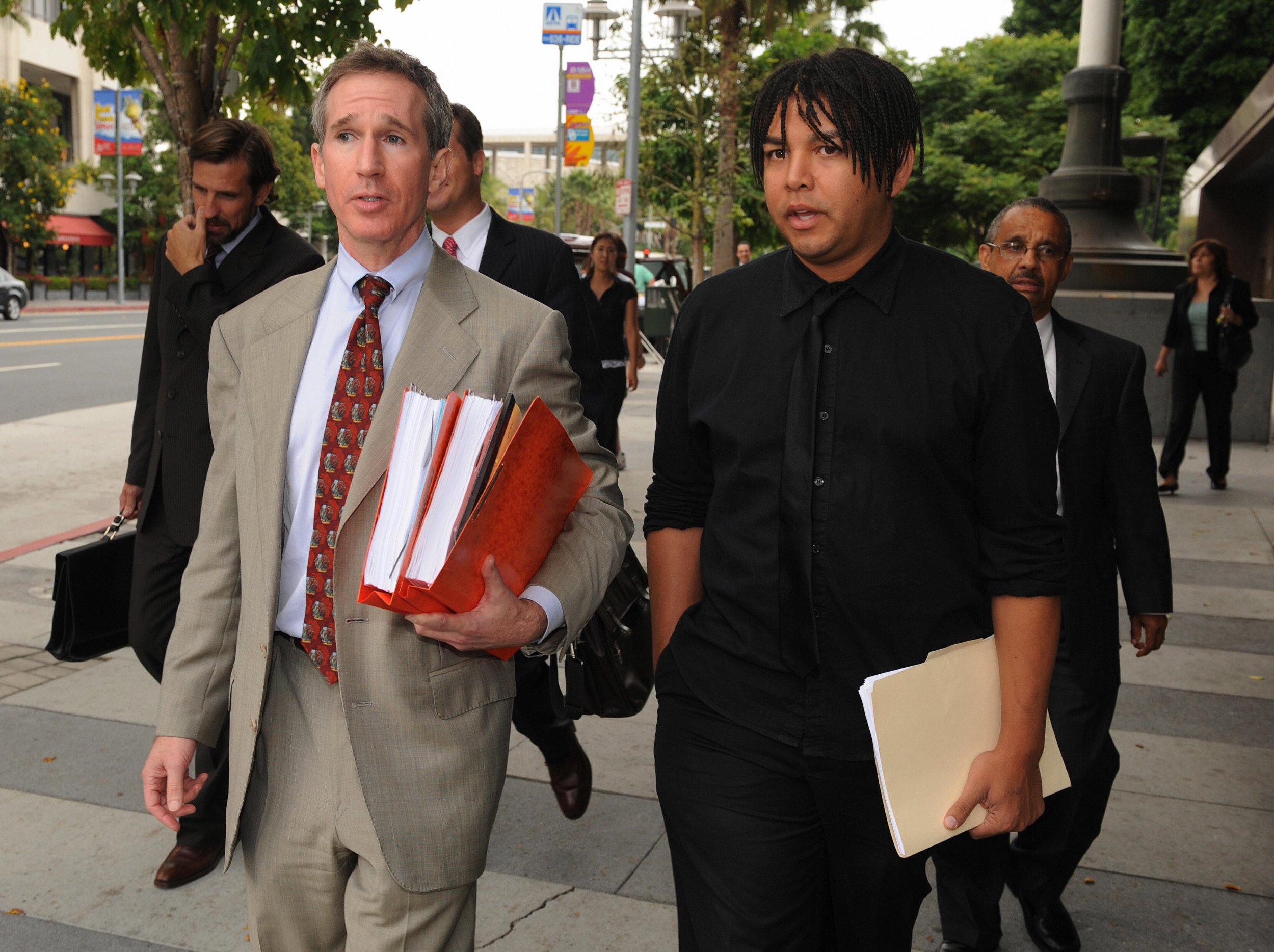 The oldest nephew of the late Michael Jackson has started a GoFundMe account to help finance a documentary series to refute the ongoing alleged sexual allegations against the superstar.
Most recently, the controversial Leaving Neverland documentary, which debuted at the Sundance Film Festival on January 25, heightens the reported damage new testimony of alleged incidents have wrought upon the Jackson clan and MJ's devoted fans.
"The time has come to tell the true side of his story," posted Taj Jackson, Tito Jackson's son, on Twitter. "Join me on my journey to unmask the truth about Michael Jackson. Not the truth certain media is selling you, but the truth as it actually happened. #proveninnocent #truthrunsmarathons #justiceforMJ"
As of January 31, the GoFundMe account, "Untitled Michael Jackson Documentary Series," has raised $36,684 of Taj's $777,000 goal.
He lists on the account website he that "we"–supposedly the Jackson family–will use the donations to pay for the following documentary creation costs:
"Hiring key players for the production team, travel expenses for the filmed interviews and meetings, verifying stories and new information, securing licensing and video clips, video and audio editing, local and international distribution and a comprehensive, international marketing and PR campaign (live and digital) that will make it impossible for audiences, targeted and otherwise, to ignore."
"The media wants this to be true yet can provide ZERO evidence," posted Taj Jackson, Tito Jackson's son, on Twitter. "Notice how they are desperately trying to program the people's mind before the public even sees it. And they have brought out the big guns to do it. There's a word for this, 'propaganda' Facts don't lie, people do. "
Taj Jackson, who said he will direct the series, said he had a "front seat to what the negative media and allegations put him through" and that he lived with his Uncle Michael during the 2005 trial.
"I had the privilege to have grown up extremely close to my uncle and was always a loyal friend and ally to him throughout his entire life."
Calling himself a survivor of sexual abuse, Taj Jackson indicated his own compassion for sexual assault victims:
"As a sexual abuse victim (from my uncle Chuck on my mom's side of the family), I know what it means to be a survivor," said Taj on the GoFundMe page. "I also know what kind of damage sexual misconduct leaves upon the victims. This unique position makes me even more determined and qualified to make the truth, the whole truth known about my uncle Michael's false allegations."
Sundance officials and Utah police increased their security during the film festival after MJ fans protested in person on the street in front of the Park City, Utah, theater where director Dan Reed's Leaving Neverland premiered on January 25, then in Salt Lake City the next day.
Leaving Neverland investigates allegations of sexual abuse and child molestation against Michael Jackson, as told through the personal stories of two of Jackson's alleged victims who allegedly had relationships with Jackson when they were 7 and 10 years old. The men, now adults, are Wade Robson and James Safechuck.
Taj Jackson's Twitter feed and Reeds film have drawn a string of comments, including a statement from his uncle Jermaine Jackson, who grew up performing with his brother as part of the famed Jackson 5:
"Easy to say anything you like to some guy with a camera for some shallow documentary devoid of scrutiny, curiosity, proof, or journalistic standard," wrote Jermaine Jackson. "Harder to lie to judge & jury in 2005 when the truth was the only currency. Join the dots, media. #LeavingNeverland."
Michael Jackson, who died of a doctor-prescribed prescription drug overdose in 2009 at age 50, was accused of improper contact with young boys through most of his career. He was acquitted on molestation charges in 2005 and always maintained his innocence.
Gayle King, CBS This Morning co-host, reviewed Leaving Neverland on Instagram:
"Just watched ALL FOUR hours of Leaving Neverland … powerful, compelling & a game changer for those who have been afraid to speak up of child sex abuse. My heart goes out to Wade Robson & James Safechuck. (swipe left) Thank YOU for sharing your pain it will make a difference. Bravo to producer Dan Reed. I'm still reeling. "
Taj Jackson retweeted King's post and responded: "Amazing how you have seen it but they won't let our family see it till it airs. Maybe it's because they know we will poke holes all through it. Having known Wade for nearly 20 years, he is laughing at all of this, thinking he is getting away with murder. But he won't. Count on it."
During Sundance, an unidentified Jackson family estate spokesperson told Deadline that Leaving Neverland was "just another rehash of dated and discredited allegations."
Reportedly, Reed received direct threats for unveiling the controversial documentary.
At the time, Sundance officials defended showing the Reed film and stated: "Sundance Institute supports artists in enabling them to fully tell bold, independent stories, stories on topics which can be provocative or challenging."
Jackson fans complained loudly, mostly through the #BoycottSundanceFestival hashtag on social media, leading up to the Sundance premiere of Leaving Neverland.
Meanwhile, Taj Jackson seemingly is following through on his uncle Michael's last wish, as he wrote on the GoFundMe page: "My uncle's last words to me were … 'After this, we're doing films.' Never did I think that a decade later necessity would require me to direct a film about his proven innocence."