Michael Jordan Breaks Down in Tears as He Remembers the Life of Kobe Bryant
Michael Jordan shed tears when honoring the life and legacy of Kobe Bryant on Monday. The six-time-champion spoke on the bond he shared with Bryant on and off the court, sharing moments that exemplified the late icon's 'Mamba Mentality.'
"Kobe left nothing in the tank, he left it all on the floor," he said. "Maybe it surprises people that Kobe and I were close friends, but we were very close friends. Everyone wanted to always talk about the comparisons between he and I, I just wanted to talk about Kobe."
Jordan quickly came to tears when discussing his late friend, even taking a second to acknowledge that this moment would remind some of his Hall of Fame speech which spawned a tearful meme almost as iconic as the player's career.
"Now I'm going to have to look at another crying meme of myself," Jordan remarked.
Widely considered the greatest basketball player of all time and one of the most revered athletes in sports, Jordan was an inspiration to Bryant growing up and as an athlete who joined the NBA straight out of high school.
"At first it was an aggravation, but then it turned to a certain passion," he said. "This kid had a passion like you would never know. If you love something ... you will go to the extreme to try to understand or try to get it. What Kobe meant to me was that someone cared about how I played the game or how he played the game. He wanted to be the best basketball player he could be, and after getting to know him I wanted to be the best big brother that I could be.
The two shared the same league for a few seasons, and during this time played their first game against each other.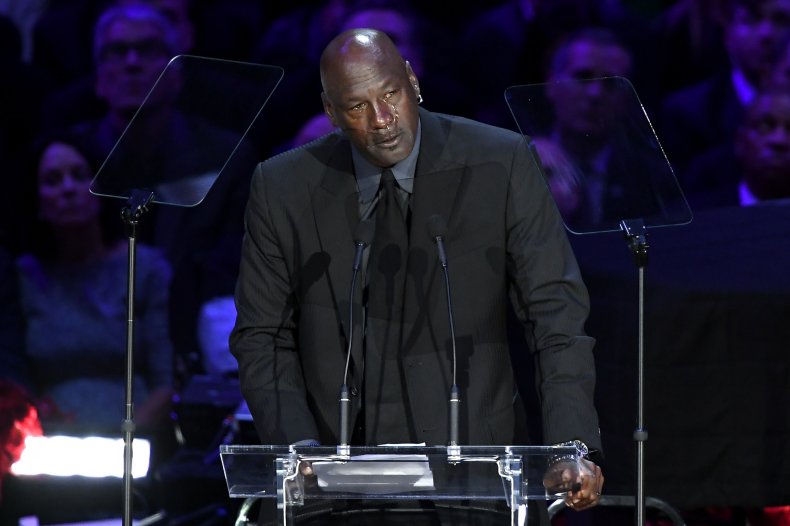 A 19-year-old Kobe took the greatest player of all time blow for blow on December 17, 1997, trading Jordan's 36 points for his own 33. Even in the midst of a game, Kobe was looking to learn, improve and be the best version of himself. Bryant studied every move Jordan made. He asked Jordan about executing one specific post-move, later using that and many other tools to capture five championships of his own, shared Jordan.
"I loved Kobe -- he was like a little brother to me," Jordan continued. "We used to talk often, and I will miss those conversations very much. He was a fierce competitor, one of the greats of the game and a creative force. Kobe was also an amazing dad who loved his family deeply -- and took great pride in his daughter's love for the game of basketball. [My wife] Yvette joins me in sending my deepest condolences to Vanessa, the Lakers organization and basketball fans around the world."
Michael Jordan Breaks Down in Tears as He Remembers the Life of Kobe Bryant | Culture