Here's What Michael Jordan's Former Teammates Have Said About 'The Last Dance'
Live sports may be on hold, but The Last Dance—ESPN's acclaimed documentary series about Michael Jordan's final season with the Chicago Bulls—has kept fans entertained for the past few weeks. Less satisfied with the blockbuster, 10-part docu-series now that the whole thing's aired? Some of Jordan's former teammates, a few of whom have spoken out against comments made in The Last Dance.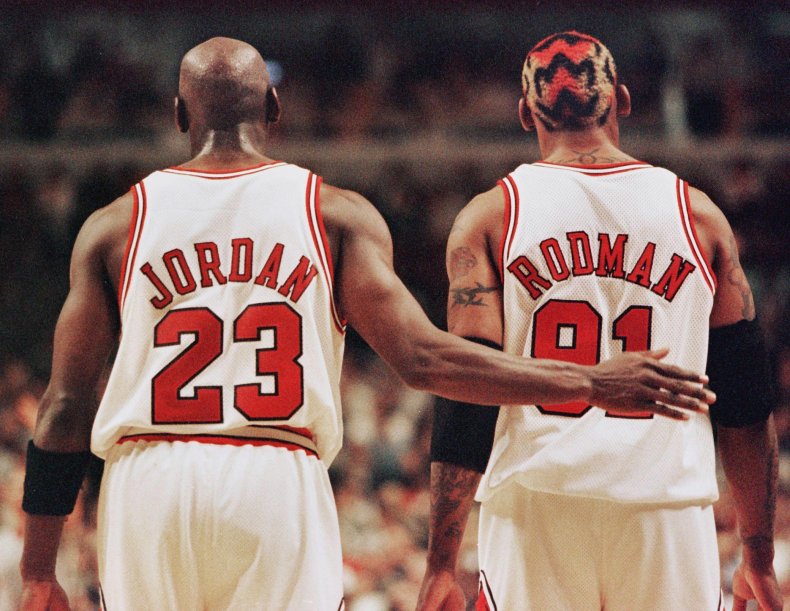 Here's what three of Jordan's teammates have said about The Last Dance since the series first premiered on April 19.
Horace Grant
The former Bulls power forward has been the most outspoken, and he's disputed Jordan's assertions in the doc that he leaked information to author Sam Smith for the 1992 book The Jordan Rules. "I didn't contribute to that, and that was Horace," Jordan says in The Last Dance. "He was telling everything that was happening within the group." In the documentary, Grant says that he didn't share information with Smith.
Calling into ESPN radio on Tuesday, Grant denied the allegation again and said that Jordan should talk to him if there's an issue. "That is a downright, outright, completely lie," he said. "As I stated, if MJ had a grudge with me, let's settle it like men. Let's talk about it."
While he said that he is friends with Smith, Grant told ESPN Radio that he wouldn't have shared personal information from the locker room. He also tried to cast Jordan as a "snitch," by referencing a story Jordan tells early in the doc, about when he was a rookie and was around older teammates who were partying in hotel rooms.
"Sam and I have always been great friends—we're still great friends, but the sanctity of the locker room—I would never put anything personal out there," he said to ESPN Radio. "He said I was a snitch, but yet he still after 30, 35 years, he brings up his rookie year, going into one of his teammates rooms and seeing coke and weed and women. My point is: Why the hell did he want to bring that up? What's that got to do with anything? I mean, if you wanna call somebody a snitch, that's a damn snitch right there."
Grant also said the documentary was entertaining, but not totally truthful. "I would say, entertaining, but we know, who was there as teammates, that about 90 percent of it was—I don't know if I can say it on air, but B.S. in terms of the realness of it," he said. "It wasn't real, because a lot of things that he said to some of his teammates, that his teammates went back at him, but all of that was kind of edited out of the documentary."
Craig Hodges
In a recent interview with Fox Sports Radio, Hodges said he was bothered by Jordan's claims that the Bulls were a "cocaine circus" when he joined the franchise. Hodges didn't join the Bulls until 1984, four years after Jordan did, but he said that he felt bad for people that may have to explain Jordan's comments to their families. "I was upset about the 'cocaine circus,'" Hodges said to Fox Sports. "That bothered me because I was thinking about the brothers who are on that picture with you who have to explain to their families who are getting ready to watch this great Michael Jordan documentary event and they know you're on the team, and now you've got to explain that to a 12-year-old boy."
Hodges also stood up for Grant and said that Jordan should've explained the leak more. "Horace did not deserve to take the fall for Jordan Rules. If MJ knows something else and knows Horace's motive, then tell us how Horace did it for my sake, because I'm your teammate brother, just like they are, and I'm kind of salty how everybody got interviewed but me," he said. Besides being upset about not getting interviewed, Hodges also told Fox Sports that he didn't know the series was coming out until shortly before it was released.
Dennis Rodman
Rodman—easily the most infamous member of the 1997-98 Bulls squad—has spoken out in support of his fellow star forward, the soft-spoken Scottie Pippen. According to ESPN, Pippen has been upset about the way he was portrayed in the series, even if he hasn't spoken out publicly against the doc. But Rodman has said that he feels like The Last Dance has given the public a new understanding of Pippen. "Scottie was so underrated—and so underpaid. He should be holding his head up higher than Michael Jordan in this documentary," Rodman told ESPN. "I think a lot of people are now realizing what he went through. The kid was a hero, in a lot of ways, during those great Bulls runs."