Michael Jordan's Real Last Dance—Why NBA Icon Was Fired After Final Season With the Washington Wizards
You don't have to have watch The Last Dance to argue that when it comes to Hollywood ending for sporting dynasties, the Chicago Bulls and Michael Jordan's triumph in Game 6 of the 1998 NBA Finals is comfortably in a league of its own.
An era-defining team and the biggest icon the sport has ever had clinching a third consecutive title and a sixth in eight years, despite a group of players running on fumes and openly at war with the team's front office and a head coach who had effectively been fired before the season even began.
The Bulls had their own last dance and made it a memorable one, but Jordan came back from an encore three years later.
On Sunday, in Episode 10 of ESPN's 10-part documentary chronicling Jordan's final season with the Bulls, MJ revealed he was ready to return in the autumn of 1998 had Chicago's front office decided to run it back and bring Phil Jackson, Dennis Rodman and Scottie Pippen back.
Bulls owner Jerry Reinsdorf and then-general manager Jerry Krause decided otherwise and Jordan retired for a second time in January 1999. Over two years later, after spending months in training and holding several camps for NBA players, MJ pitched up in the nation's capital and joined the Washington Wizards.
"I feel there is no better way of teaching young players than to be on the court with them as a fellow player, not just in practice, but in actual NBA games," he said as he announced his return.
"While nothing can take away from the past, I am firmly focused on the future and the competitive challenge ahead of me."
The choice of team wasn't casual. In January 2000, Jordan had become the franchise's part owner and president of basketball operations and 18 months later he laced up his sneakers again.
If success on the court remained elusive—the Wizards failed to make the playoffs in Jordan's two seasons as a player—the situation was even worse off the court, where things unravel at a rate of knots and Jordan claimed he had been betrayed when the franchise fired him shortly after he retired for a third and final time.
A month after he had hung up his jersey for good at the end of the 2003 season, Jordan expected to resume his role as president of basketball operations, only to be told by team owner Abe Pollin that his race with the Wizards had been run.
"It was not a healthy atmosphere to produce a happy organization or a winning team," Pollin told the Associated Press five months after dismissing Jordan, when he admitted the decision to fire the NBA icon had caused him sleepless nights.
"I could sense the sense of unhappiness, the sense of even maybe a little dissension in the whole organization. I sensed that it was a bad situation."
Pollin choosing to fire Jordan shortly after his retirement may seem more than a little abrupt, but there's no denying that MJ the executive never lived up to the incredibly high standards set by MJ the player.
In the season before his return, Jordan freed up salary cap space by unloading the massive contracts of Juwan Howard and Rod Strickland as the Wizards looked to rebuild ahead of the 2001 draft, which they entered with the first overall pick.
Jordan used it select Kwame Brown, making him the first high school player to be drafted with the first overall pick.
MJ passed on the likes of Tyson Chandler, Pau Gasol and Tony Parker, who won a combined seven NBA titles in their careers and Joe Johnson, Mehmet Okur and Zach Randolph who, while not extraordinary players, went on to make All-Star appearances. The Wizards, meanwhile, traded Brown four years later and the South Carolina native has since gone down in history as one of the worst draft busts in NBA history.
In hindsight, Jordan's decision to trade away Richard Hamilton for All-Star guard Jerry Stackhouse ahead of the 2002-03 season also backfired. Stackhouse enjoyed an excellent first season in Washington leading the Wizards in points and assists, but his second season was plagued by injuries and he played in only 26 games, while Hamilton played a crucial role in helping the Detroit Pistons to the NBA title.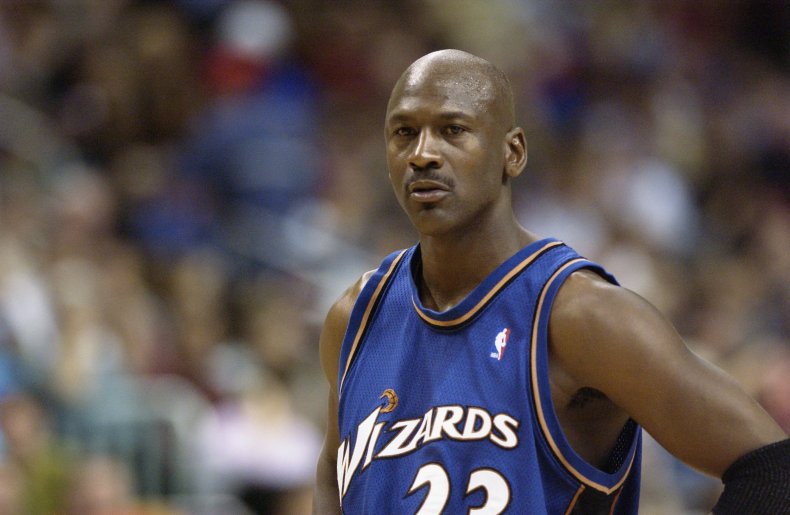 Upon firing Jordan, Pollin also suggested the former Bulls star should shoulder responsibility for hiring Doug Collins as head coach. Collins had coached Jordan for three seasons in Chicago and was hired by the Wizards at the beginning of the 2001-02 season, but only lasted two years in charge.
Jordan's spell on the court was far more fruitful. While the Wizards failed to make the playoffs in both of his seasons as a player, Washington won 37 games in both campaigns, a significant improvement for a team that had gone a disastrous 19-63 a year earlier—the Wizards had fared even worse in the 1998-99 season, winning only 18 games.
Understandably no longer at the peak of his powers at 38 years of age, Jordan nevertheless finished his first injury-plagued season averaging a respectable 22.9 points, 5.2 assists and 5.7 rebounds per game, despite playing in only 60 games.
Despite the injury, he still had the time to score 51 against the Indiana Pacers, thus becoming the oldest player in history to score 50 or more points in a game.
At one point, The New York Times even listed him as surprise MVP candidate and he was the only player along with Kobe Bryant to average 25 points, five rebounds and five assists in the first half of the season.
The following year, Jordan was the only member of the Wizards to play in all 82 regular season games—he started 60 of them—and finished with 20 points, 5.3 assists and 6.2 rebounds per game.
It was a decent enough encore, but it wasn't enough to live up to The Last Dance.