If any ole angler caught any ole fish in the salt waters off the U.S. coast, it would typically go unmentioned in American media. Even if it's a humongous fish. But enter Michael Jordan and his 80-foot fishing yacht into those waters, and the world takes notice.
In the second day of the Big Rock Blue Marlin Tournament off the coast of Morehead City, North Carolina, the crew on Michael Jordan's Catch 23 yacht reeled in a 442.3-pound blue marlin, and the retired NBA star was there to light cigars and enjoy the moment with the crew.
Here's a 2-hour video from facebook that records the boat pulling in, the crew stringing up the marlin and Jordan overseeing the events from the weigh-in until his interview.
The catch was the sixth-largest so far—in just the second day of the tournament—but may have drawn the most spectators taking video and photos with their phone cameras.
It was a chance for Jordan to participate in a tournament that's fairly close to his boyhood hometown of Wilmington, which is roughly an hour and a half away.
"It's been a while since I've been back in Morehead City. It's only about 100 miles from Wilmington, and it's always great for me to be able to come back," Jordan said on ESPN.com. "I'm happy to be back. Thank you for inviting me."
Jordan's catch had been the fifth-best of the tournament until another boat slipped in with a 450-pound marlin. Only the top three were eligible for cash prizes, the report stated.
This wasn't Jordan's first foray into marlin tournaments, but it was the first in his native state.
"This is a chance for me to come back home," Jordan said. "Every chance I get, I love to come back home. ... Even though I didn't win, right now, today, I'd like to thank everyone for supporting the tournament."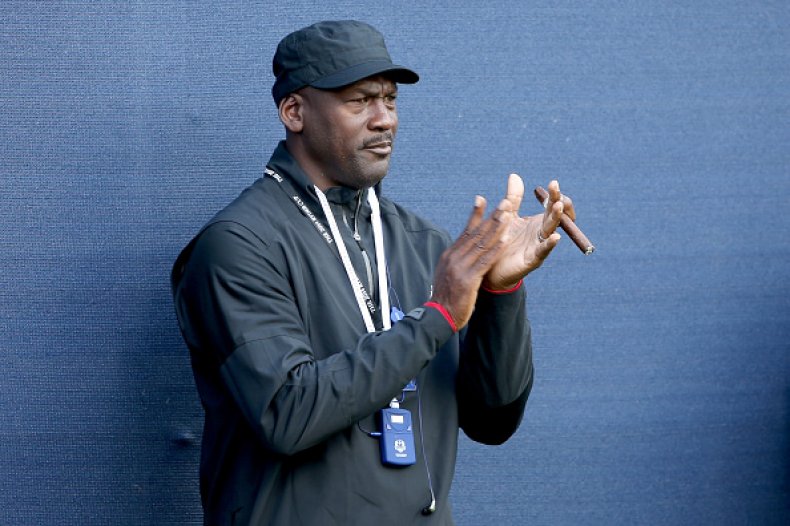 Jordan's presence, and shot at having one of the tournament's top catches of the day, set off excitement from spectators to the tournament organizers themselves.
"Oh my gosh, for Michael Jordan to be in our same air space is exciting and thrilling enough, but for him to land a fish at our tournament and bring it in is thrilling for the entire town," said Crystal Hesmer, executive director of the tournament, which initially began in 1957. "It's unbelievable that he's here in our little town.''
Jordan has only briefly been out of the spotlight as the 10-part documentary called The Last Dance, which chronicled his time with the Chicago Bulls, aired on TV during the COVID-19 pandemic, which led to an indefinite postponement of sports in America.