Michael McCaul Predicts Taiwan Invasion After Olympics, Ukraine One 'in the Next Month'
The top Republican on the House Foreign Affairs Committee said he expects Russia and China will soon invade smaller neighboring countries allied with the U.S.
Rep. Michael McCaul, R-Texas, told reporters on Friday that he expects Russia to invade Ukraine and China to use military action to retake Taiwan, according to The Washington Examiner.
"My prediction is that you're going to see Russia invading Ukraine in the next month," he said. "And I think after the Olympics ... China's gotten so provocative, so aggressive in the South China Sea that you will begin to see CCP, Communist Party, invade Taiwan."
China has vowed for the last seven decades to reclaim the self-governing island of Taiwan, which has aligned itself closely with the U.S. On Friday, China again accused the U.S. of encroaching on its sovereignty after a U.S. Navy warship entered the disputed South China Sea claimed by Beijing.
Zhu Fenglian, spokesperson for the Chinese government's State Council Taiwan Affairs Office, said at a press conference on Friday that supporters of Taiwan's independence will hurt peace and stability, adding that those who play with fire will only get burnt, according to the state-run Xinhua news agency.
Russia has amassed roughly 100,000 troops along its border with Ukraine, as President Joe Biden has sought to stave off an invasion of the former Soviet republic. Ceasefire violations along the front line between Ukrainian forces and Russian-backed separatists have increased by nearly 400 percent since last year, according to a Newsweek analysis.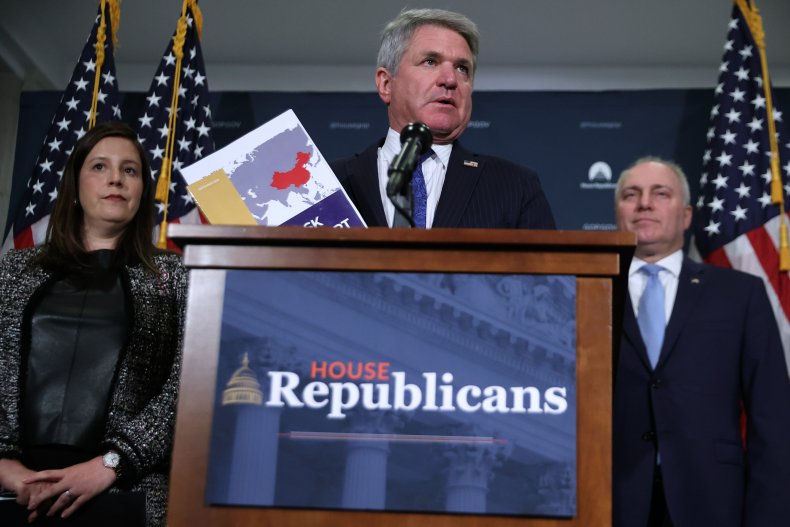 Russian President Vladimir Putin has insisted the U.S. agree that Ukraine not join the North Atlantic Treaty Organization (NATO), a Cold War-era alliance that has since extended to Poland and other European countries. McCaul told reporters that even an agreement over NATO's expansion won't stop Putin from destabilizing Ukraine, according to a Tweet from NBC's Andrea Mitchell.
"Putin will see a green light to invade the breadbasket of Russia," McCaul added, according to the Examiner. "He's always wanted it back, and as he looks at now President Biden as a weak president, in his calculation, no matter what the tough language is from Biden, he sees the weakness as there's no action taken by this administration."
While Biden has warned Putin of severe consequences for an invasion of Ukraine, he was criticized for suggesting on Wednesday the response might be smaller for a "minor incursion." The White House has since followed up with a clarifying statement that if any Russian military forces move across the Ukrainian border it will be "met with a swift, severe, and united response from the United States and our Allies."
The U.S. State Department responded to McCaul by pointing to remarks made by Secretary of State Antony Blinken on Friday reiterating that "the United States and our European allies and partners ...stand firmly with Ukraine in support of its sovereignty and territorial integrity" and will respond firmly to any Russian violation of its borders.
While McCaul said he couldn't discuss classified information, he expects Russia to invade Ukraine in the next month, according to Fox News.
"The key to addressing Russian aggression is deterrence," McCaul said in a Tweet following up his remarks. "This administration has done far too little to deter Russia from further invading Ukraine."
McCaul pointed to the GUARD Act, legislation he introduced with other Republicans earlier this month that would expedite Ukraine's entry to NATO, while boosting funding for weapons and training for the country's military.
Newsweek has reached out to the U.S. State Department for a response.