Michael McDowell Wins Daytona 500 After Another Nasty Crash On The Final Lap
Michael McDowell won the Daytona 500 late Sunday night after a rain delay, a crazy wreck, a really late restart and a typically-wild finish during the "Great American Race" at the Daytona International Speedway in Daytona Beach, Florida.
It was the first-ever NASCAR Cup Series win for McDowell, who has driven on the circuit since 2008. It was the 358th career race for McDowell, and his first win.
There was a wreck on the final lap of the 2021 Daytona 500, and McDowell was in the lead when the caution flag came out, NASCAR officials revealed.
Chase Elliot finished second, followed by Austin Dillon, Kevin Harvick and Denny Hamlin, who was the two-time defending Daytona 500 champion.
The race had been delayed nearly six hours from a rain delay, prompting a restart around 9 p.m. ET on Sunday along the Florida east coast.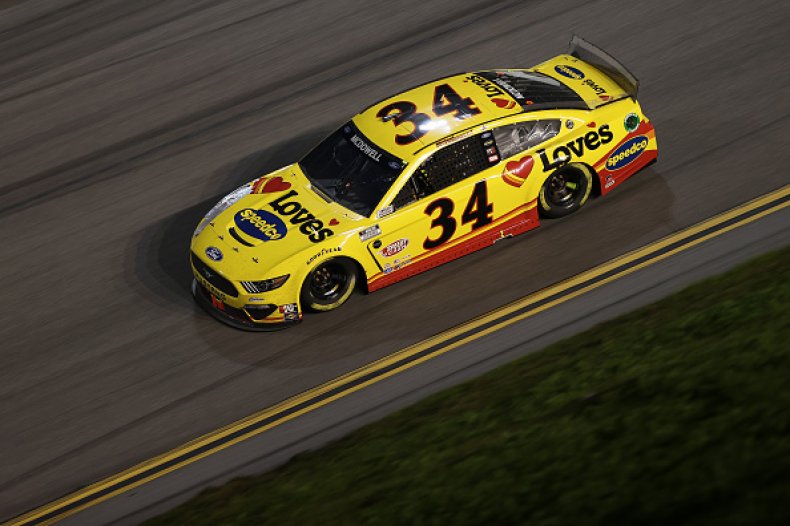 Joey Logano led the last several laps before getting overtaken in the final lap. Logano and Brad Kesolowki wrecked on the final lap.
Two-time defending champion Denny Hamlin was looking for a three-peat, and he led the race with 50 laps remaining. Pit stops and other circumstances helped Hamlin, and he worked his way back into the the top 10 before a big wreck in the final lap. Hamlin finished fifth.
Hamlin teamed up with Michael Jordan during the offseason as co-owners of a new racing team 23XI. Their new driver was Bubba Wallace, who finished No. 17 in his debut for Jordan and Hamlin.
It didn't take long for "the big one" on Sunday in Daytona Beach, Florida. Every year there seems to be a huge wreck, and this year it happened during lap 15 when the front bumper of Christopher Bell's No. 20 car got underneath the back end of Aric Almirola's No. 10 car, sending Almirola's car across the track into the wall. Bell's car was actually pushed from behind on a bump draft by Kyle Busch's 18 car.
The wreck sent cars crashing into the wall, into each other and spinning out on the infield grass, which was muddy from other weekend rains.
These drivers were affected by the massive wreck: Ryan Blaney, Chris Buescher, Tyler Reddick, Anthony Alfredo, Aric Almirola, Alex Bowman, Daniel Suarez, Kurt Busch, David Ragan, Ryan Newman, Matt DiBenedetto, Erik Jones, Martin Truex Jr., William Byron and Jamie McMurray.
While crews began cleaning up the mess, two lightning strikes were detected within three miles of the track, sending the race into a red flag during the 15th lap.
Heavy rains began falling across Central Florida and into Daytona Beach. The Air Titans trucks drove around the 2.5-mile track to help dry the surface, more heavy rains entered the area, prompting officials to pause the race later into the 9 p.m. restart.