Who Is Michael Metcalf? Trump Praises Gold Star Father's 'Fox and Friends' Appearance
President Donald Trump took to Twitter Wednesday morning to praise Gold Star father Ceejay Metcalf following an appearance on Fox & Friends.
"Gold Star father, Ceejay Metcalf, whose great son Michael was just honored at the White House, was fantastic this morning on @foxandfriends," he said. "He is a special man."
Ceejay Metcalf is the father of Private First Class Michael Metcalf, an army soldier who was killed in Afghanistan in 2012 when he drove over a bomb in an effort to rescue others during his first mission. He was honored at a ceremony for Gold Star families earlier this week. His father told the hosts of Fox News' morning show that the ceremony honoring his son and meeting the president was "absolutely wonderful."
Metcalf said the president called him "pops" when he met him at the ceremony, the name his son would always refer to him as. "It took everything I had to not have tears in my eyes over it," he said. "In fact, when I think about it, it's emotional to me."
Kim Metcalf, Michael's mother, told The Palm Beach Post of the ceremony "We all share the worst loss you can have but we're all proud and honored because of our children," she said. "Everyone was so proud and knows that their kids are heroes and they all believe they brought us there together."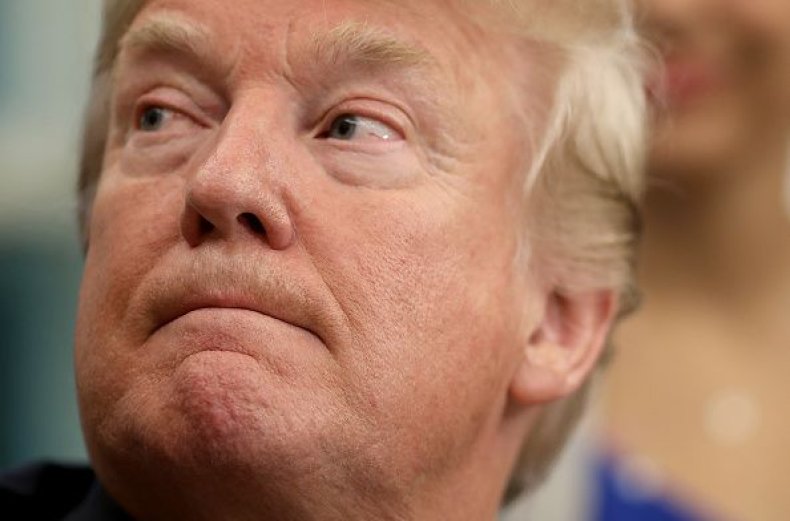 Trump caused controversy during the 2016 presidential race when he criticized Khizr Khan, whose son, Captain Humayun Khan, was killed during the Iraq war, after he delivered a speech that was critical Trump's campaign.
In an interview with ABC News Trump questioned why Ghazala Khan, Humayan's mother, did not speak. "If you look at his wife, she was standing there," he said. "She had nothing to say. She probably, maybe she wasn't allowed to have anything to say." The remarks drew criticism for resembling a stereotype about Muslim family hierarchy. Ghazala Khan later said it was her choice not to speak.
Trump later criticized Khan again on Twitter where he wrote, "Mr. Khan, who does not know me, viciously attacked me from the stage of the DNC and is now all over T.V. doing the same- Nice!"
Trump also got into a public spat with a Democratic congresswoman last October when she alleged that, in a call with the widow of a fallen soldier, the president forgot the soldier's name and said he "must've known what he signed up for."
Monday's White House ceremony honored more than 40 families.
"To all those who have lost loved ones in service to our country, our nation grieves with you," First Lady Melania Trump said in a statement following the event. "It is a solemn reminder that we, the American people, are able to live as freely as we do because of the selfless sacrifices of our men and women in uniform."