Michael Milken's Pardon by Trump Sends Message That 'White-Collar Crime Doesn't Really Matter,' Says Author of Book About Junk Bond King
President Donald Trump's pardon of New York financier Michael Milken has sent the signal that white-collar crime "doesn't really matter," according to the author of a book detailing the crimes committed by Milken and his associates.
James B. Stewart's "Den of Thieves" chronicled how Milken and others created a lucrative insider-trading ring in 1980s New York, pocketing billions in the process. Milken—the so-called "junk bond king"—was jailed in 1990 for for violating securities laws.
The 73-year-old was among those granted clemency by Trump on Tuesday. Writing for The New York Times, Stewart said Milken's pardon is an assault on the concept of equality under the law.
Stewart called Milken "a potent symbol of the 'greed is good' 1980s and arguably the most significant white-collar criminal of his generation." His pardon, Stewart added, sent two messages: "When it comes to justice, money counts. And white-collar crime doesn't really matter."
Milken and his legal team have petitioned successive presidents in the hope of a pardon, backed by his "wealthy and powerful friends," Stewart wrote. Milken retained a large fortune and used it to become a prominent philanthropist since being jailed, for which Stewart said he "deserves credit."
Stewart pointed out similarities between Milken and the president, suggesting it is "not hard to fathom" why the financier's case would interest Trump."
Both studied business at the Wharton School of the University of Pennsylvania but were "largely shunned" by New York's elite, Stewart said.
Both have also been disruptive forces—Milken on Wall Street and Trump in Washington, D.C.—and both were even represented by lawyer Alan Dershowitz.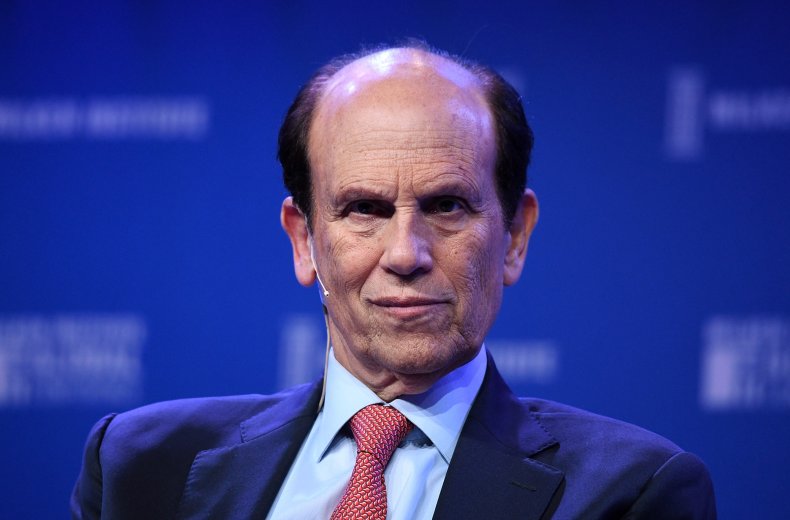 Trump attorney Rudy Giuliani, once the prosecutor who put Milken behind bars, also became a prime advocate for his pardon.
"Seen as an underdog, even a very wealthy and well-connected one, Mr. Milken has long inspired a counternarrative that he was a victim of a media and Wall Street establishment jealous of his wealth and success," Stewart explained.
"However unfounded in fact, that version of reality has now gotten a presidential stamp of approval."
Milken is one of 11 convicted criminals granted clemency by Trump this week. Others include ex-Illinois Governor Rod Blagojevich who was convicted of crimes including trying to sell a Senate seat, former New York police commissioner Bernie Kerik, who was convicted of tax fraud, and former San Francisco 49ers owner Eddie DeBartolo Jr., who was imprisoned for failing to report a felony in a bribery case.