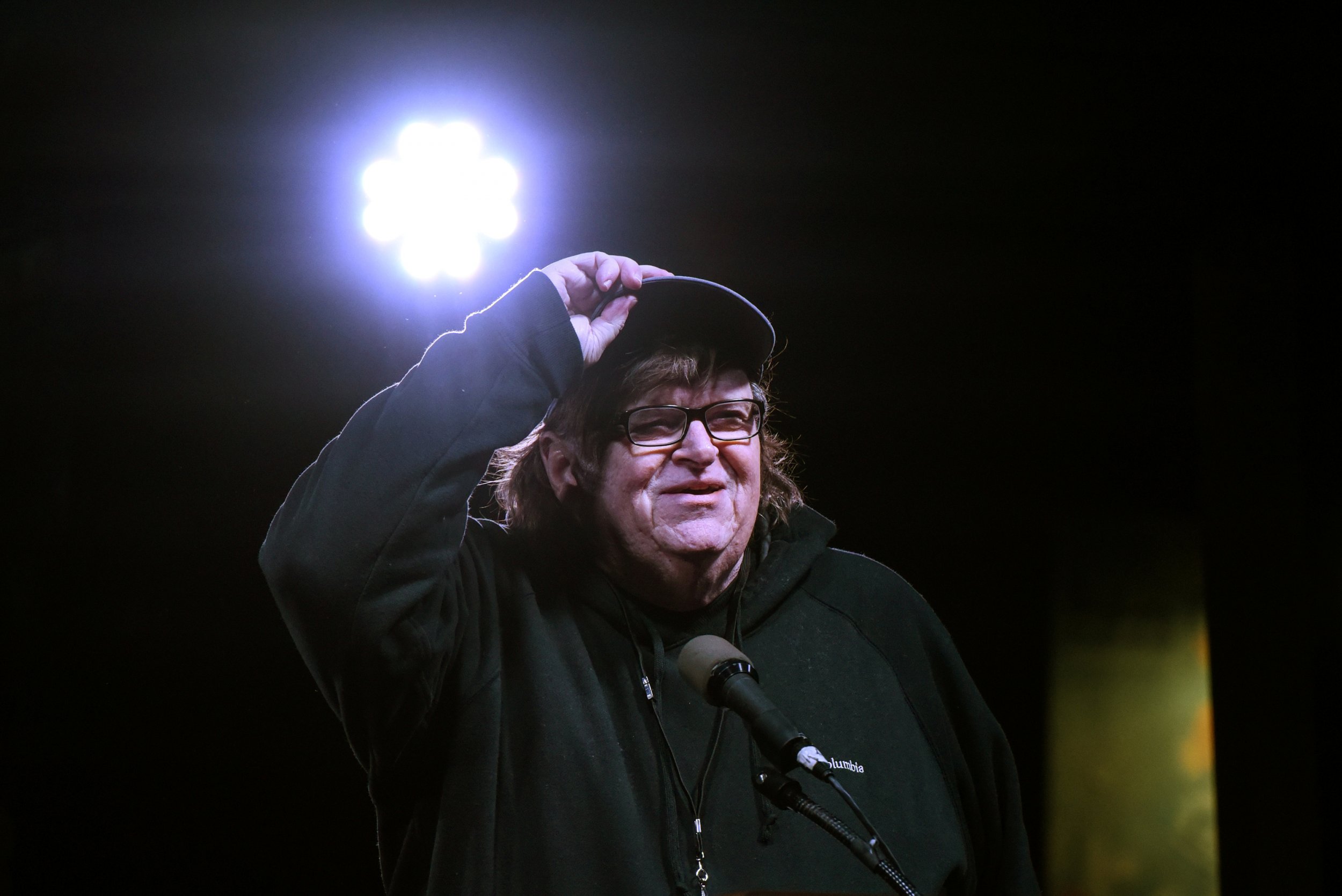 Remember when Michael Moore released Fahrenheit 9/11 and single-handedly stopped George W. Bush from getting re-elected? That election was a close one. Thankfully, Moore's gripping 2004 documentary secured a narrow victory for John Kerry and put Bush in jail for war crimes (he'll be out on good behavior next year).
OK: That never happened. Bush won. Fahrenheit 9/11 earned lots of awards and a 20-minute standing ovation at the Cannes Film Festival, but it didn't have quite the political impact that Moore hoped for.
Now, 13 years later, Donald Trump is in the White House, and Moore (who predicted Trump's election victory) has been secretly filming a documentary about him. It's called (wait for it) Fahrenheit 11/9. (November 9 was the day candidate Trump became President-elect Trump.)
Bob and Harvey Weinstein (who produced Fahrenheit 9/11) have acquired worldwide rights to the film, which has been secretly in the works for months. Here's what we know, via Variety:
Moore has reunited with his team from "Fahrenheit ‪9/11"—documentary directors/producers Meghan O'Hara, Tia Lessin, and Carl Deal. Tuesday's announcement said filming has been done under a strict cloak of secrecy and is aimed at dissolving Trump's "teflon" shield and his presidency.... David Glasser, chief operating officer of the Weinstein Company, said TWC will be exploring all possibilities for both international and domestic distribution this week at the Cannes Film Festival, where "Fahrenheit 9/11" won the Palme D'or in 2004.
While Trump has been able to dodge scandal after scandal, Moore seems to think his movie will make the difference in bringing him down.
Related: Watching Bowling for Columbine with Michael Moore 18 years after the massacre
"No matter what you throw at him, it hasn't worked," Moore said. "No matter what is revealed, he remains standing. Facts, reality, brains cannot defeat him. Even when he commits a self-inflicted wound, he gets up the next morning and keeps going and tweeting. That all ends with this movie."
Moore has predicted that Trump will get impeached in the middle of his second term. Either way, it's unlikely that his movie, which is being marketed to people who already despise Trump, will be the catalyst.
For Moore, though, a Trump documentary will surely be a financial success. Fahrenheit 9/11 is presently the highest-grossing documentary ever.