Michael Moore Says 'No More Proof' Needed For Trump to Be Impeached By Congress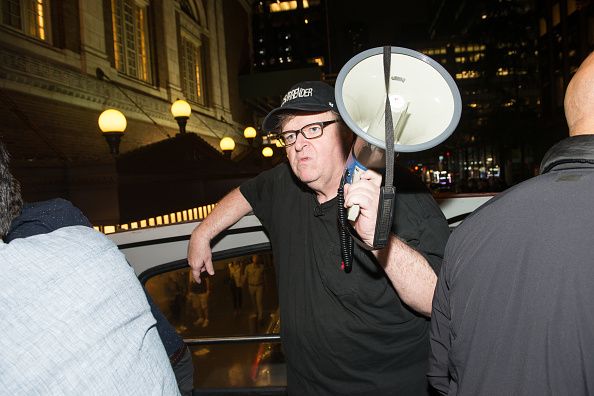 Michael Moore, the prominent documentary filmmaker and outspoken critic of President Donald Trump, said Tuesday that Congress should take swift action to remove the president from office.
"Congress needs no more proof than Trump's admission yesterday that he sides with Putin to impeach & remove him," Moore tweeted. "No hearings are needed. Fast action is a must.
"The House should vote to Impeach & the Senate should hold the trial. Those who don't act should be tossed Nov 6," he added, referring to the upcoming midterm elections.
Moore's comments joined a chorus of outrage over Trump's remarks at a press conference with Russian President Vladimir Putin following their private meeting Monday in Helsinki, Finland. "I have great confidence in my intelligence people, but I will tell you that President Putin was extremely strong and powerful in his denial today," Trump said.
In a separate tweet, Moore called Trump's vote of confidence in Putin and disregard for U.S. intelligence "televised treason."
"It is clear the Russians are holding him hostage by whatever they got on him or whatever harm they are threatening to do to a family member of his. For his and our safety, he must be removed from office," he said. "25 Amendment."
On Monday night, Trump defended his actions in Helsinki as a recognition that "in order to build a brighter future, we cannot exclusively focus on the past — as the world's two largest nuclear powers, we must get along!" On Tuesday, he said, "Fake News is going Crazy!" over his meeting with Putin.
Trump's willingness to accept Putin's denial of Russian interference in the 2016 election stands in contrast to the conclusions of the intelligence community, as well as his Justice Department and multiple congressional inquiries, that Russia did interfere in the election.
More recently, Russian Maria Butina was charged Monday with attempting to carry out an effort to influence the United States's leadership through connections in the National Rifle Association. Last week, Special Counsel Robert Mueller handed down 12 indictments against Russian officials for conspiring to interfere in the presidential election.
Moore rose to prominence from documentaries like Bowling for Columbine and Fahrenheit 9/11. In the latter, he questioned President George W. Bush's intentions behind the wars in Iraq and Afghanistan. Moore announced in June that his next documentary will be called Fahrenheit 11/9 and will examine Trump's election and presidency.