Michael Moore Says Maybe Donald Trump Wrote Anonymous NYT Op-Ed: 'He's The Master of Distraction'
Filmmaker and activist Michael Moore says he thinks Donald Trump or "one of his minions" wrote the anonymous New York Times op-ed that rattled the White House earlier this month.
Moore told reporters that while he doesn't know who wrote the story, he does have a few "wild" guesses as to who may be the senior Trump administration official behind it.
"If you want me to make a wild guess, Trump wrote it or one of his minions wrote it," Moore said on the red carpet before the premiere of his new documentary Fahrenheit 11/9 on Thursday night in New York.
"He's the King of the Misdirect. If we've ever known anything by now, it's that he does things to get people to turn away and the line that is most identifiable in terms of what he wants the public to believe, the line that says, 'don't worry, adults are in the room.' The idea is to get him to get us to calm down and look away from what he's really doing," Moore added.
The op-ed is highly critical of the president and his administration, ultimately calling into question Trump's mental stability. In the story, the anonymous author says that Trump's own cabinet considered invoking the 25th Amendment, which would jumpstart the process of removing him from the Oval Office.
The writer, who identified themselves as a senior official within the administration, also slammed the president's leadership style as "impetuous, adversarial, petty and ineffective."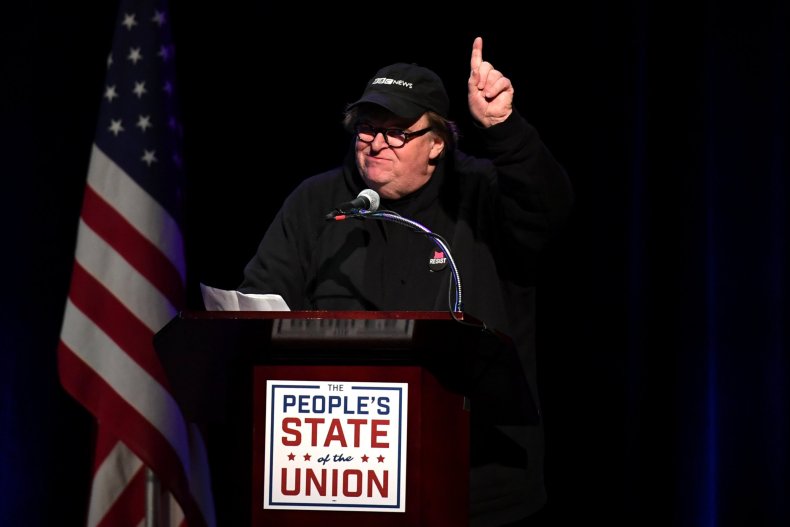 Immediately after its publication, senior White House members denied their role in the scathing op-ed including Vice President Mike Pence, Defense Secretary James Mattis and Secretary of State Mike Pompeo. Over a dozen officials have now denied writing the piece.
Trump has accused The New York Times of using a "phony source" and questioned the actual existence of the "gutless anonymous person" behind the op-ed. The president went further, tweeting that if the writer did actually exist The Times "must," for reasons of national security, "turn him/her over to the government at once!"
In the trailer of his new documentary, Moore makes the prediction that Trump could be the "last president of the United States."
"It's that we may not have our United States the way that we knew it. If he's successful in dismantling our democracy than the United States of old is gone and that's what I'm worried about," Moore clarified before the premiere on Thursday night.