Maxine Waters Placed in 'Halloween' Poster by Conservative Street Artist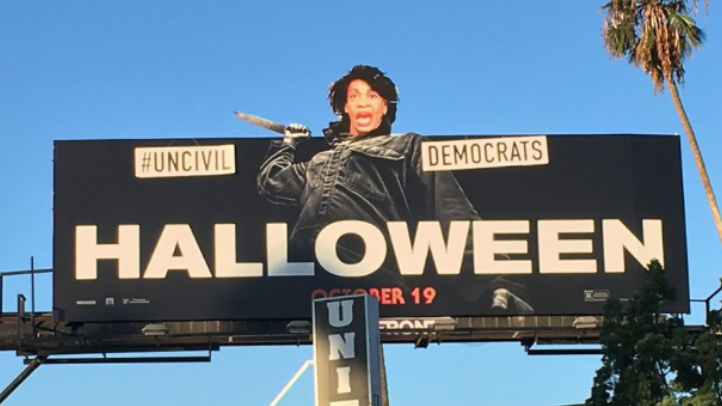 An advertisement for a horror movie was given a political twist by the conservative artist, Sabo, according to a Hollywood Reporter report.
The billboard on Pico Boulevard in West Hollywood was intended to advertise the premiere of the sequel to the 1978 classic, Halloween. Instead, the face of Michael Myers was replaced by California Representative Maxine Waters.
Above the head of knife-wielding Waters was the phrase, "#UncivilDemocrats."
Sabo told the Hollywood Reporter that the phrase was in reference to the Representative telling a crowd in June to make things uncomfortable for Donald Trump and his Cabinet members.
"If you see anybody from that Cabinet in a restaurant, in a department store, at a gasoline station, you get out and you create a crowd," Waters said at a rally in Los Angeles. "You push back on them and you tell them they're not welcome anymore, anywhere."
The street artist is also known for his "she knew" posters in the wake of the Harvey Weinstein allegations.
In 2017, posters of Meryl Streep, with the phrase "she knew" over her eyes, were strewn all over the Los Angeles area. Sabo told The Guardian that due to Streep's ties to Weinstein, she had prior knowledge of his abuse toward women.
Street art has more traditionally been associated with campaigns in favor of freedom, and in favor of the poor or downtrodden over the rich, than in support of the wealthy and powerful.