From Kanye West to Quilt: Nine February Albums We Can't Wait to Listen To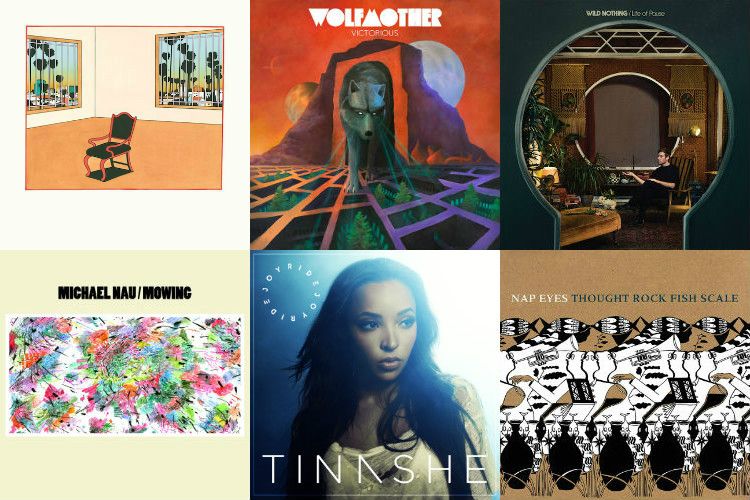 We're only a month into 2016, and already Kanye West and David Bowie have eclipsed the music world as we know it. To say West's new album, Waves,due to be released on February 11, is "anticipated" is as big of an understatement as saying Bowie will be "missed." We're anxious to hear West's latest album. But there are plenty of other February releases we're excited about as well, from psychedelic garage rock, to experimental indie, to sultry R&B and everything in between.
Animal Collective, Painting With
Release Date: February 19
Label: Domino
Three and a half years removed from its last LP, Animal Collective is in a strange place in 2016—split across continents and between solo factions (Avey Tare's Slasher Flicks, Panda Bear et al.). Painting With opens with the bewilderingly catchy ode to Florida weirdness "FloriDada" and kicks off from there. If you've enjoyed the hazy brand of synth- and sample-driven pop the group's been peddling since 2009's Merriweather Post Pavilion, you'll probably dig this one as well.
Michael Nau, Mowing
Release Date: February 19
Label: Suicide Squeeze
You probably know Michael Nau as the frontman of Cotton Jones, the dreamy indie folk duo he co-founded with his wife, Whitney McGraw. Mowing is Nau's first release under his own name, and though it comes six years after the last full-length Cotton Jones release, fans will be delighted to find that it features a similar brand of mellow, psychedelic Americana. This is largely because Mowing is made up of old Cotton Jones material that Nau and his pals have fashioned into a single, cohesive album. Behind the strength of gorgeous tracks like "While You Stand," "Smooth Aisles" and "Winter Beat" (above), Mowing sounds nothing like a collection of repurposed scraps from the cutting room floor.
Wild Nothing, Life of Pause
Release Date: February 19
Label: Captured Tracks
Jack Tatum, the tinkerer behind Wild Nothing's gauzy sound, has been laying low for the past few years. As it turns out, he's also been creating Life of Pause, his band's first album since 2012's Nocturne. "I desperately wanted for this to be the kind of record that would displace me," he told Captured Tracks. Judging from the strength of the singles "TV Queen" and "To Know You," it's guaranteed to be, well, something.
Tinashe, Joyride
Release Date: February TBD
Label: RCA
R&B's rising star, Tinashe, has a message for the doubters and dissenters in the trailer for her anticipated sophomore album, Joyride: "Motherfuckers, I can't be ignored." It's not so much a warning as it is a premonition from the artist who has opened for Nicki Minaj and been vetted by Kanye—because soon enough you'll be saying you were ride or die for Tinashe from the beginning. You heard it here first.
Acid Dad, Let's Plan a Robbery
Release Date: February 27
Label: self-released
On February 27, the Brooklyn psych-punk rockers behind Acid Dad will release their debut album, a four-song EP called Let's Plan a Robbery. Both live and on record (and on cassette), the band plays with the urgency of thieves. But so do a lot of psychedelic garage bands, many of which seem more concerned with reverb and distortion than melody and nuance. But Acid Dad are able to strike a rare balance between lo-fi ferocity and a dynamic depth of feeling. Call them thieves who got away with it.
Quilt, Plaza
Release Date: February 26
Label: Mexican Summer
Many bands are quick to call their sound "kaleidoscopic." But that description is perhaps most apt for Boston's Quilt and its winding, freewheeling sound, which oscillates between folk, psychedelic rock, pop and even punk. The band's latest, Plaza, is as original as it is stellar.
Wolfmother, Victorious
Release Date; February 19
Label: Universal
These days, a lot of bands are trying to do something clever, tinkering and experimenting with guitar, bass, drums and voice. Wolfmother, however, is not, which is why the veteran Australian head-bangers have been such a force since their 2005 debut. Some call their music cheesy; others call it fun. But the group continues to stick with what works, traditional rock 'n' roll, and this album is no exception.
Nap Eyes, Thought Rock Fish Scale
Release Date: February 5
Label: Paradise of Bachelors
Known for ambitious lyrics and frontman Nigel Chapman's sinewy, disaffected vocals, Nova Scotia's Nap Eyes follows its 2014 debut with Thought Rock Fish Scale. Chapman has been compared to Bob Dylan, Lou Reed and Jonathan Richman, among other singularly compelling singer-songwriters. If tracks like "Roll It," "Mixer" (above) and the seven-minute epic "Lion in Chains" are any indication, this album is only going to cement Chapman's status as one of the most fascinating songwriters we have today.
Kanye West, Waves
Release Date: February 11
Label: GOOD Music/Def Jam
Look, whether it's called So Help Me God, SWISH or Waves, it's a new album from the best rapper of his generation. "This is not album of the year," the rapper tweeted on January 26. "This is album of the life." He could be hilariously wrong, but he's never boring.