Michael Schumacher Update, Where Is He Now? Netflix Film Unpacks Life of F1 Driving Legend
Former racing car driver Michael Schumacher, the most successful Formula One (F1) driver of all time, is the focus of a new Netflix documentary titled Schumacher, which was released on September 15.
The new film unpacks the life of the German seven-time F1 world champion through a series of exclusive interviews and archival footage.
What Happened to Michael Schumacher?
In December 2013, less than a week before his 45th birthday, the F1 champion was severely injured in an accident while skiing during a family vacation in Méribel, France.
Schumacher was proceeding at a leisurely pace one morning when his skis struck a boulder off-trail. The retired driver was catapulted headfirst and tossed 34 feet before his helmet struck another rock, and split in two.
Is Michael Schumacher Alive? Where Is He Now?
Yes, Schumacher is alive. His doctors put him into an induced coma to combat swelling around the brain and he has since remained unconscious.
His family said in a statement in March 2014: "Michael has suffered severe injuries. It is very hard to comprehend for all of us that Michael, who had overcome a lot of precarious situations in the past, has been hurt so terribly in such a banal situation."
In April 2014, he was reported to be at Grenoble University Hospital in France. He was later transferred to a hospital in Lausanne, Switzerland, before he was moved to his family estate outside Lake Geneva in September 2014 to continue his recovery at home.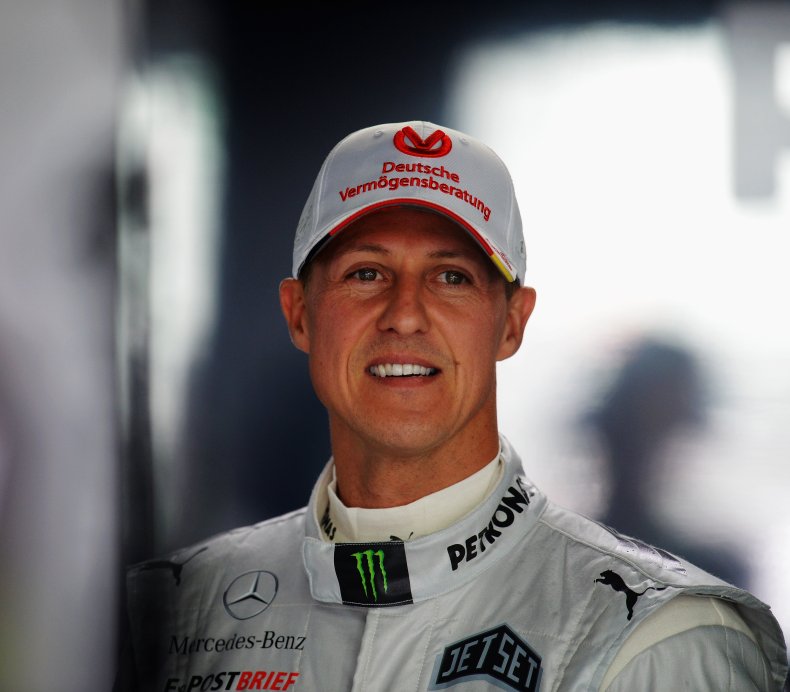 The Latest on Michael Schumacher's Health
Very few details on the condition of Schumacher's health and recovery were disclosed following the accident and that remains largely the case today.
Back in 2014, Dr. Gary Hartstein, an American physician who was F1's medical delegate from 2005 to 2012, wrote on his blog A Former F1 Doc Writes: "As time goes on, it becomes less and less likely that Michael will emerge to any significant extent.
"After eight weeks, if there's no sign of waking," Harstein told The New York Times in March 2014, "what most people would do is unplug."
A family spokeswoman previously told reporters around 2014 that Schumacher "shows moments of consciousness and awakening."
Hartstein said at the time: "If Michael smiles when a member of his entourage talks to him, reproducibly and consistently on at least a few occasions, this then would be a minimally conscious state. And that is about the best news we could possibly get right now."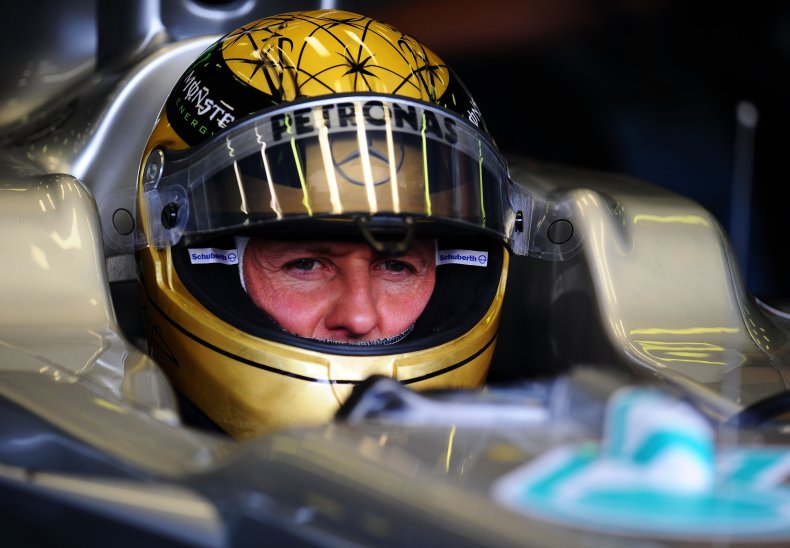 The Netflix documentary sheds light on how Schumacher's family has dealt with the driving legend's accident and current situation.
According to the F1 website, his wife Corinna Schumacher spoke about her life today without her husband in the film, saying: "Of course I miss Michael every day. But it's not just me who misses him. The children, the family, his father, everyone around him. I mean, everybody misses Michael, but Michael is still here. Different, but he's here, and that gives us strength, I find."
Speaking about how the family has been, she said in the film: "We're together, we live together at home. We do therapy, we do everything we can to make Michael better and to make sure he's comfortable, and to simply make him feel our family, our bond."
Schumacher's son Mick, a current F1 driver, spoke about not being able to seek his dad's advice for his own driving career. Mick said in the film: "I think Dad and me, we would understand each other in a different way now. Simply because we speak a similar language, the language of motorsport, and we would have much more to talk about.
"That's where my head is most of the time. Thinking that would be so cool... I would give up everything just for that," Mick said, according to the F1 website.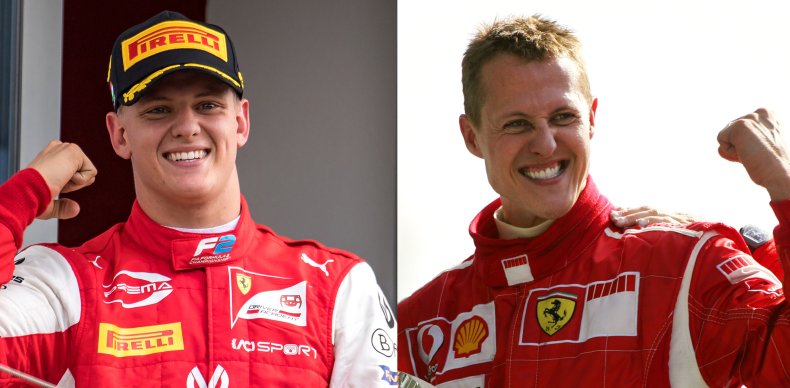 The Life and Career of Michael Schumacher
Born on January 3, 1969, in Hürth, a town near the city of Cologne in western Germany, Schumacher was born to a bricklayer who ran a local kart track in Kerpen, the German town where his mother managed a canteen, according to the F1 website.
The budding race car driver won his first kart championship at the age of six and by 1987 was a German and European kart champion, marking the humble beginnings of his record-breaking career.
Schumacher made his F1 debut at the 1991 Belgian Grand Prix in the Belgian city of Spa. His debut saw him snapped up by the Benetton race team, with which he won his first F1 race in 1991 in Spa, known to be among the most demanding circuits.
Following four seasons with Benetton, he joined the Ferrari team and in 2000 became Ferrari's first F1 champion in 21 years, before winning the driving title for several years thereafter. By 2004, he had won his seventh championship.
"Blessed with a supreme natural talent honed to the highest degree, he [Schumacher] had a racing brain to match and spare mental capacity that enabled him to make split-second decisions, adapt to changing circumstances and plan ahead while driving on the limit," the F1 website says.
He retired from race car driving in 2006, but made a brief comeback in 2010 with the Mercedes team before retiring for good in 2012.