Michael Stenger's Death Before Jan. 6 Hearing Sparks Conspiracy Theories
Unsubstantiated speculation and conspiracy theories have been spread online following reports that Michael Stenger, the former Senate sergeant-at-arms who oversaw security on January 6, 2021, has died.
Details on the circumstances around Stenger's death aged 71 are still unknown. Reports that Stenger had died on Monday were revealed by Politico's correspondent Katherine Tully-McManus and Fox News' Chad Pergram.
"Fox confirms that Michael Stenger, the Senate Sergeant at Arms who was in charge of Senate security the day of the Capitol riot, has died," Pergram tweeted.
McManus tweeted: "Former Senate Sergeant-at-Arms Michael Stenger died this morning. He joined the SAA team in 2011 after a career with the Secret Service and was appointed SAA in 2018."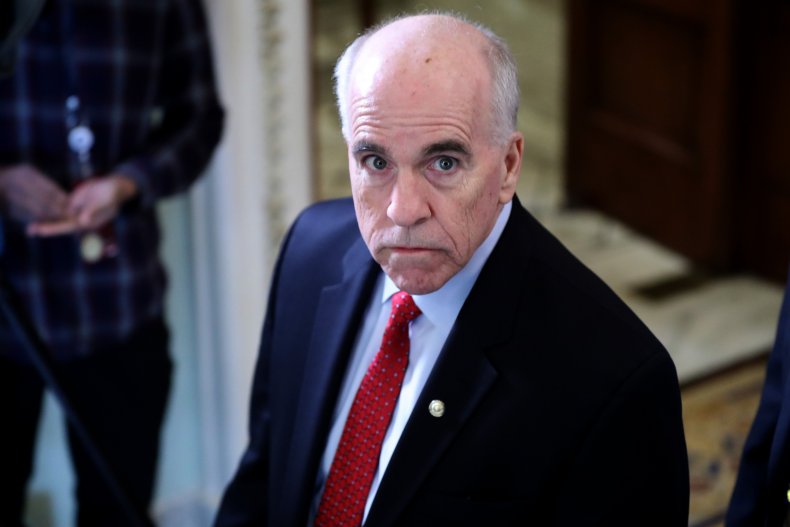 Stenger, along with Paul Irving, the then House sergeant-of-arms, and Capitol Police Chief Steven Sund all resigned from their roles in the wake of the January 6 attack following criticism over the lack of preparation ahead of the riot.
The New York Times previously reported that Irving and Stenger had both rejected a request from Capitol Police to have the National Guard on standby ahead of January 6.
The same day as Stenger's reported death, the January 6 committee announced there would be a surprise hearing on Tuesday in order to present "recently obtained evidence and receive witness testimony."
A number of social media users have attempted to suggest there is a link between Stenger's death and the panel presenting new evidence on Tuesday.
Tech entrepreneur William LeGate shared a picture of Pergram's tweet about Stenger's death and another tweet detailing Tuesday's surprise January 6 hearing, along with the caption: "Coincidence?"
Georgia congresswoman Marjorie Taylor Greene, who has spread far-right conspiracy theories in the past, also appeared to suggest there is something suspicious about Stenger's death.
In a tweet saying how Stenger was found dead, Greene shared a video of Stenger's testimony to a Senate committee in February 2021 regarding the Capitol riot in which he suggested that the alleged role of "professional agitators" needed to be investigated.
"There is an opportunity to learn lessons from the events of January 6th," Stenger said.
"Investigations should be considered as to funding and travel of what appears to be professional agitators. First Amendment rights should always be considered in conjunction with professional investigations."
Conspiracy theorists have long attempted to argue that the January 6 attack was a "false flag" operation orchestrated by Antifa activists or the FBI, with both claims being widely debunked.
Greene's post sharing Stenger's testimony was also widely shared by a number of popular QAnon accounts on Telegram.
"Stenger testified that there was paid professional agitators on January 6th. Is that what they didn't want out? I smell desperation," one QAnon telegram account with nearly 200,000 followers wrote.
Another QAnon account with more than 68,000 followers said: "Do you believe in coincidences??? What was Michael going to talk about at the J6 committee meeting tomorrow? Whatever it was...He had to either silence himself, or BE silenced."
Other Twitter users have claimed that Stenger was shot outside his apartment while citing unreliable online sources.
However, as noted by conspiracy theorist expert Mike Rosthchild, there is nothing to suggest that Stenger was due to testify to the January 6 panel on Tuesday, and reports that a man named Michael Stenger was shot appear to have stemmed from a separate incident in Oakland, California, nine years ago.
"Tons of conspiracy theories about recently deceased Senate Sergeant at Arms on January 6th, Michael Stenger," Rothschild tweeted. "There's no indication he was due to testify, and reports about him shot from a moving car seem to be mixed up with another Michael Stenger, shot in 2013."
Cassidy Hutchinson, a former top aide to former White House Chief of Staff Mark Meadows, is believed to be the key witness who will give live testimony to the January 6 committee's latest hearing on Tuesday.
Hutchinson, whose recorded depositions have already revealed a number of explosive allegations during the January 6 hearings, is reported to discuss Meadows' plot to overturn the 2020 election results.
Capitol Police and the U.S. Senate have been contacted for comment.