Michael Strahan Rebounds from Kelly Ripa Talk Show Exit, Says He's Felt More Like a 'Sidekick' Than a 'Partner'
Michael Strahan has found his footing as a media personality.
Along with serving as a sports analyst for Fox's Sunday and Thursday football coverage, the former New York Giants player spends his weekday mornings appearing as a co-host on Good Morning America while hosting Strahan, Sara and Keke fills his afternoons. Then in the evening, viewers get to watch him again on $100,000 Pyramid.
His work in TV has nearly surpassed his 15-year professional sports career, however, Strahan's road to becoming a daytime talk show household name didn't come without a few hurdles. In an interview with The New York Times, released on Tuesday, the 48-year-old admitted it was "tougher in the TV business," and opened up on some of the challenges he faced earlier in his TV career.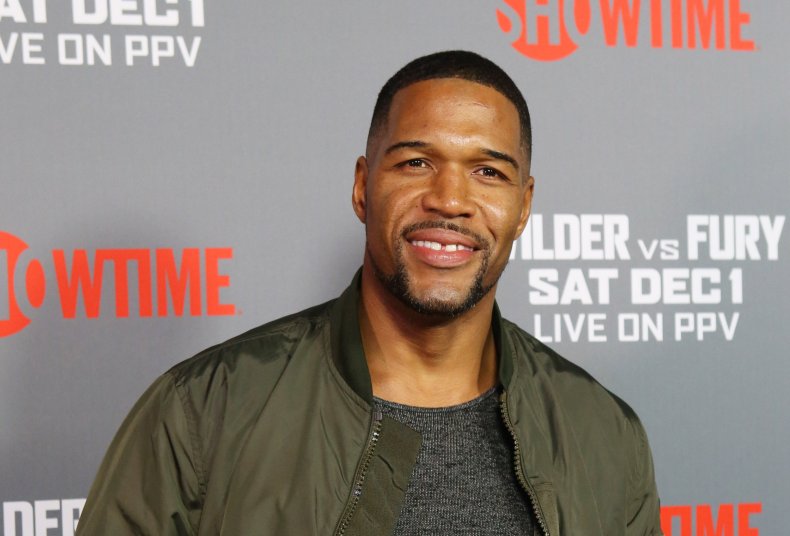 "Football will be the hardest thing I will ever do when it comes to work, because it requires you, mentally, to take yourself where you never thought you could go physically. That's not required now. But the mental aspect of working in TV is like it was in football," Strahan said. "I don't want to be on the show and feel like everyone else is carrying me. I want us all to be successful. I've done things where I went in with team concepts, and I got there and realized it's not about team. It's selfish, and I don't operate well under that."
Strahan noted selfishness was something that occurred in both the TV and football industry. "In sports, you can put as many great players as you want on a team, but if one guy out there is worried about himself, it will not work," Strahan said.
He added: "Then on television, I've had jobs where I got there and felt like: Wow, I didn't know I was supposed to be a sidekick. I thought I was coming here to be a partner."
When asked if his description was in reference to his time working with Kelly Ripa on Live! With Kelly in Michael, Strahan replied, "It was an experience."
After co-hosting Fox NFL Sunday for two years, Strahan expanded his media work and filled in for Regis Philbin on Live! With Regis and Kelly in 2010. When Philbin retired from the syndicated daytime talk show in 2011, Strahan was among many to guest-host with Ripa until 2012 when it was announced the show would be rebranded as Live! With Kelly and Michael.
Despite winning in ratings and even earning two Emmys, his time on the show was riddled with rumors of tension between Strahan and longtime host Ripa. Then in 2016, it was announced Strahan would leave Live! With Kelly and Michael and begin full-time at Good Morning America. The sudden move shocked fans and Ripa, who took days off from the show to process the news immediately following the announcement.
While speaking with the Times, Strahan said the transition "could have been handled better."
"I didn't wake up and say, 'I want a job at 'GMA' I was asked to do it by the people who run the network. It was really not a choice. It was a request. But it was treated as if I was the guy who walked in and said, 'I'm leaving,'" Strahan explained. "That part was totally misconstrued, mishandled in every way. People who should have handled it better have all apologized, but a lot of the damage had already been done. For me, it was like: Move on. Success is the best thing. Just keep on moving."
Strahan said he tried to talk to Ripa about their issues long before his departure from the show was announced, saying that he tried to schedule meetings with her every few weeks. However, Ripa "eventually said she didn't need to meet."
"Can't force somebody to do something they don't want to do," Strahan added.
After Strahan left, Ripa singlehandedly hosted the show until 2017 when Ryan Secrest was brought on and the show was dubbed Live! With Kelly and Ryan.
Strahan and Ripa's personal relationship completely deteriorated following the ordeal. In 2019, Strahan revealed to Time magazine he hadn't kept in touch with Ripa.
"I learned through all that went down with that, you can't convince people to like you," he said. "I haven't spoken to her in a long time."