Michael Strahan Latest Celeb Slated for Space Trip: Which Noted Stars Are Next
Former NFL star and Good Morning America co-host Michael Strahan announced Tuesday that he'll soon be blasting off into space – but he's not the only celebrity with plans of rocket travel.
Strahan will be heading into space on a Blue Origin flight next month alongside the daughter of the late American astronaut Alan Shepard and four others. The mission will take off on December 9 and mark the third human spaceflight for Jeff Bezos' aerospace company.
"Blue Origin—they approached me and without hesitation, I said 'yes,'" Strahan said on GMA Tuesday. "I'm going to space!"
Strahan's 10-minute flight will launch from West Texas and is likely to include about three minutes of weightlessness and a view of the curvature of the Earth, according to the Associated Press. Passengers aboard such flights are subjected to nearly 6 G's, or six times the force of Earth's gravity, as the capsule descends.
The launch will follow just months after 90-year-old Star Trek actor William Shatner traveled on a Blue Origin flight, becoming the oldest man to ever reach the edge of space.
"Everybody in the world needs to do this. Everybody in the world needs to see it," Shatner told Bezos of the experience. "It was unbelievable. The little things—the weightless – but to see the blue color (of the sky) whip by you and now you're staring into blackness...And then it's gone. It was so moving. This experience did something unbelievable."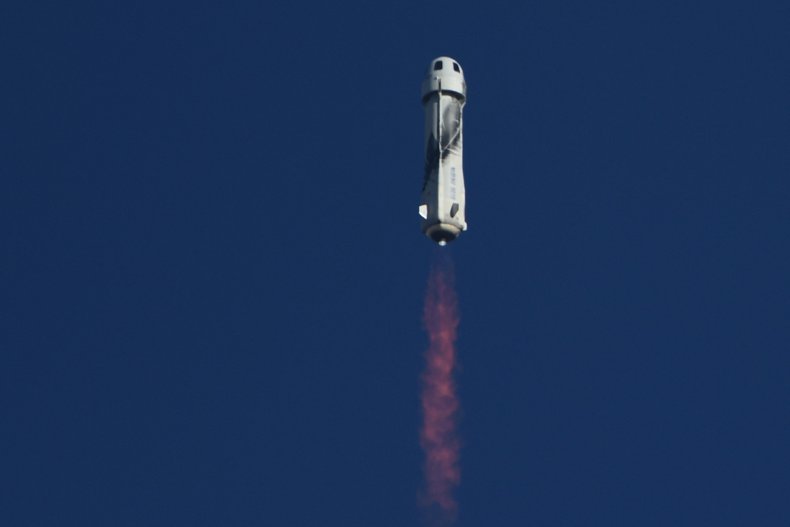 What Other Celebrities Are Going to Space?
Shatner and Strahan aren't the only famous faces with an interest in space exploration. Other celebrities, including Angelina Jolie, Leonardo Dicaprio and James Cameron have reportedly all purchased tickets to fly on upcoming space flights, according to the Harvard Crimson.
The so-called celebrity "space craze" first began in 2013 when Virgin Galactic CEO Richard Branson announced he was selling future seats for a sub-orbital flight that would launch into Earth's atmosphere and to the edge of space, according to the Crimson.
Now, Virgin Galactic and Blue Origin are both offering the expensive rides—up to $250,000 in cost—to actors, musicians, celebs, and billionaires in an effort to ramp up space tourism.
Other celebs, including singers Lady Gaga and Justin Bieber, have even toyed with the idea of becoming the first artists to perform or film music videos in space. Actresses Charlize Theron and Cameron Diaz have also expressed interest in space travel, but have not yet purchased tickets, according to USA Today.
However, not all celebs are as eager to take off. Tom Hanks, Paris Hilton and Ashton Kutcher have all turned down offers or expressed skepticism in the journey due to hefty costs and safety fears.
"It costs 28 million bucks or something like that," Hanks told Jimmy Kimmel earlier this month. "I'm doing good, Jimmy. I'm doing good, but I ain't paying 28 (million) bucks."