Michael Sussmann Acquitted in Win for Hillary Clinton, Trump Doubles Down
Former President Donald Trump posted about the issues with the country on Tuesday and topped off the list with the acquittal of Hillary Clinton's former campaign lawyer.
"Our Legal System is CORRUPT, our Judges (and Justices!) are highly partisan, compromised or just plain scared, our Borders are OPEN, our Elections are Rigged, Inflation is RAMPANT, gas prices and food costs are 'through the roof,' our Military 'Leadership' is Woke, our Country is going to HELL, and Michael Sussmann is not guilty. How's everything else doing? Enjoy your day!!!" Trump wrote in a Truth Social media post.
On Tuesday, Michael Sussmann, a lawyer whose firm represented Clinton in 2016, was found not guilty of lying to the FBI in the first trial of special counsel John Durham's three-year investigation.
Sussmann was accused of lying to investigators about representing Clinton when he gave a tip suggesting there was a possible internet backchannel between the Trump Organization and Russian bank Alfa Bank, which has ties to the Kremlin.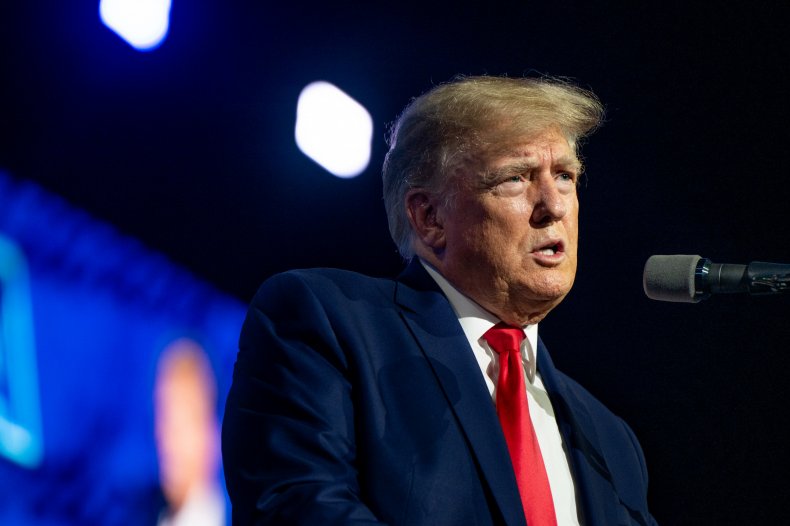 A federal jury deliberated for six hours before reaching its verdict.
Republican strategist Jay Townsend told Newsweek that the verdict would be unlikely to deter Trump from continuing to discredit the so-called collusion "witch hunt" against him.
"Michael Sussmann's acquittal is not going to change Mr. Trump's version of the Russia hoax," Townsend said. "He will continue to blame the investigation on Mrs. Clinton, the FBI, the Department of Justice and swamp creatures lurking in the dark corners of the federal bureaucracy. Knowing him, he'll now add rigged Washington juries to his list of villains who've treated him unfairly."
Tuesday's verdict dealt a blow to Durham, who was appointed by the Trump administration to look for wrongdoing in the Trump-Russia probe.
Durham's prosecutors argued that Sussmann lied about tipping off the FBI in good faith and that he hid his ties to Democrats, allegations that Sussmann's lawyers called a "political conspiracy theory" during closing arguments last week.
"I told the truth to the FBI, and the jury clearly recognized that with their unanimous verdict today," Sussmann told reporters outside the courthouse on Tuesday. "Despite being falsely accused, I am relieved that justice ultimately prevailed in my case."
Igor Danchenko, a Russian-born researcher who was a key source for the so-called Steele dossier, is also facing false-statement charges stemming from Durham's investigation . He trial is scheduled for later this year.
Update 5/31/22, 3:46 p.m. ET: This story was updated with additional information.