Michael Vick Ranks Top Heisman Quarterbacks by Their NFL Careers
Former NFL quarterback Michael Vick ranked the top seven Heisman Trophy-winning quarterbacks of all time this week based on their NFL careers. Vick made his broadcast through a Fox Sports: NFL tweet.
Vick, who wore No. 7 in college and most of his professional football career, did not win the Heisman Trophy himself, but as a freshman finished third in the 1999 Heisman race behind winner Ron Dayne (Wisconsin - RB) and runner-up Joe Hamilton (Georgia Tech - QB). He finished sixth in Heisman voting during the 2000 season, but was not a finalist, which made 1999 his only appearance at the awards as a candidate.
The 2019 Heisman Trophy will be awarded in New York City this Saturday night, and three of the four candidates are quarterbacks— LSU's Joe Burrow, Ohio State's Justin Fields and Oklahoma's Jalen Hurts. The other is Ohio State defensive end Chase Young.
So leading up to the season's biggest individual award, Vick listed his top 7 Heisman quarterbacks by what they did as NFL signal callers.
No. 7 Doug Flutie
Boston College — 1984
Flutie will always be remembered for the Hail Mary touchdown pass to beat the defending national champion Miami Hurricanes, in Miami, 47-45, on the last play of the game. Flutie went on to play for four teams in 10 NFL seasons.
"Doug Flutie was as consistent as they come, he was solid and he was a guy that you can bring in to mold a young quarterback, or even bring him in to play and have some success," Vick said.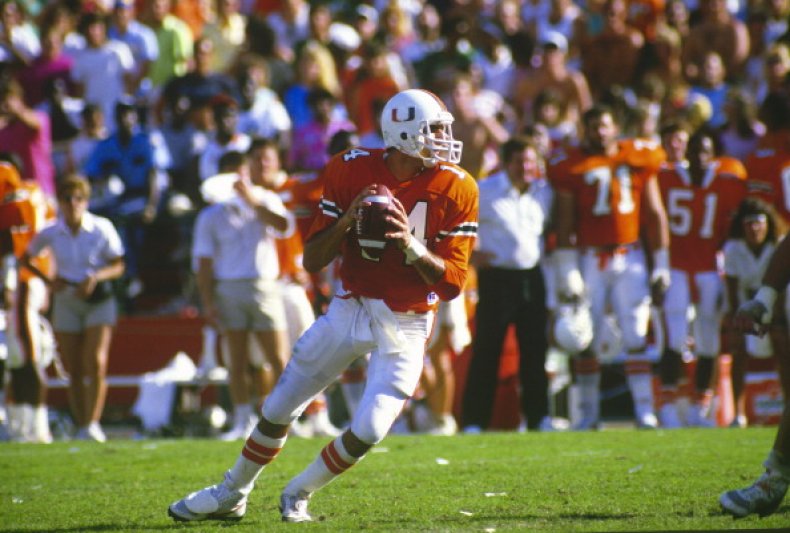 No. 6 Vinny Testaverde
Miami — 1986
Testaverde played 21 NFL seasons, and he's currently ranked in the top 16 in all major passing categories among NFL quarterbacks in history.
"I had a chance to watch Vinny Testaverde myself, and if I was a GM, I would have had him play quarterback for my team," Vick said.
No. 5 Carson Palmer
USC — 2002
Palmer led the NFL in passing touchdowns during 2005 while playing with the Cincinnati Bengals. He's still ranked No. 13 on the all-time passing touchdowns list and No. 12 all-time in completions.
"That's not bad for a guy who played in Cincinnati," Vick said.
No. 4 Lamar Jackson
Louisville — 2016
"Now look, Lamar already broke one of my records," Vick said, "and who knows what's going to happen to the rest of them. The offense he's playing in, he could potentially shatter all records for running quarterbacks. And I'm cool with that."
Jackson is one of the top candidates for NFL MVP this year, and has led the Baltimore Ravens to a nine-game winning streak and best record in the AFC going into Thursday night's game against the New York Jets.
No. 3 Cam Newton
Auburn — 2010
Newton began his career at Florida, and then transferred to Blinn College in Brenham, Texas, for a season before transferring to Auburn, where he led the Tigers to the 2010 national championship. In the process, he became the first player to win the national championship, the Heisman Trophy and get drafted No. 1 overall in the same year.
"I think Cam lived up to the expectations," Vick said. "He's had a stellar career in the National Football League."
Newton led the Carolina Panthers to the Super Bowl following the 2015 season, in which he picked up the NFL MVP award along the way.
No. 2 Jim Plunkett
Stanford — 1970
Plunkett won two Super Bowls and a Super Bowl MVP with the Oakland Raiders.
"He played in an era when the game was really hard and tough," Vick said. "Shout out to Jim Plunkett."
No. 1 Roger Staubach
Navy — 1963
"Roger the Dodger" led Navy to a No. 2 ranking in 1963 and berth in the Cotton Bowl. At one point, he held 28 Naval Academy passing records. After graduation, he spent four years in the U.S. Navy, which included a tour in Vietnam. After his service, he joined the Dallas Cowboys, of which he led them to four Super Bowls and two world championships in 1972 and 1978. He was the NFL MVP in 1971, and Super Bowl MVP in 1972.
"We could easily argue that he's the reason that Dallas is called "America's Team" because he was the face of the franchise, and he made this team look good," Vick said.