Michael Waltz Calls China's Treatment of Uighurs 'Pretty Sick Stuff'
Watch the full interview on ASP.
Republican Florida Representative Michael Waltz said during a recent interview the Chinese government's treatment of the Uighurs is similar to past ethnic genocides committed in Rwanda, Sudan, Bosnia and Nazi Germany.
"When you're trying to wipe an ethnic group off the face of the earth and prevent them from having children and spoil their gene pool through a mass rape campaign, that's pretty sick stuff," Waltz told A Starting Point.
Activists and analysts estimate that the Chinese government has held anywhere from 1 million to 2 million Uighurs and other minorities in national detention centers. The detainment of the predominantly Muslim minority group located mainly in China's Xinjiang province has coincided with widespread reports of forced sterilization, torture, sexual abuse and extrajudicial killings.
China has repeatedly dismissed international criticism and condemnation of its treatment of the Uighurs and other minority groups.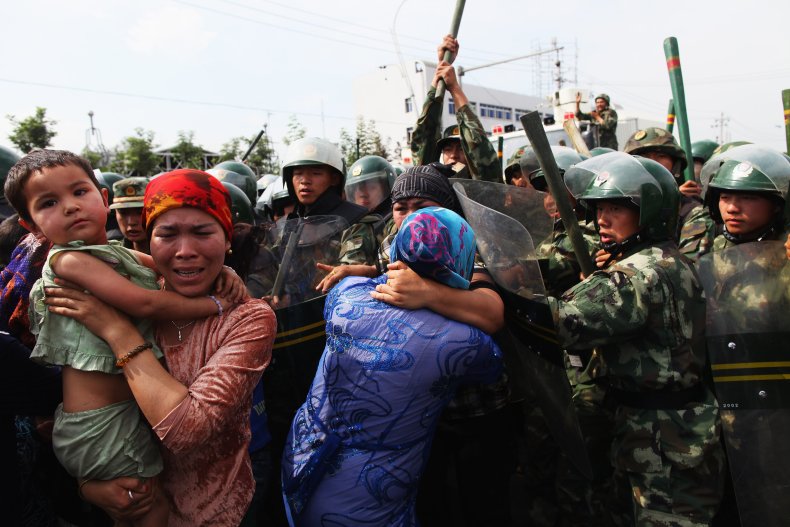 President Joe Biden signed a bipartisan congressional call for sanctions against the Chinese for the genocide. However, Waltz said that congressional resolutions condemning China's actions are "largely symbolic."
Waltz accused China of using its large economic power to discourage American companies from speaking out against its genocide. He said a number of American multinational companies—like Nike, Apple, Adidas, Coca Cola and others—lobbied against a House-approved bill that would've banned the import of goods believed to have been produced through the Uighurs' forced labor. As a result, the bill was killed in the Senate.
Nevertheless, Waltz voiced support for congressional legislation banning U.S. companies from sponsoring international events in countries that openly commit genocide.
He also said that the U.S. has repeatedly asked the International Olympic Committee (IOC) to move its 2022 Winter Olympic Games from Beijing, China's capital, to another country where genocide isn't occurring. Hosting the Olympics in such a country violates the IOC's own code of ethics, he said.
"We're calling on NBC to not broadcast the games given these, these human rights violations are going on," Waltz added, "and we're calling on the sponsors to pull their sponsorships."
In her interview with A Starting Point, Democratic Pennsylvania Representative Chrissy Houlahan, who sits on the House Foreign Affairs Committee, said that the United Nations (UN) has little power in pressuring China to change its behavior. This is because China is one of the five permanent members on the UN's Security Council, she added.
"They have a pretty big seat at a table in the UN," Houlahan said, "and so it's somewhat unlikely that the UN would do anything really on their own about this situation, which is why it's so important that places like the United States and our allies decry this behavior of the Chinese we violations of human rights."
Additionally, she called on corporations to "take a stand" and apply pressure to help intervene on behalf of the Uighurs.
Newsweek contacted Waltz and Houlahan for comment.