Michael Wilbon's Jock-Sniffing, Jürgen-Baiting Rant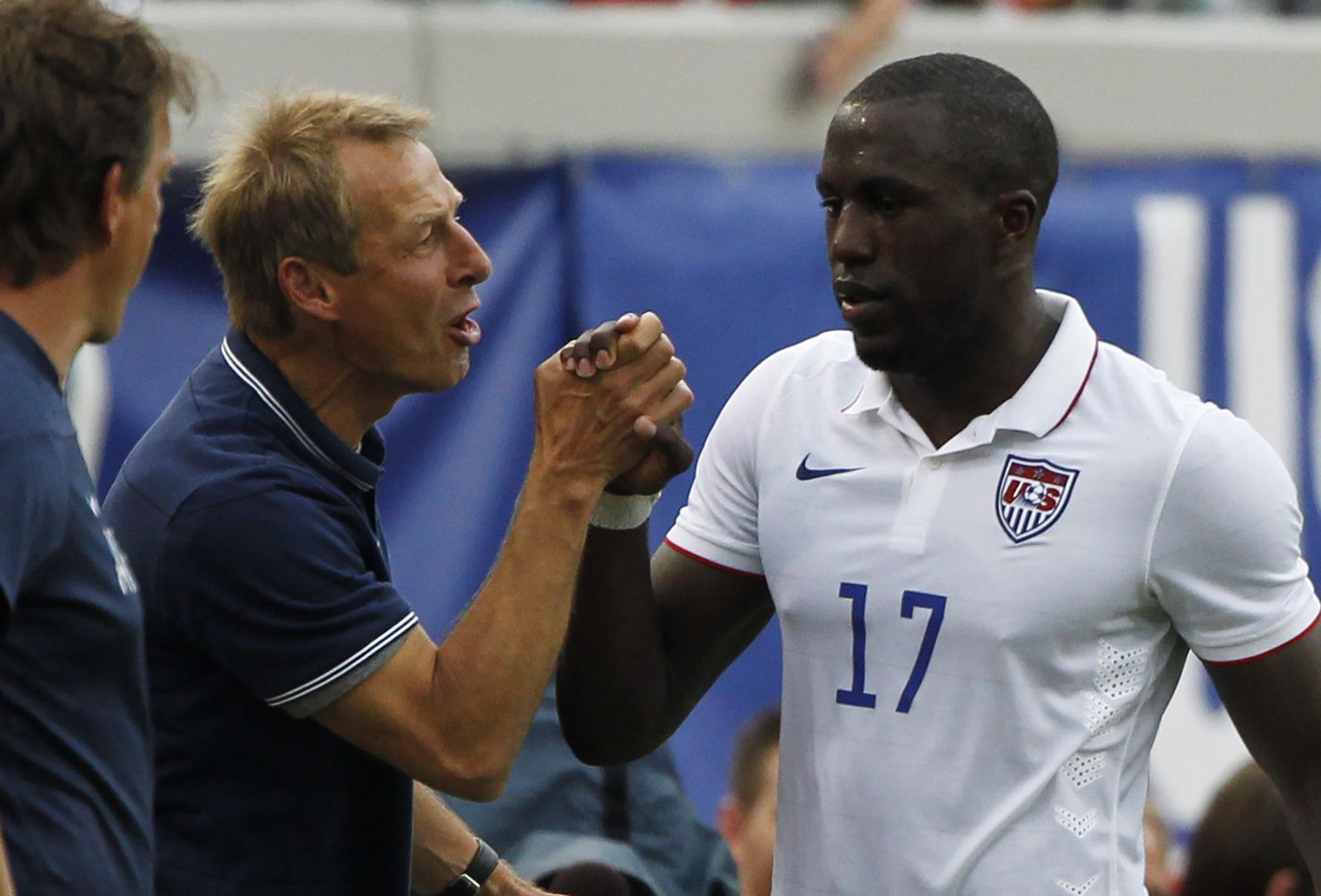 "Get the hell out! Get out of America!"
Really, Michael Wilbon?
"I repeat: Get the hell out!"
In a New York Times magazine profile that ran on June 4, Jürgen Klinsmann, the German coach of the United States World Cup soccer team that opens play on Monday versus Ghana, dared to question a peculiar American business practice. To wit, the policy of extending lavish contracts to superstar athletes who are clearly past their primes.
"Kobe Bryant, for example—why does he get a two-year contract extension for $50 million?" Klinsmann wonders in the piece, written by Sam Borden. "Because of what he is going to do in the next two years for the Lakers? Of course not. Of course not. He gets it because of what he has done before. It makes no sense. Why do you pay for what has already happened?"
Klinsmann's quote was a nod to his having cut 32-year-old American soccer icon Landon Donovan and to his belief that Americans are far too deferential to aging sports stars. It provoked the wrath of Wilbon, an American who is far too deferential to aging sports stars. Wilbon, a longtime and well-respected former Washington Post columnist who has basked in the relative celebrity that being co-host of ESPN's popular "Pardon the Interruption" has afforded him, unloaded on the dour Deutschlander.
"You know, for some time, I've known Kobe Bryant, and you, Mr. Klinsmann, are no damn Kobe Bryant," said Wilbon, invoking Lloyd Bentsen's famous quote from a 1998 vice presidential debate, which was incredible.
The only thing more irrelevant than Wilbon's knowing Kobe (read: friendship with Kobe…at least in Wilbon's terms) is the idea of vice presidential hopefuls debating.
Anyway…I am of the opinion that Bryant is the NBA's most talented player and its fiercest competitor since Michael Jordan retired. Including LeBron James. However, Bryant, who has spent all 18 of his NBA seasons with the Los Angeles Lakers, turns 36 in August and is coming off both a torn Achilles tendon and a lateral tibial plateau fracture in the past 14 months. This past season, one in which Bryant played six games, he was the top-paid player in the NBA ($30,453,805) by more than 30 percent over the next-highest compensated hoopster, fellow Klinsmann countryman Dirk Nowitzki of the Dallas Mavericks ($22,721,381). Last November, Bryant signed a two-year deal with Los Angeles that will pay him a total of $48.5 million for the upcoming two seasons.
The last person at fault here is, of course, Kobe Bryant. If the Lakers want to "reward" him for 18 stellar seasons, including five NBA championships, that is their prerogative. "We've said all along that our priority and hope was to have Kobe finish his career as a Laker, and this should ensure that that happens," Los Angeles General Manager Mitch Kupchak, himself a former Laker, said at the time. "To play 20 years in the NBA, and to do so with the same team, is unprecedented, and quite an accomplishment. Most importantly, however, it assures us that one of the best players in the world will remain a Laker."
What Kupchak did not mention, but could have, is "it assures us that this franchise will make no progress toward another championship era for at least another two seasons, until the yoke of Bryant's contract (and that of former two-time league MVP Steve Nash, who at age 40 will earn approximately $9 million) is off our necks."
What Wilbon does not understand, or does not want to understand, is that Kupchak and Klinsmann are chasing two different objectives. Kupchak's objective is to fill seats at the Staples Center. Just as the New York Yankees are devoting the 2014 baseball season to the Derek Jeter Farewell Tour—all team promos that make it to my email inbox are based on my "last opportunity" to see Derek Jeter play, as if it's my last chance to hear Mick and Keith groove on "Satisfaction." If I'm a Yankee fan, I'd rather watch them win than watch a soon-to-be-40-year-old shortstop who is currently hitting about 40 points below his career average.
Kupchak does not want to be the boss who sent Kobe Bryant into the wilderness in a different uniform in his winter years, as if that would matter. As much as Bryant has done for the Lakers, have they and the NBA not done as much for him? Or is shooting baskets a transferable skill that is highly marketable outside the confines of this league? The NBA is a business, and the only reason Kupchak and the Lakers made this deal is because they know there are enough suckers in purple-and-gold gear longing for yesteryear who will buy tickets to a nostalgia act.
Klinsmann's objective, whether you agree with the manner in which he is doing it or not, is to raise U.S. soccer to a heretofore unknown plateau. "We cannot win this World Cup, because we are not at that level yet," Klinsmann told The New York Times, almost guaranteeing that whatever happens in Brazil, this will be the worst sports movie ever made. "For us, we have to play the game of our lives seven times to win the tournament."
Wilbon pounced on this statement, too, because, after all, every underdog should be coached by Herb Brooks or Jim Valvano. Whoops, there goes another rubber tree plant and all that.... That's a particularly American sentiment, whereas Klinsmann hails from the nation that gave the world the word schadenfreude.
Klinsmann played on a World Cup champion team (1990, West Germany) and is intimately familiar with World Cup-level soccer. I'm going to defer to him on this, and I'm going to assume that he is not coaching the men's national team with any less vigor simply because he happens to be a realist.
Wilbon has gone, to borrow a term he often employs, "knucklehead." He long ago left objectivity behind when it comes to appraising some superstar athletes, particularly NBA players who happen to be his friends. He's become the 21st-century Ahmad Rashad and loves to mention that he knows Kobe or Dwyane Wade or LeBron, as if the friendship is anything but one-sided. If Wilbon were to return to his roots as a journalist and pen something critical about one of his "friends," he might discover a sudden chill in the relationship.
After Wilbon's "Get the hell out!" screed was finished—yes, a man who benefits directly from the First Amendment was figuratively banishing someone else for expressing an opinion—his co-host, Tony Kornheiser, simply said, "Do you think I'm going to argue with you on this?"
It wasn't that Kornheiser necessarily agreed with Wilbon. It might be that he didn't want to discuss on-air his old friend's blind spot when it comes to NBA jock-sniffing.
But someone should.