Michael Wolff to Stephen Colbert: "This is all true," Trump Presidency Is "alarming in every way"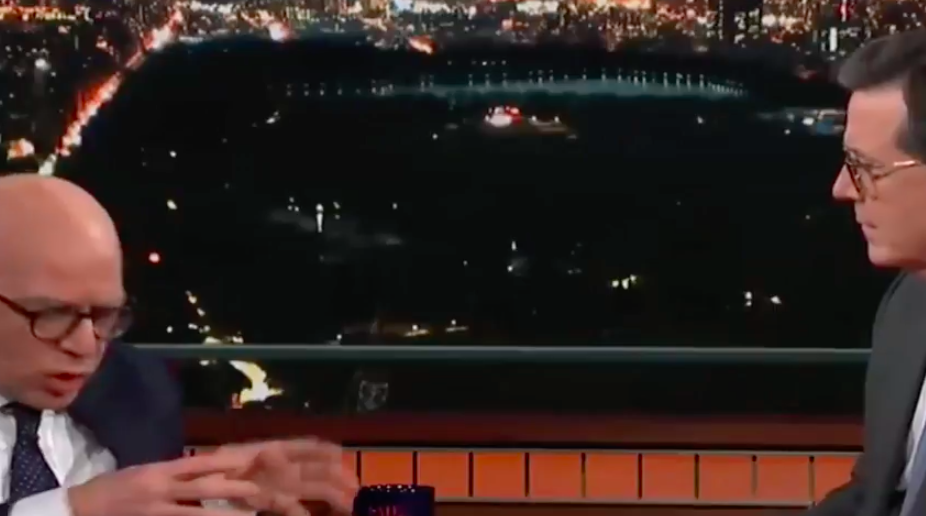 The most revealing moment of Stephen Colbert's interview with Michael Wolff came near its end, when the comedian asked the Fire and Fury author to name one thing, in the 18 months he spent reporting on the Trump administration from the White House, that gave him cause for optimism.
In response, Wolff perform an exaggerated roll of the eyes, accompanied by a groan.
"People gotta go to sleep after this," the Late Show host reminded, but Wolff's deadpan stare into the camera made perfectly clear that he had no interest in soothing Colbert's viewers, nor the millions of Americans who'd devored Fire and Fury over the weekend.
"Nothing," Wolff finally said. "Nothing. This is alarming in every way."
The interview took place on Monday night, after a weekend in which President Trump assailed Wolff on Twitter, calling him a "total loser who made up stories in order to sell this really boring and untruthful book." He then dispatched emissaries to the Sunday talk shows, where they sought to counter Wolff's most damaging assertions, in particular those involving the president's mental acuity.
Monday night found Wolff playing defense as well, as the Republican attacks on his reputation were bolstered by disapproval — often voiced on Twitter – from Wolff's fellow journalists. Since the book went on sale on Friday, a number of small errors have been unearthed. More grave have been charges that while Wolff wants to claim the authority of a journalist, he freely resorts to novelistic flights of imagination when it suits his narrative.
And although Colbert is a daily critic of Trump, and a vicious one at that, he did not fawn over Wolff. "I'm deeply conflicted when I read this," he admitted near the beginning of the interview. "How much of it should I believe?"
"You should believe all of it," Wolff countered. "That's the alarming thing. That this is all true." But there remains the troubling possibility that Wolff resorted to excessive dramatization of events in order to appeal to a liberal audience already terrified of Trump.
"Does this comport with what you already know?" Wolff wondered to Colbert. Indeed, the book paints a portrait of Trump that had become prevalent: that of a dissengaged, self-obsessed chief executive. But Wolff is more creative with his brush than other journalists. Moreover, the opacity of his sourcing makes it difficult to confirm his version of events.
Colbert pressed Wolff on more than one occassion to produce the recordings he claims to have made during his year-and-a-half of reporting from the White House. Wolff declined to do so, though without offering a compelling reason why. "I'm in the writing business," he said. The exchange was especially ironic because it was Colbert who invented the concept of truthiness — the slightly askew version of reality that is the staple of cable news and, according to some, marks Wolff's own reporting.
Wolff's interview with Colbert marked six days of almost unimaginable publicity for Wolff. An excerpt from his book had been published in The Guardian on Wednesday, with others quickly following. The threat of a potential lawsuit by Trump lead Wolff's publisher, Henry Holt & Co., to move up the book's release date by several days to last Friday. Trump's tweets about Fire and Fury appear to have only launched the book into the stratosphere, where few political memoirs can ever hope to orbit.
Trump "asked for my media schedule today," Wolff informed Colbert. "So that might mean that all he's done today is watched me on television," Wolff said, a statement made with great mockery and even greater glee.