Fire and Fury over 'Fire and Fury,' as Trump and Allies Spend Weekend Assailing Michael Wolff's Book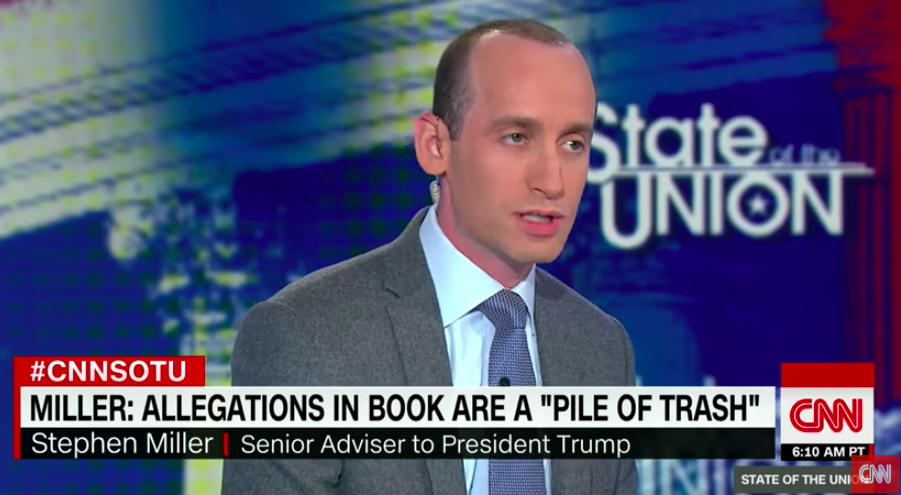 It was a weekend of anger and outrage, insult and recrimination. There was an apology, too, but it did little to quell the crisis over Michael Wolff's Fire and Fury, a White House tell-all that has plunged the Trump administration into full-blown crisis. Particulars of the book aside, the White House has been forced to battle Wolff's overarching assertion—which he claims is backed by every source he spoke to—that Trump is intellectually and emotionally incapable of handling the most powerful office on Earth.
Although the White House had been mounting a defense against Wolff all week—calling into question his reporting, as others had done with the veteran writer's previous work—this weekend amounted to Trump's most concerted effort to discredit the book, for which Wolff received inexplicably open access to the West Wing for 18 months. The book went on sale Friday. It has been selling at a torrid pace since.
Trump spent a portion of the weekend at Camp David, where he was to meet with congressional Republican leaders about the looming midterm election. But if, in previous decades, rural Maryland would have proved a refuge from the woes of Washington, digital technology has made such an escape all but impossible.
On Friday evening, Trump started his weekend with a tweet in which he called Wolff "a total loser who made up stories in order to sell this really boring and untruthful book." He also called his onetime campaign manager and chief White House strategist, Steve Bannon, "Sloppy Steve," the nickname he earned for being one of Wolff's most loquacious sources, one who was openly critical of Trump and his family.
Trump said that Bannon "cried when he got fired and begged for his job," a detail that is at odds with other descriptions of Bannon's departure from the White House in August. "Now Sloppy Steve has been dumped like a dog by almost everyone," Trump added with obvious glee, in apparent reference to reports that Bannon has lost the support of billionaire conservative activist Rebekah Mercer, seen as his primary benefactor.
A night of sleep under the Maryland stars did little to better Trump's mood. He was back on Twitter on Saturday morning, this time to dispel unflattering reports—eagerly conveyed by Wolff—about his intelligence and emotional comportment. Fire and Fury portrays both in troubling terms.
"Actually, throughout my life, my two greatest assets have been mental stability and being, like, really smart," he wrote in one tweet, elaborating in another that his victory in the presidential election "would qualify as not smart, but genius....and a very stable genius at that!" The term "stable genius" quickly began to trend on Twitter, though perhaps not for the reasons President Trump intended.
Sunday morning saw something of a surprise: an apology from Bannon, in a statement he'd relayed to Axios. "My support is...unwavering for the president and his agenda," an uncharacteristically contrite Bannon said. "President Trump was the only candidate that could have taken on and defeated the Clinton apparatus. I am the only person to date to conduct a global effort to preach the message of Trump and Trumpism; and remain ready to stand in the breach for this president's efforts to make America great again."
That however, may not be enough, given that Wolff effectively used Bannon's office in the West Wing as a staging ground for his renegade, shockingly unsupervised reporting excursion.
The Sunday political talk shows were proof of just how much damage Wolff has inflicted on Trump. While the talk shows are usually used by an administration to set a political agenda for the week to come, this past Sunday saw little but defenses of Trump against the charges made in Fire and Fury.
The most attention-getting interview, by far, was the one conducted by Jake Tapper, of CNN's State of the Union, with high-ranking White House policy adviser Stephen Miller. Once seen as a protégé of Bannon, Miller said it was "tragic and unfortunate that Steve would make these grotesque comments." He added that Bannon's "role has been greatly exaggerated," in keeping with Trump's own distaste for the depictions of Bannon as a mastermind of the 2016 victory.
Miller praised Trump as a "self-made billionaire [who] revolutionized reality TV and tapped into something magical that's happening in the hearts of this country," while also calling Trump a "genius." Trump, in fact, started his real estate business with a $14 million loan from his father, himself a wealthy, well-connected real estate developer.
Miller then proceeded to attack CNN for a variety of journalistic sins, but Tapper, who can show an impatience with grandstanding guests, had had enough. "There is one viewer that you care about right now and you're being obsequious, you're being a factotum in order to please him," he said, thus ending the interview. Subsequent reports indicate that Miller had to be escorted by security from the CNN set.
Over on Fox News, Trump's first campaign manager, Corey Lewandowski, made the case against Wolff to Chris Wallace of Fox News Sunday. "The guy is a liar, is what it comes down to, and I don't think anybody who looks at what's in this book can take it honestly," he said of Wolff, claiming that the author had never spoken to him. "This is a book of fiction. Not only is it not accurate, there are so many misrepresentations in this book that it shouldn't be taken seriously."
CIA Director Mike Pompeo, a diligent Trump defender, also spoke to Wallace, though it was not about North Korea or Iran. Rather, it was to defend Trump against charges that he neither reads briefing materials nor listens to the counsel of experts. "This President reads material that we provide to him. He listens closely to his daily briefing," Pompeo told Wallace.
Nikki Haley, the U.S. ambassador to the United Nations, also had to work on Sunday, telling George Stephanopoulos of ABC—and his viewers—that Trump is not the incurious, inattentive leader portrayed by Wolff. "These people put everything they've got into their jobs and into respecting and trusting the president," she said of those who work in the administration. "If they didn't, they wouldn't be there." Haley added that Trump "didn't become the president by accident."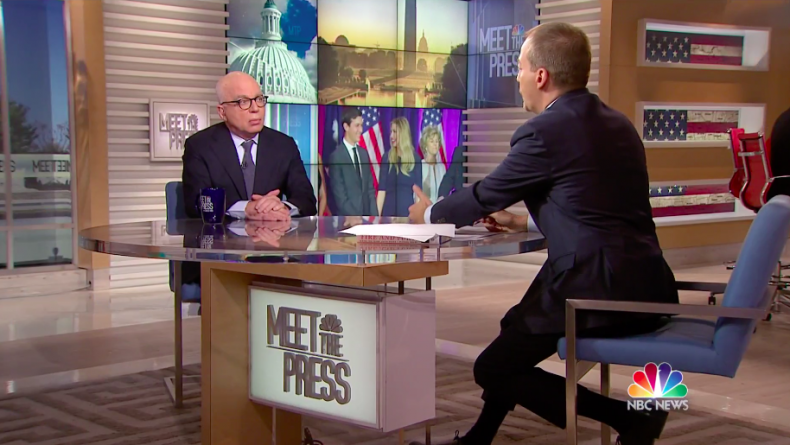 Wolff himself, meanwhile, appeared on NBC's Meet the Press. "He is not going to succeed," Wolff said to host Chuck Todd of the realization that struck him in the midst of reporting Fire and Fury.
"This is worse than everybody thought."