Trump: Michael Wolff a "Loser," Steve Bannon "Cried" When Fired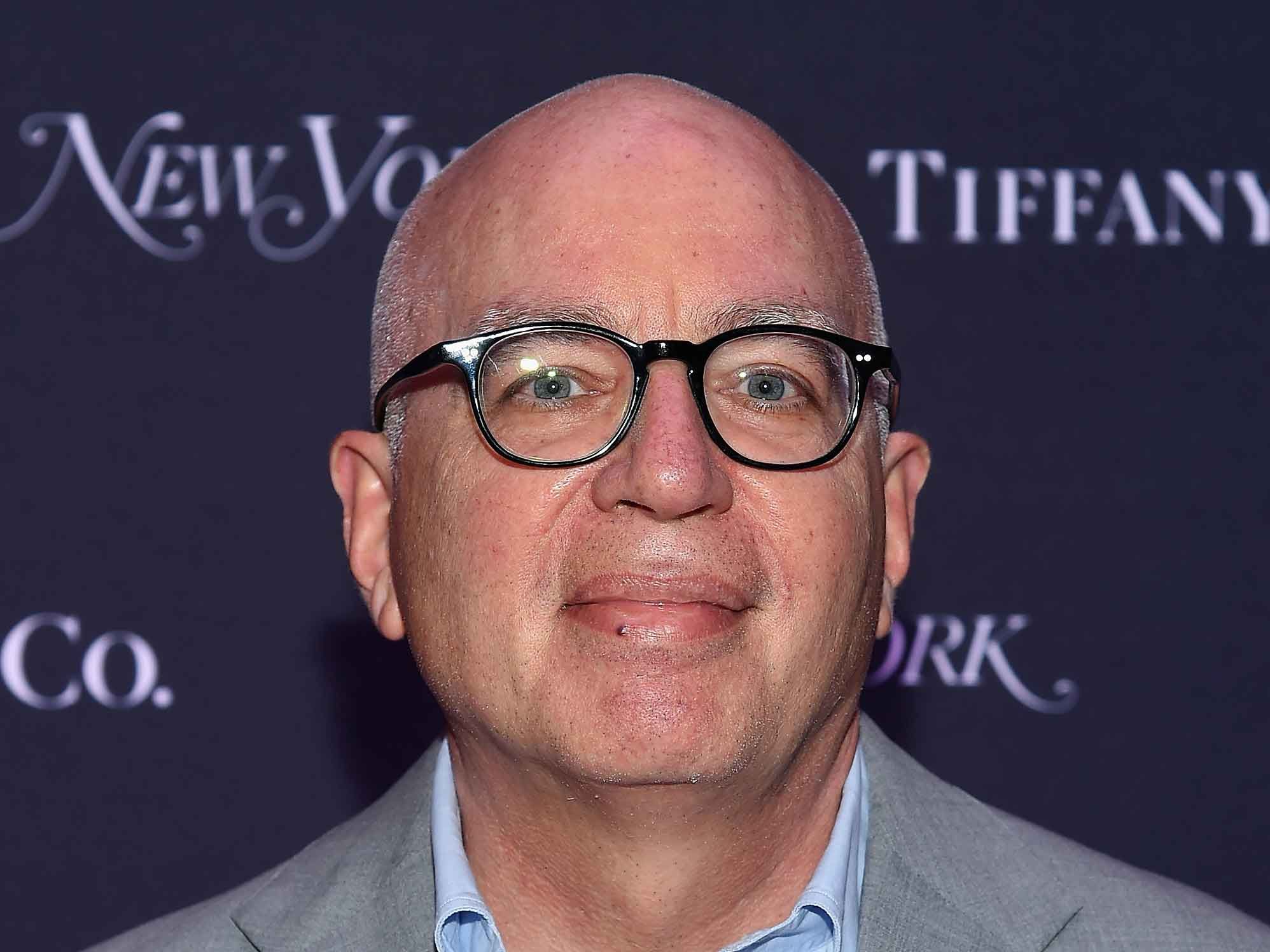 President Trump continued his extraordinary feud with author Michael Wolff with a Friday night tweet that will likely only boost sales of Fire and Fury, Wolff's irresistibly salacious account of the Trump administration.
The tweet comes as Trump prepares for a weekend of political strategizing at Camp David with congressional Republicans ahead of the 2018 midterm elections. A photo released by the White House earlier in the evening showed Trump dining with several members of Congress and his administration. He was flanked, at the table, by Senate Majority Leader Mitch McConnell, Republican of Kentucky, and House Speaker Paul D. Ryan, Republican of Wisconsin.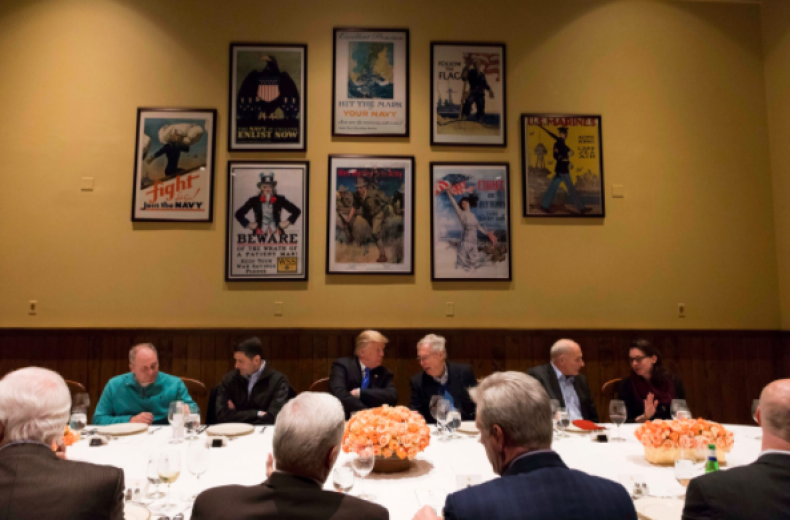 It was Trump's fourth tweet about the book, whose publication dominated the news this week. Celebratory discussion of the massive tax cut signed into law last month was virtually nonexistent. Infrastructure was forgotten. And the looming fight over control of Congress was supplanted by the deliciously deadly drip of details from Woolf's book, which was excerpted in The Hollywood Reporter, British GQ and The Guardian.
Trump's tweet also included a link to an earlier tweet, from the Republican National Committee. That tweet included a mock advertisement for Woolf's book, only instead of blurbs, it included doubts about Woolf's reporting that had been voiced by prominent journalists, including Maggie Haberman of The New York Times, generally considered the most reliable reporter on the West Wing's goings-on.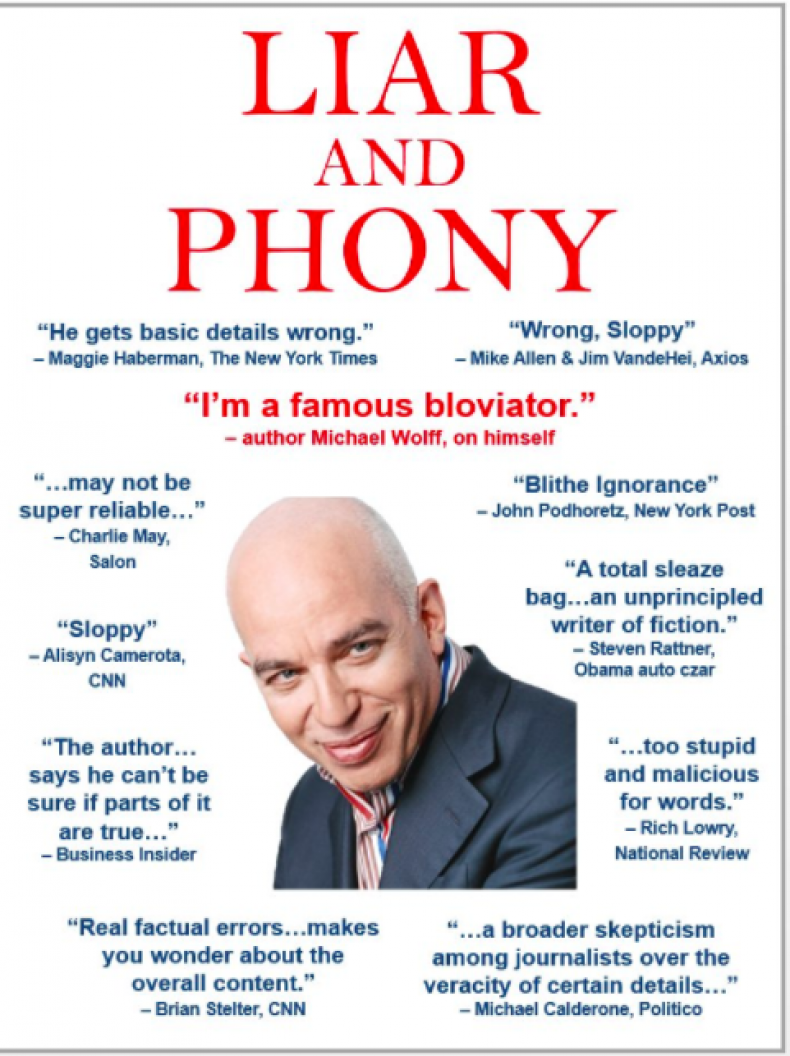 Some have, indeed, taken issue with a number of Wolff's quotes and descriptions; the accuracy of Wolff's reporting has been a longstanding matter of discussion in the Manhattan media world, with many assuming (whether fairly or not) that he took creative license beyond what journalistic propriety allowed. But for the most part, his description of a bumbling president and a chaotic administration in Fire and Fury has not been contested.
Among those quoted in the book is Sam Nunberg, an aide who reportedly called Trump an "idiot." Wolff writes that Trump quickly grew bored when, during the presidential campaign, Nunberg attempted to explain the U.S. Constitution to the candidate.
Confronted earlier this week with the portions of Fire and Fury that relate to him, Nunberg made no denial. "Yes, but out of context and/or I don't remember those quotes verbatim," he said in a text message. The president's former chief political strategist, Stephen K. Bannon, has also not denied or apologized for his many incendiary statements to Trump, which include deeming Ivanka Trump, the president's favorite child, "dumb as a brick."
If Trump is hoping that his tweets depress sales of Fire and Fury, he is likely to be disappointed. The book is currently Amazon's top seller, while bookstores in Washington, D.C., quickly sold-out of physical copies. The San Francisco Public Library, meanwhile, said that Fire and Fury was the most demanded item in the system's history, "with more than 900 hold requests," according to the San Francisco Chronicle.
The previous record was held by Frozen.