Amazon Reviewers Are Loving 'Fire and Fury,' Michael Wolff's Gossipy White House Book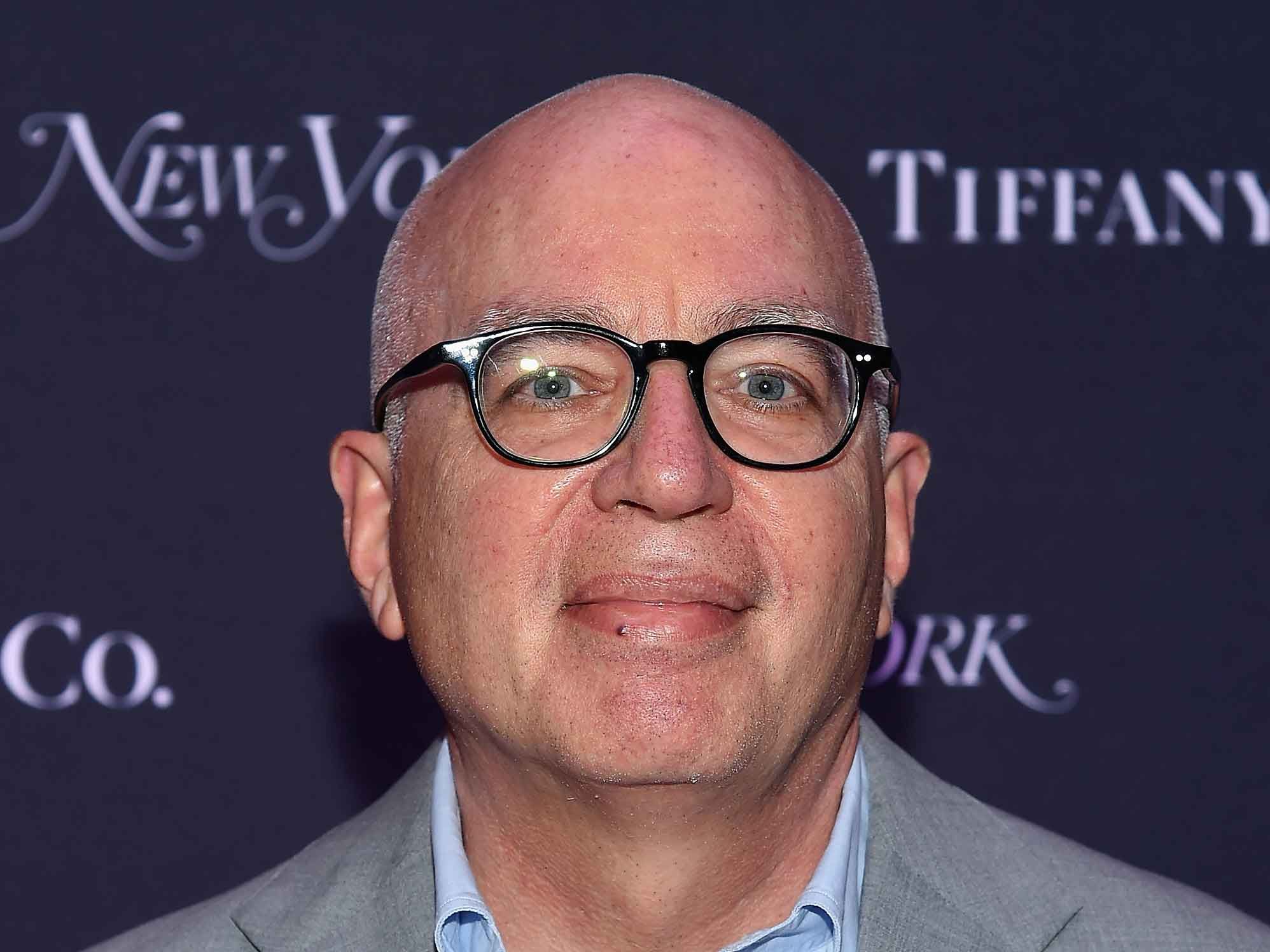 Journalist Michael Wolff's new book, Fire and Fury, may be the bane of the White House these days, but readers eager for political gossip are loving it, at least if early Amazon reviews are to be believed.
The book currently occupies the much-envied top spot on Amazon's list of best-selling books. That mirrors overnight reports of some physical bookstores in the Washington, D.C., area having sold out of the book just minutes after it went on sale at midnight Thursday.
As of Friday morning, Wolff's book has an average review of 4.8 stars, with 89 percent of reviewers giving the book five stars. As of this writing, Fire and Fury: Inside the Trump White House has two one-star reviews, even as it has been publicly derided by President Donald Trump; his press secretary, Sarah Huckabee Sanders; and others. That appears to have only helped sales.
"DEAR COMRADE BUDDY PLEASE DO NOT BE OF READING. VERY BAD," says one of the comments, which appears to have been written by an internet troll, given the dearth of identifying information about the reviewer, "keepwrecking," who has read and reviewed no other books or items on Amazon.
Newsweek subscription offers >
The other one-star review is more coherent, if not exactly more kind: "Wish I could get my money back, just a gossipy rag book." That he is more of a gossip than a reporter has indeed been a long-standing criticism of Wolff. That he may exaggerate the truth is another.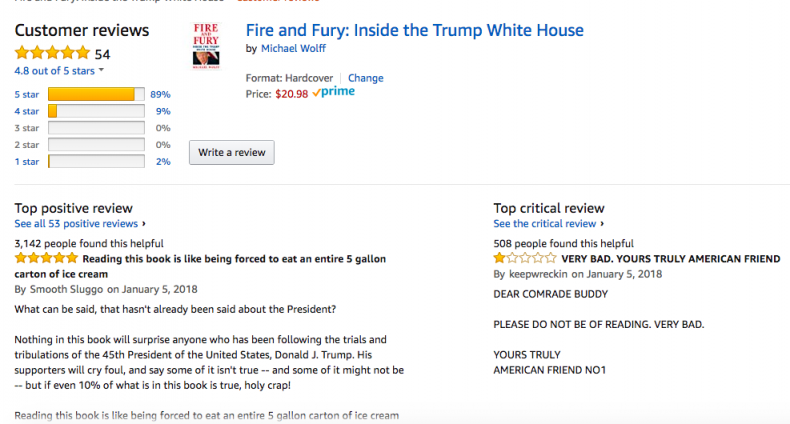 Most reviewers, however, appear to be delighting in the book, largely because it depicts Trump as bumbling and his administration as chaotic. The White House has forcefully disputed that characterization, and some aspects of Wolff's reporting have been called into question by the administration, as well as by other journalists.
"It is so good I would super size it if I could," declared reader Peter R. Clark, titling his five-star review "Making Journalist Great Again!!"—a play on Trump's campaign slogan.
Newsweek subscription offers >
W. Christian was even more effusive, if not outright hyperbolic, in his glowing assessment: "The Bible, the Tao Te Ching, Plato's Republic, Newton's Principia, Darwin's Origin of Species and now Wolff's Fire and Fury, an instant classic concerning the origin of a curious species of orange humanoid currently infesting 1600 Pennsylvania Avenue."
"Ultimately I believe this book will have the same impact on our society as Thomas Paine's Common Sense in 1776," said reader C. Thomas, in what may be a somewhat unrealistic assessment of Wolff.
Several readers suggested that they'd bought the book purely out of spite, after Trump's lawyers tried to halt its publication. The book's publisher, Henry Holt & Co., responded to the lawyers by moving up the publication of Fire and Fury by several days.
Mostly, readers were captivated by what Wolff gained from his open access to the West Wing, and the resulting portrait of sniping, jockeying and leaking. "Well, it's a tabloid book about a tabloid president," concluded reader Jwbutler2005.
"After reading this, I'm inclined to think they're too stupid to collude with Russia," wrote an anonymous user. "How did these morons ever rise to power? Bannon seems to be the only one in the group with any brains and that's not saying a whole lot."
"It's like reading People magazine at the dentist's office," concluded MaeOutWest. "You hate it but you can't stop, and there's nothing else going on around you that's nearly as fascinating."
The book has five four-star reviews. The author of one such review, Count Catula, explains, "I've docked a star because the sensationalist and outlandish tone of the book makes me wonder if what I've read is true."
Some are indeed wondering. But everyone's reading.
Amazon Reviewers Are Loving 'Fire and Fury,' Michael Wolff's Gossipy White House Book | U.S.