10 New Takeaways From Michael Wolff's Trump White House Book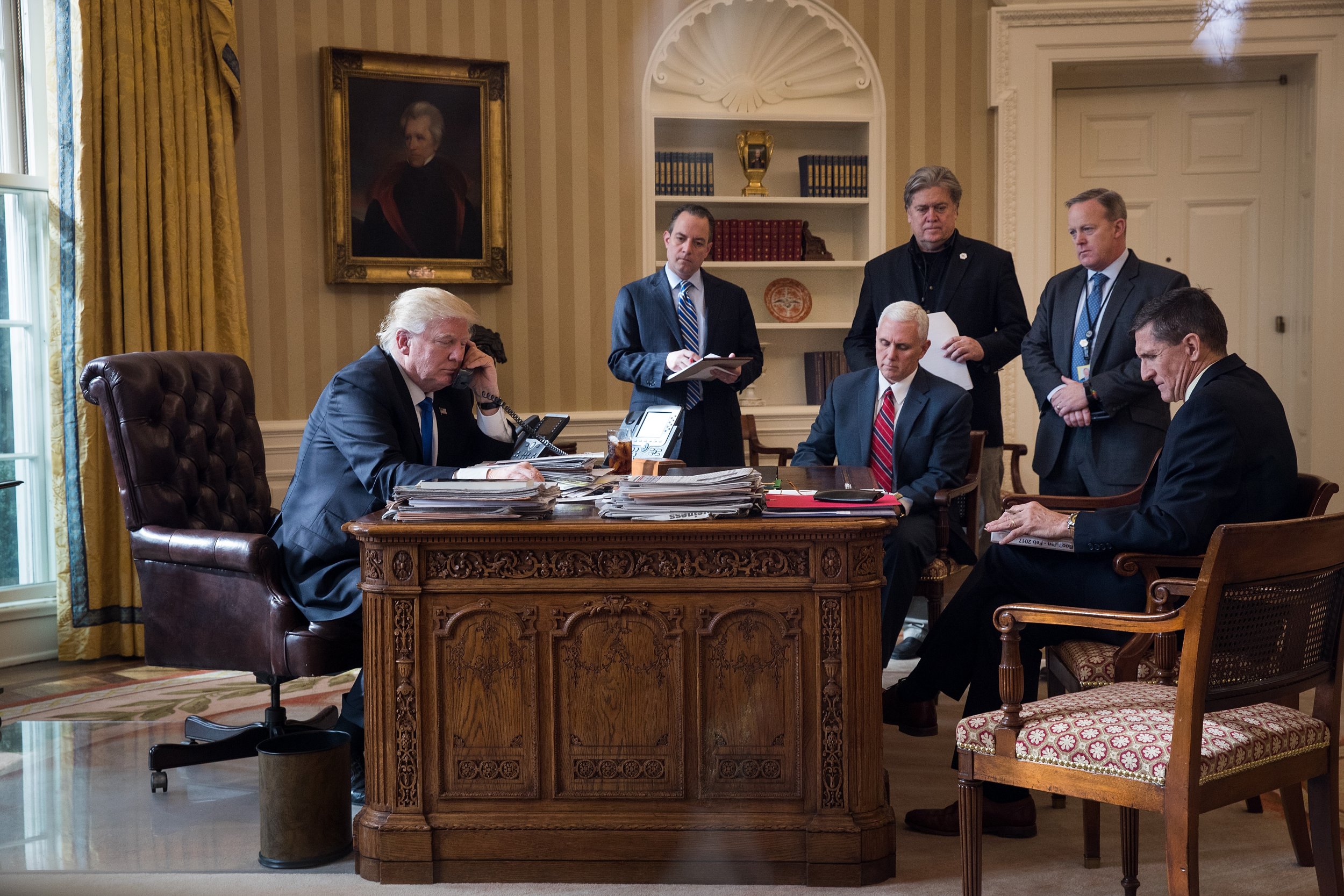 The complex relationship between President Donald Trump and the conservative media outlets—including Breitbart News and Fox News—that minted him as a candidate and sold him as an acceptable alternative to establishment Republicans is detailed in a third excerpt from journalist Michael Wolff's forthcoming book, Fire and Fury.
Wolff gained unprecedented access to the West Wing to write the book, and the excerpt, published in British GQ, follows similarly astonishing selections published in New York Magazine, The Guardian and The Hollywood Reporter. Fire and Fury will be published Friday, four days earlier than had been planned, following attempts by Trump's lawyer to halt its publication.
Below are some of the key revelations from the British GQ excerpt:
1. After being deposed as Fox News chairman, Roger Ailes courted Stephen Bannon, then the chief White House political strategist, with the idea of starting a new conservative network, one that was expected to also attract some of the brightest lights at Fox News. "With [Bill] O'Reilly and [Sean] Hannity on board," Wolff writes, "there could be television riches fuelled by, into the foreseeable future, a new Trump-inspired era of right-wing passion and hegemony."
2. Ailes had a falling out with Trump, "piqued by the constant reports that Trump was bad-mouthing him," according to Wolff. "Men who demand the most loyalty tend to be the least loyal pricks," Ailes is reported to have complained. He died last May.
3. Trump was obsessed with how he was covered in the mainstream media, even as he routinely derided The New York Times, CNN and other outlets. "Much of the president's daily conversation was a repetitive rundown of what various anchors and hosts had said about him," Wolff wrote. (Trump has said that reports he watches several hours of television daily are untrue.)
4. Trump is a "conventional misogynist," Wolff reported, but he is trusting of women in the workplace: "Women, according to Trump, were simply more loyal and trustworthy than men." The women who work with him, however, are subject to a sexism they must simply endure, according to Wolff.
5. Wolff said Kellyanne Conway, the White House senior adviser, frequently maligned Trump in private—even as she defended him ferociously on television. "She seemed to regard Trump as a figure of exhausting exaggeration or even ­absurdity.... She illustrated her opinion of her boss with a whole series of facial expressions: eyes rolling, mouth agape, head snapping back." Conway's visceral distaste for her boss has previously been reported elsewhere.
6. Hope Hicks, now the White House communications director, was rumored to have an "on-and-off romantic relationship" with Trump's first campaign manager, Corey Lewandowski. (The rumor has circulated around Washington, and in media, for some time, but without any sourcing to support the claim.) "You're the best piece of tail he'll ever have," Trump reportedly told Hicks of Lewandowski.
Wolff in addition calls Hicks, who is from Connecticut, "a kind of Stepford factotum, as absolutely dedicated to and tolerant of Mr Trump as anyone who had ever worked for him." Before joining the Trump campaign, Hicks was a model.
7. Tucker Carlson, the Fox News host, was once considered for the White House press secretary job. So was conservative pundit Laura Ingraham, now also at Fox News. Wolff reported that when the job was finally offered to longtime Republican operative Sean Spicer, he wondered, "If I do this, will I ever be able to work again?"
8. Trump was fixated on coverage from New York Times reporter—and New York tabloid veteran—Maggie Haberman, who produced detailed but critical stories of life inside the West Wing. "Beyond acknowledging that Trump was a boy from Queens yet in awe of the Times, nobody in the West Wing could explain why he and Hicks would so often turn to Haberman for what would so reliably be a mocking and hurtful portrayal," Wolff wrote, noting that while Trump called Haberman "mean and horrible," he regularly sought her attention.
9. Jared Kushner and Bannon had their own press operations, often at odds with each other in the leaks they offered to friendly outlets. Bannon's communication director, Alexandra Preate, was described as "a witty conservative socialite partial to ­champagne" who was close to Rebekah Mercer, the billionaire conservative activist. Mercer had reportedly been a generous sponsor of Bannon's political activities, and of Breitbart News, but she distanced herself from Bannon in a statement on Thursday.
10. Trump "had one of the most dysfunctional communication operations in modern White House history," Wolff wrote. The press shop is now led by Hicks, the communications director, and Sarah Huckabee Sanders, the press secretary, who has denounced Wolff's book as "some trash from an author no one has ever heard of before today."