Michael Wolff: Where the Times Falls on Trump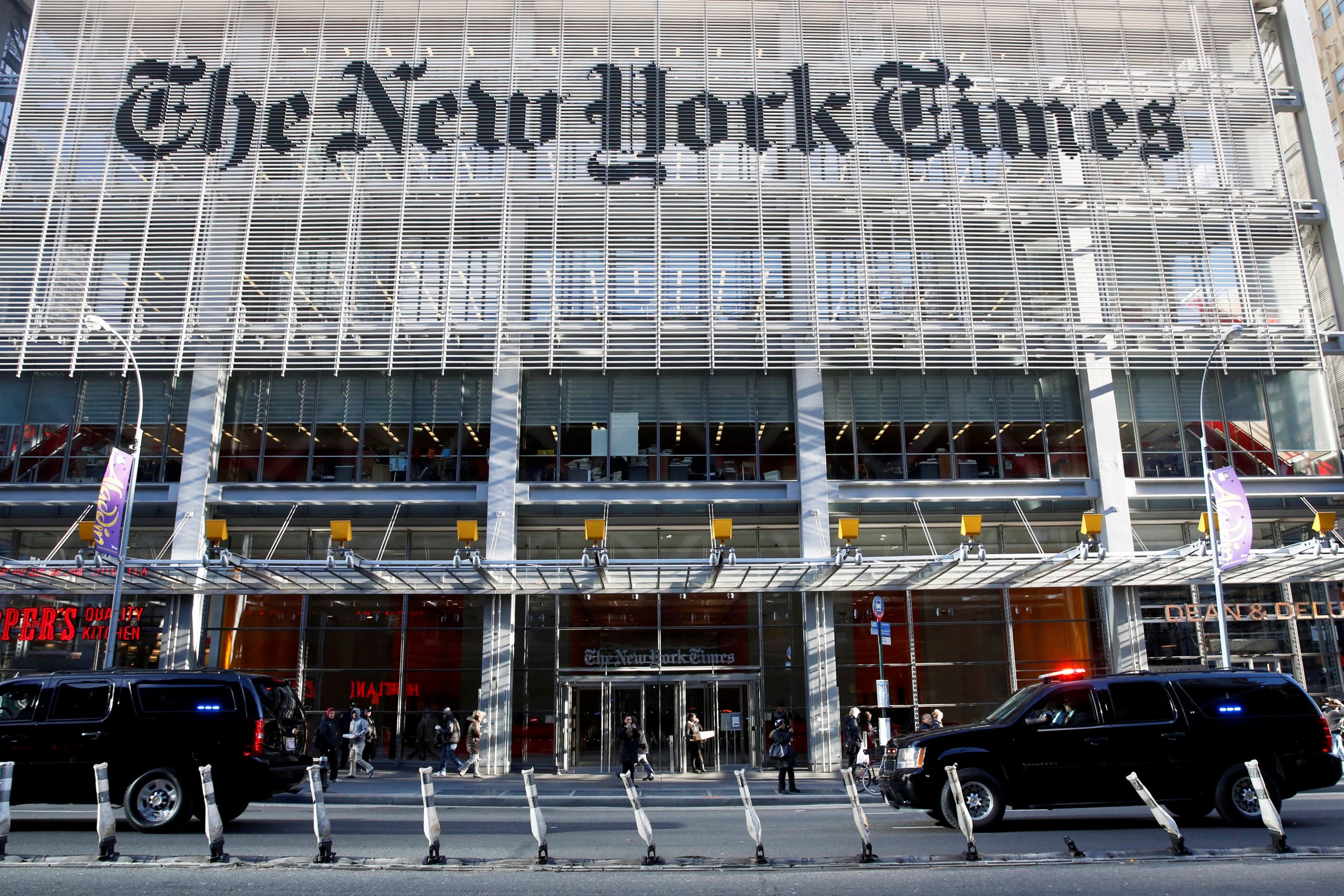 The New York Times doesn't like Donald Trump, Rupert Murdoch or The Wall Street Journal, a trifecta of contempt that has recently come together for the Times in some considerable tisk-tisking and self-congratulations. It also, in the Times view of events, enshrines new Trump-age journalistic principles: that is, journalism should be anti-Trump.
The cause of the Times' s not-very-veiled delight is considerable grumbling in The Wall Street Journal' s newsroom over the paper's efforts to be even-handed in its reporting about the Trump presidency. Reporters at the Journal, quite in a fashion similar to reporters everywhere, tend to believe that Trump ought to be covered with explicit skepticism, if not open resistance.
Wall Street Journal editor Gerard Baker's instruction to characterize Trump whoppers as inaccuracies or misrepresentations, but not "lies," which might appear to assume intent, was regarded as, at best, a quisling's out. Baker similarly pressed a style point of not loading the discussion of the immigration ban by referring to the sanctioned countries as "Muslim-majority" nations. In a WSJ staff meeting on Monday, Baker tried to defend his moderate stance.
In the Times, op-ed writer David Leonhardt said of the Times' s direct competitor that—not as the biggest surprise—he agreed with the criticism about it. He then went on to outline some of the Journal' s editorial offenses:
It wrote straightforward headlines, citing several examples, including "Trump Seeks Election Fraud Probe." (Presumably this should have been something more like, "Fraudster Trump Seeks No-Fraud-Whatsoever Election Probe.") This was, in fact, Leonhardt noted, a "solid" story, which said that Trump had no evidence of voter fraud.
Initial paragraphs in various stories were, Leonhardt also charged, less hard-hitting than later paragraphs, which were hard-hitting.
This was, he said, evidence of the "news pages becoming more politicized." In other words, in an arguably conscious effort to be less politicized than, say, the Times, with its almost daily diet of Trump apocalypse front-page stories, The Wall Street Journal had in fact become more politicized.
It is worth noting that the Baker approach as described by Leonhardt would be, in any White House other than Donald Trump's, the standard way to cover a president. Don't editorialize. Give the White House spokesperson the benefit of the doubt. Dispute the story if you need to, but don't necessarily make the story about the dispute. Hold your fire. Don't let your personal views into the story. (Abe Rosenthal, the Times' s editor during its arguable heyday in the 1970s and '80s, used to say that one of his main jobs was to restrain his reporters' natural left-wing drift.)
But the point is that this was Donald Trump's White House and, hence, notable, even scandalously so, that the Journal was trying to cover it conventionally. Why would it?
Leonhardt's answer echoes the apparent belief in the WSJ newsroom: The WSJ was going easy on Trump because its owner, Rupert Murdoch, was pro-Trump—presumably as pro-Trump as the Times' s owners were anti-Trump. (Murdoch bought the WSJ in 2008, amid much gnashing of teeth, especially on the part of the Times, that he would "Murdoch-ize" the paper. The consensus has generally been that he hasn't—certainly not the way people thought he might.)
In fact, the Times media reporter, Jim Rutenberg, in a column on Monday, had outlined quite a conspiracy theory of Murdoch interests here, parts of which Leonhardt, with no evident independent investigation (or even one or two phone calls), repeated.
Rutenberg pegged his conspiracy to a fact that had surfaced in the Financial Times a few days before, that Ivanka Trump had been a trustee "of the nearly $300 million fortune Mr. Murdoch set aside for the two children he had with his third wife, Wendi, who arranged the trusteeship." The implication being…well, nefarious. But Rutenberg too had placed no calls. In fact, each of the Murdoch children have a "trustee," because the beneficiaries of the trust can't themselves sit on it, but, the trustee is, in effect, just a legal proxy for the beneficiary. Call it an honorary position with no power. Ivanka Trump is neither controlling nor benefiting from Murdoch money. (Rutenberg characterized this as saying Murdoch "was entangled in a financial arrangement of the most personal sort—tied to his children's financial [very] well being—along with the president's daughter.")
Still, the point is that the Trumps have a relationship with the Murdochs. Yes, but it is one less of a conspiratorial nature than an equivocal nature. Ivanka Trump has a longtime friendship with Murdoch's ex-wife, Wendi—someone Murdoch likes almost as little as he likes his other living ex-wife. Arguably, he's competitive with Wendi, resentful that she might have more access to the White House than he has. This would be understandable given that Murdoch was stoutly anti-Trump throughout the campaign, going so far as to encourage a tilt at Fox News to Hillary Clinton.
To the extent that he is now said to be currying favor with Trump—as he once curried favor with a new President Obama—that is made more difficult by the aversion of his sons, who hold wide influence over him and his companies, to Trump. Nor can it help the Murdoch-Trump conspiracy theory that the president's chief strategist, Steve Bannon, has little love for Murdoch.
Still, from The New York Times' s increasing view, you are either for Trump, a moral no man's land, or you are against him. There is no journalism in between.