Michele Bachmann Preaches 'End Times' Prophesies on Steve Bannon Show
Former Minnesota Representative Michele Bachmann appeared as a guest on Steve Bannon's War Room claiming the rise of global authoritarianism was prophesied in the Bible.
Bachmann's interview comes after she held a conference at Regent University highlighting the rise of global government as individual liberties are stripped away. Bachmann's conference was held simultaneously with the World Government Summit 2022 in Dubai where world leaders meet to "set the agenda for the next generation of governments," according to the Organisation for Economic Co-operation and Development.
Bachmann is the dean of the Robertson School of Government at Regent University and compared her conference with the World Summitt on Bannon's show.
Bachmann claimed that her conference unpacked what was being said at the world government forum.
"It's unbelievable," she said.
"Here's what's important; this is no crazy, 'hey this is a conspiracy' a bunch of wingnuts with tinfoil hats," Bannon chimed in.
"It's not anything in the future," he continued. "They understand the strategy ahead. They're in the execution phase. This is the difference between nationalism and globalism."
Bachmann called the leaders of the conference the world's "elite overlords" that are telling the world what the future will be like, a surveillance state. She said it is all prophesied in the Bible.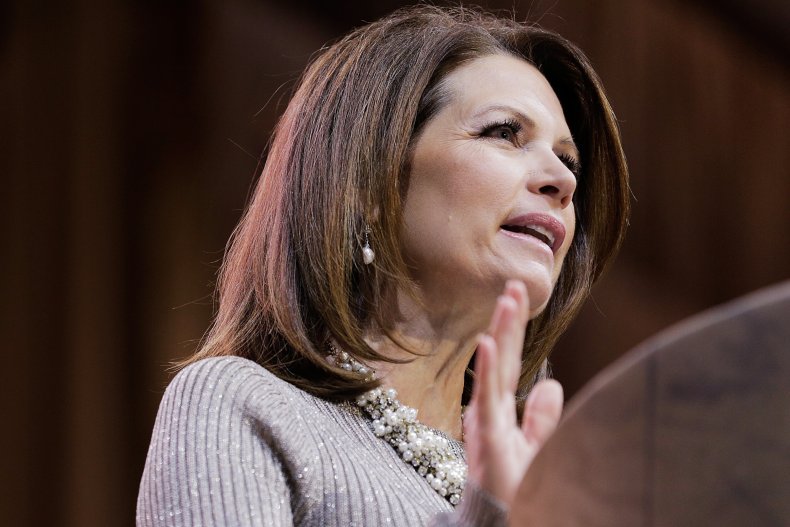 "This is actually predicted in the Bible, these times that we're living in," she said. "And what I'm seeing is that the Bible is probably the most relevant document on Earth right now because it talks about these times we are living in. It's uncanny."
"Uncanny," Bannon said.
Bachmann went on to say that world leaders, including President Joe Biden, are in a conspiracy to shift national governments to one reigning world government that will control all currency and transactions.
The World Government Summit Organization is self-proclaimed as a "global, neutral, non-profit organization dedicated to shaping the future of governments."
The "global knowledge" was founded in 2013 to develop tools, policies and models implemented for years to come.
Bachmann served as the U.S. representative for Minnesota's 6th congressional district from 2007 until 2015. She was the first Republican woman from Minnesota elected to the U.S. House of Representatives.
In 2011, Bachmann announced her bid for the Republican presidential nomination and ran for president in the 2012 election but lost the Republican nomination to Mitt Romney.
Regent University and its Board of Trustees named Bachmann as the new dean of the Robertson School of Government in 2021.
Newsweek reached out to Michele Bachmann and Steve Bannon for comment.