Obama and Clinton Should 'Be In Jail Right Now' for Spying on Trump, Former GOP Representative Michele Bachmann Claims
Days before two former members of Donald Trump's inner circle were found guilty by federal prosecutors of criminal charges, former Republican Representative Michele Bachmann said that Barack Obama and Hillary Clinton should be the ones in prison.
"I'll tell you the people who should be under investigation—really who should be in jail right now—and I don't say this to be partisan, is our former president, our former candidate for the Democrat Party. They were misusing government to advance their political wins. So rather than Donald Trump being under the microscope, it should be Hillary Clinton, it should be Barack Obama," Bachmann said in an appearance on the Christian radio program Understanding the Times on Sunday.
Bachmann also said that the entire Justice Department began to go "haywire" under Obama, calling the federal agency the "Department of Injustice" during his administration.
"We saw the corruption of the FBI, we saw the president of the United States, Barack Obama, and Hillary Clinton doing the colluding with creating a phony story by paying off a guy to write a phony memo to suggest that somehow Donald Trump was working with Russians on the election," Bachmann told the show's host Jan Markell.
Bachmann was seemingly referring to a dossier produced by former British intelligence agent Christopher Steele on Trump's ties to Russia.
She then went on to call Robert Mueller's special counsel investigation into Russian interference in the 2016 election a complete "lie." She added that what was actually discovered was that Obama and Clinton colluded "with a former spy from Russia to spy on Donald Trump's campaign, including embedding a human being in his campaign to spy on him."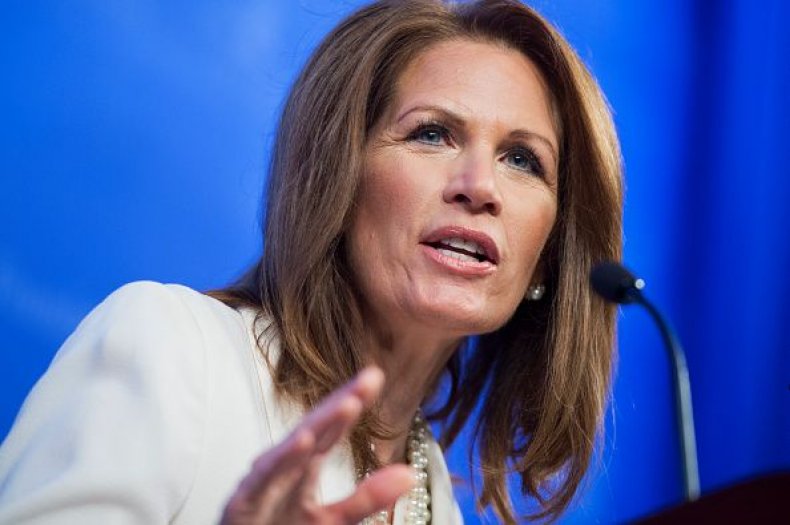 Clinton and Obama, Bachmann claimed, used "instruments of the United States government" like the CIA and FBI to spy on Trump while he was a candidate for president.
Bachmann didn't provide any evidence for her claims, and there is currently no known evidence to support the idea that a Russian spy was ordered to interfere with the Trump campaign on behalf of either Obama or Clinton.
Bachmann is a former member of the House of Representatives, who represented Minnesota's 6th congressional district from 2007 to 2015. She decided not to run for re-election to a fifth term, even though at one point she was regarded as a serious contender for the Republican presidential nomination back in 2012.
Bachmann has repeatedly praised Trump and has called the president a man of good faith. She once said that Trump's shocking election victory over Clinton was "proof positive of what the Lord did."
Obama and Clinton Should 'Be In Jail Right Now' for Spying on Trump, Former GOP Representative Michele Bachmann Claims | U.S.