Michele Bachmann's Been Talking To God And He Doesn't Want Her To Run For The Senate
Updated | Michele Bachmann had been doing the rounds and suggesting she might take another shot at Congress following the departure of Al Franken from the Senate—but after consulting God, she's decided not to.
Bachmann, who ran for president in 2012 and served in the House as a representative from Minnesota from 2007 to 2015, told radio host Jan Markell she has ruled out running for the seat after finding she didn't have any "sense from the Lord" over the issue.
Related: Nashville Mayor Megan Barry admits affair with head of her security: 'God will forgive me'
"I had a lot of people contacting me, people wanting to give me money and be a part of my team to run for a campaign," Bachmann said. "But what I did is, I did what I have done on every other time I thought about running—I took it to the Lord in a very quiet way. I took it before the Lord, I prayed, I tried to have my ears open and hear what God was saying to me."
She added, "It became very clear to me that I wasn't hearing any call from God to do this."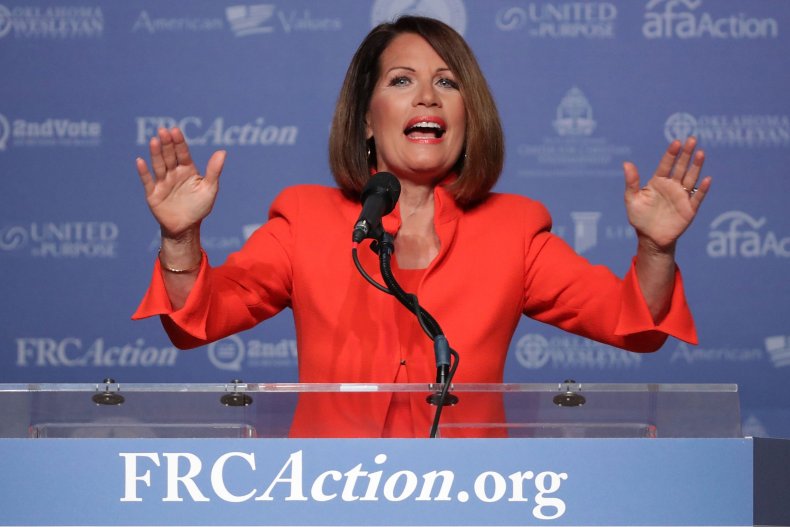 Franken stepped down from his position in the Senate at the start of the year over sexual misconduct allegations. A number of women accused the Democratic senator of inappropriate touching at a series of political events.
Minnesota Public Radio reported that Bachmann said as late as January that she still hadn't ruled out running. "The question is, Should it be me, should it be now? But there's also a price to pay. The price is bigger than ever because the swamp is so toxic," she said.
Earlier in the year, a billboard appeared in St. Paul, Minnesota, in which a cartoon God told Bachmann not to run.
Following Franken's departure, Minnesota Lieutenant Governor Tina Smith was sworn in to replace him. She has said she will run in a special election in November to finish the last two years of his term.
Minneapolis attorney Nick Leonard has said he will contest the seat on a Democratic ticket, and Republican state Senator Karin Housley is also running for the seat.
Correction: This article has been updated to correct the spelling of Michele Bachmann's name.