Former Chairman of Michelin North America Drops Support for Lindsey Graham, Backs Democratic Challenger
A former backer of Sen. Lindsey Graham has put his support behind the South Carolina incumbent's 2020 challenger, it has been reported.
Ex-Michelin North America chairman Richard Wilkerson told the Charleston Post and Courier in a statement on Tuesday that he would be backing Democratic candidate Jaime Harrison in the 2020 race, touting the would-be senator as "the change South Carolina needs."
Federal Election Commission (FEC) data shows that Richard N. Wilkerson donated $500 to the Jaime Harrison for U.S. Senate campaign on December 1 last year.
According to the Post and Courier, Wilkerson donated thousands of dollars to the incumbent Sen. Graham since 2011. FEC records show that he made a $2,600 donation to Sen. Graham's 2016 presidential campaign committee back in March 2015.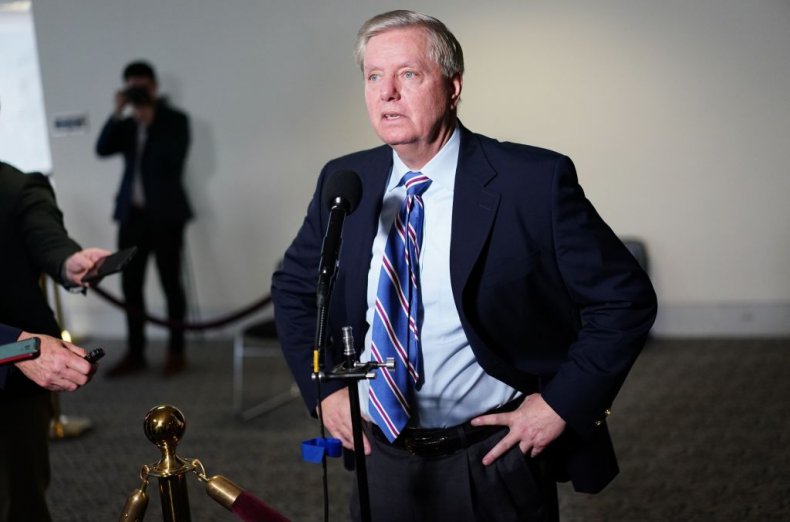 He also served on the senator's South Carolina campaign finance committee, according to the Post and Courier.
In a statement first reported by the newspaper, Wilkerson said, "I am confident that as our next U.S. Senator, [Harrison] will be a tireless advocate for creating well-paying jobs, improving our state's health care system, and training the next generation for the jobs of tomorrow.
"Jaime is the perfect candidate to bring together South Carolinians from all walks of life."
He also said that he had chosen to back Harrison having experienced working with the candidate when he was a Podesta Group lobbyist in Washington, D.C.
Newsweek has attempted to contact Wilkerson for comment and confirmation through the South Carolina Institute of Medicine and Public Health, where he is listed as a member of the board of directors. The campaign for Sen. Graham has also been contacted for comment. This article will be updated with any response.
In a statement on Wilkerson's backing, Harrison said: "I am honored to receive the endorsement of Dick Wilkerson, one of South Carolina's most respected business leaders.
"I look forward to working with all of our state's business leaders to bring back hope to residents of the Palmetto State by building a 21st century economy for all."
Heading into the South Carolina senate race this year, Sen. Graham has raised more cash than Harrison, and consistently lead the Democratic challenger in local polls.
According to a survey published by Marist College in late February, Sen. Graham had a 17-point lead over Harrison as 54 percent of South Carolina voters told pollsters they would be backing the incumbent.
A partisan poll published by the Harrison campaign on March 23 also found Graham to be 4 points ahead of his contender.