Michelle Carter Seeks Parole After Teen Texting Suicide Conviction
Michelle Carter, convicted of involuntary manslaughter for the death of her 18-year-old ex-boyfriend, is seeking parole for her 2017 conviction.
Carter, 22, has served seven months of her 15-month sentencing. She appeared in front of a Massachusetts state parole board Thursday asking for early release from jail. No decision was made at the hearing, which is usually delivered in writing at a later date. There's no set timeline for a decision.
Carter's case gained greater media attention after I Love You, Now Die: The Commonwealth v. Michelle Carter, a two-part HBO documentary film, aired in March.
Carter was charged with encouraging the 2014 death by suicide of then-boyfriend Conrad Roy III. Records showed Carter regularly supported and encouraged Roy's suicidal thoughts and behavior by text. But it wasn't the texts that led to her conviction, but rather a phone conversation she testified to having with Roy on the day of his death and later confirmed in a text Carter sent to a friend.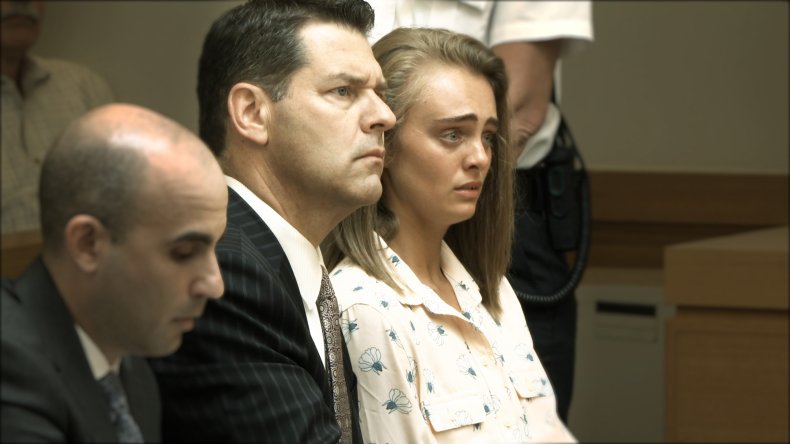 "He [Roy] breaks that chain of self-causation by exiting the vehicle," Judge Lawrence Moniz said at her 2017 trial, referring to the phone conversation between Roy and Carter.
Roy had gotten out of the vehicle, which was filled with carbon monoxide, but Carter told him to get back in. "She admits in a subsequent text that she did nothing, she did not call the police or Mr. Roy's family. She called no one. And finally, she did not issue a simple additional instruction: 'Get out of the truck.'"
Carter claimed responsibility for Roy's death in a text to a friend.
"Sam his death is my fault, like honestly, I could have stopped him," Carter wrote in the text. "I was on the phone with him, and he got out of the car because it was working and he got scared."
She then told her friend she told Roy to "...get back in."
Carter's trial became a debate about free speech, with many arguing that a criminal conviction based on text or phone conversations a slippery slope.
"Will the next case be a Facebook posting in which someone is encouraged to commit a crime?" Harvard Law professor Nancy Gertner told the New York Times in 2017. "This puts all the things that you say in the mix of criminal responsibility."
"This is saying that what she did is killing him, that her words literally killed him, that the murder weapon here was her words," Matthew Segal, a lawyer with the American Civil Liberties Union of Massachusetts, told the New York Times in 2017. "That is a drastic expansion of criminal law in Massachusetts."
Carter was originally sentenced to two-and-a-half years in jail, but that was later reduced to 15 months and five years probation. She began her jail time in February at the Bristol County House of Corrections in Massachusetts.
Her case has led to Massachusetts lawmakers introducing "Conrad's Law," which seeks to make any manipulation of someone to commit death by suicide a crime punishable of up to five years in prison.