Michelle Carter Sentence Update: New Lawyers Ask Court to Overturn Texting Suicide Conviction
A new team of attorneys for a young woman convicted of involuntary manslaughter in the suicide death of her friend is pushing for that conviction to be overturned. Michelle Carter's new lawyers argued in an appeal that the ruling was unconstitutional, according to MassLive.
Carter, now 20, was charged with involuntary manslaughter in the 2014 death of Conrad Roy III. Roy, 18 at the time, used carbon monoxide from a truck's exhaust system to poison himself. In text message evidence presented during the high-profile trial, Carter repeatedly urged Roy to take his own life in the lead-up to his suicide.
"Well…I guess [that I am frustrated], just because you always say you are gonna do it but you don't, but last night I know you really wanted to do it and I'm not mad," she said in one text message, according to court records.
"You can't think about it. You just have to do it. You said you were gonna do it. Like I don't get why you aren't," she said in another text.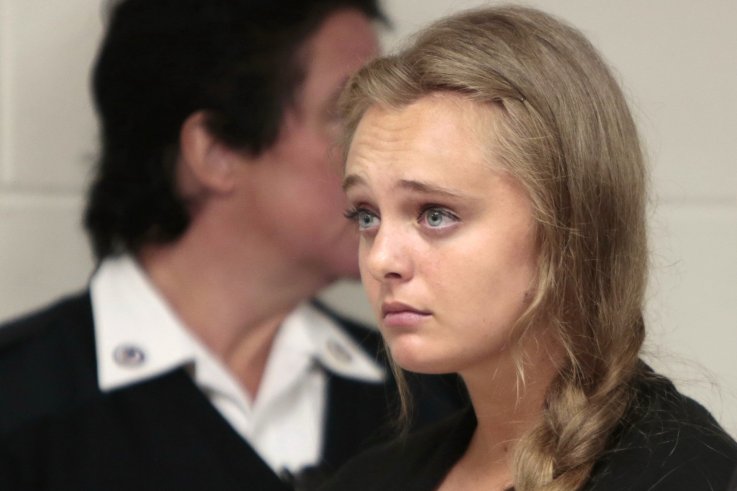 In another message, she presented him with various ways he could take his own life. Testimony presented at the trial said Carter was on the phone with Roy at the time of his suicide, and when he got scared and got out of his truck, she told him to get back in.
"Conrad got out of his truck as he was being poisoned and he got scared," Assistant District Attorney Maryclare Flynn said at the trial. "The defendant f----- told him to get back in."
Carter was convicted of involuntary manslaughter in June.
"She instructed him to get back in the truck which she has reason to know is becoming a toxic environment to human life," Judge Lawrence Moniz said in a statement regarding the verdict.
Carter's new lawyers have now asked the Massachusetts's Supreme Judicial Court, the highest court in the state, to review the conviction. The lawyers argued that Carter's conviction would set a precedent that "words alone" can be responsible for death.
"Carter is the first defendant to have been convicted of killing a person who took his own life, even though she neither provided the fatal means nor was present when the suicide occurred," Carter's lawyers wrote, according to MassLive. "Nothing in the Massachusetts law made clear to 17-year-old Carter, or anyone else, that such circumstances could constitute involuntary manslaughter."