Michelle Obama 55th Birthday: The Former First Lady in Pictures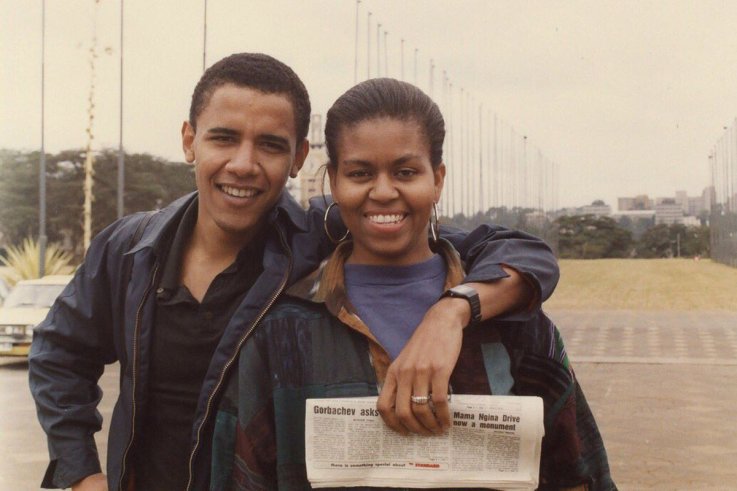 Barack Obama has given the world another reason to miss the former first couple. For Michelle Obama's 55th birthday on January 18, he tweeted an adorable throwback photo of the pair, thought to have been taken in the Kenyan city of Mombasa in the early 90s.
He captioned the picture: "I knew it way back then and I'm absolutely convinced of it today — you're one of a kind, @MichelleObama. Happy Birthday!"
The post was retweeted by the former first lady: "Feeling so incredibly thankful for my South Side roots, my soul-affirming partner and daughters, and every unimaginable twist and turn over these 55 years," she captioned the retweet. "Can't wait to see what becomes of the next one!"
In contrast to the guarded, stilted appearance of the current first couple, the Obamas continue to be extremely open about the difficulties, as well as the enduring affection, in their 27-year marriage. In her 2018 memoir, Becoming, Michelle wrote candidly about growing up in a small apartment in Chicago's South Side, her journey to becoming a Princeton and Harvard-educated lawyer and then a campaigning First Lady.
The book also details her struggle with infertility, and the subsequent difficulty of being a working mother to daughters Malia and Sasha, as well as a wife to a man with presidential ambitions. She credits couples counseling for allowing the pair to loosen the "knot" of resentment, and allowing Michelle to carve out a space for her own needs in the marriage.
Since Barack's presidency ended, Michelle has continued to come into her own. Becoming spent the longest time at No. 1 on Amazon's best seller list for any book since 2012's Fifty Shades of Grey. In December 2018, she was voted as America's most admired woman in a Gallup poll, ending Hillary Clinton's 17-year run at number one.
Yet it looks unlikely that Michelle will use this cultural capital for political gain. "I've never had the passion for politics," she told a leadership conference in 2018 when asked if she would consider a presidential run in 2020. "I just happened to be married to somebody who has the passion for politics, and he drug me kicking and screaming into the arena."
Read more: Michelle Obama Birthday: Quotes From the Former First Lady
What she decides to do next is open for debate, but her previous form suggests it will be nothing short of excellent. To celebrate Michelle's incredible life and career as she turns 55, Newsweek has chosen some of her best moments, from her youth to her life after the White House.