Barack Obama Shares Happy Birthday Message for Michelle: 'In Every Scene, You're My Star'
Former president Barack Obama has paid tribute to Michelle Obama on her 56th birthday.
Barack Obama tweeted "in every scene, you are my star...Happy birthday, baby," while sharing four images of the couple embracing each other.
The tweet was liked on Twitter more than 75,000 times within 10 minutes of it being sent. The same photo was posted on Barack Obama's Instagram page, where it gained more than 750,000 likes on the app in less than 30 minutes.
The message from the former president one was of a number of birthday wishes sent to Michelle Obama online.
"Happy Birthday @MichelleObama," tweeted UN Women. "Thank you for being an inspiration to women and girls around the world."
The tweet was sent along with a quote from Michelle Obama herself, saying: "There is no limit to what we as women can accomplish."
Publishing company Penguin Random House paid tribute by tweeting a line from Michelle Obama's best selling memoirs, Becoming.
"There's power in allowing yourself to be known & heard, in owning your unique story, in using your authentic voice. And there's grace in being willing to know & hear others. This, for me, is how we become," the tweet read.
Tennis legend Billie Jean King added: "Happy birthday to #MohammadAli, @MichelleObama, and #BettyWhite (98 today!), three fierce forces of nature who inspire us all to work toward our dreams and never give up."
Michelle Obama has yet to acknowledge her birthday on social media. On December 31, 2019, she did post a statement on Facebook in which she described the previous decade which saw her spend seven years in the White House as a "bit of a whirlwind."
"It's not easy to take stock of all the ups and downs that go into a single week, let alone more than 500 of them," she said. "Ten years ago at this time, our girls were sixth and third graders. Our family hadn't been in the White House for even a year yet, and Bo was still pretty much a puppy
"A decade like this one was never a part of my plan—not even close. But I couldn't be more thankful for the opportunities, the relationships, and the growth I've experienced over these years," she added.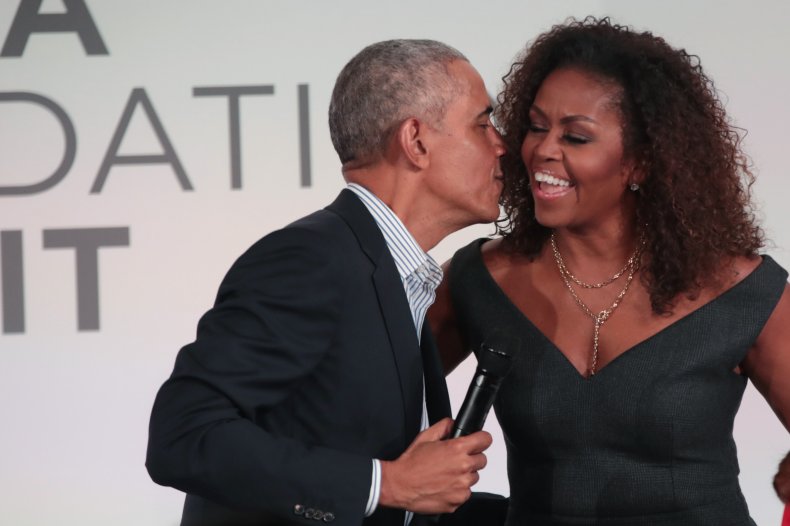 "Today, I'm thankful for all of those moments over the past decade that helped me get to where I am. I'm thankful for the worries and the anxieties, the failures and false starts.
"And most of all, I'm thankful that after all of it, we came out whole. Now on the other side of this decade, Bo's got a trusty sidekick named Sunny. We've settled into new routines after two terms in the White House. And although the girls are gone away at college now, we're all back together for the holidays—right where we belong."