Michelle Obama Denounces 'Partisan and Unpatriotic' Efforts to Limit Voting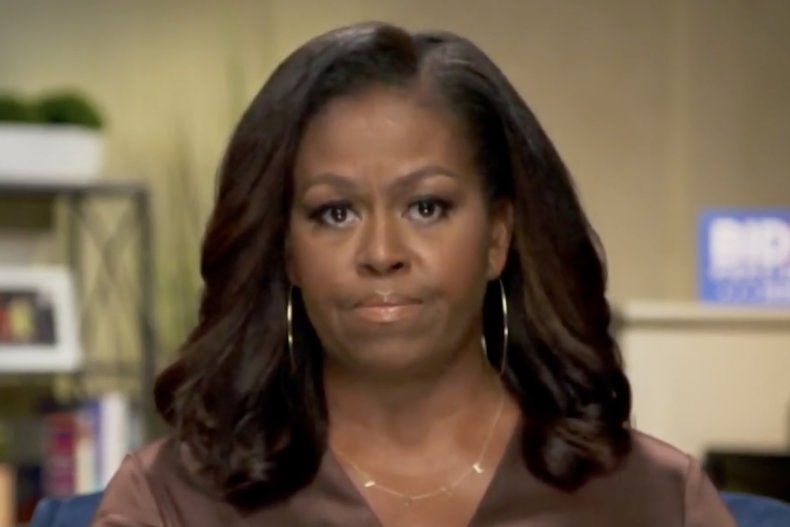 Former first lady Michelle Obama has lashed out at "partisan and unpatriotic" efforts to limit voting while urging the Senate to pass a voting rights bill championed by Democrats.
Obama said that "nothing is more important to our democracy than safeguarding our right to vote" while promoting the passage of H.R. 1, the For the People Act, on Thursday. The bill was approved in the House on Wednesday, albeit without the support of a single Republican. While urging the Senate to pass the bill, Obama denounced what she characterized as "infuriating" attempts by Republicans restrict voting access at the state level.
"Our democracy remains under attack by the partisan and unpatriotic actions of those at the state level who are doing everything they can to curtail access to the voting box," wrote Obama. "Make no mistake — the idea that we cannot both hold secure elections and ensure that eligible voters can make their voices heard is a false choice."
"It's based on lies and it flies in the face of our history," she continued. "It is sad. It is infuriating. And it is a genuine threat to our future that must be taken seriously."
Lawmakers in 43 states had introduced 253 bills to restrict voting access as of February 19, according to the Brennan Center. The bills have been coming at a breakneck pace, with only 165 similar measures in 33 states having been introduced weeks earlier, a number that was still far higher than the 33 bills in 15 states that were introduced at roughly the same time in 2020.
However, efforts to expand voting access both federally and at the state level have also been moving quickly, with Brennan Center data showing that lawmakers in a separate set of 43 states had introduced 704 bills that include provisions with expansive effects by February 19.
The massive For the People Act includes provisions to automatically register voters, expand access to absentee ballots and early voting, limit the purging of voter rolls and restore voting rights for felons that have completed their sentences. It also aims to ban partisan gerrymandering and impose new requirements for transparency in campaign finance.
Another requirement would mandate the president and presidential nominees to release 10 years of tax returns, a provision that may have been prompted by former President Donald Trump's noted refusal to follow the tradition of voluntarily offering the returns.
Republicans have described the bill as a partisan effort on the part of Democrats, with former Vice President Mike Pence calling it an "unconstitutional power grab" in a Daily Signal opinion article on Wednesday. Michelle Obama praised the House for passing the bill and expressed hope that the Senate would advance the legislation to the desk of President Joe Biden.
"I am thrilled to see the House of Representatives pass the For the People Act," Obama wrote. "This bill will make it easier for ordinary Americans to register and cast a ballot. It will ramp up election security and end partisan gerrymandering... I urge the Senate to follow suit and pass this bill as soon as possible."
The successful passage of the bill is likely to be a tall order. Even if Democrats are unified, at least 10 Republicans in the Senate will likely need to approve of the legislation for it to successfully avoid a filibuster. It is not clear that any Senate Republicans support the bill.
Newsweek reached out to the Republican National Committee for comment.