Michelle Obama's DNC Speech Hits Trump When He's Down With Female Voters
Former first lady Michelle Obama's speech branding President Donald Trump "in over his head" comes as he already faces a battle to win over female voters ahead of November.
Obama, delivering the keynote address at the Democratic National Convention on Monday, labeled Trump "the wrong president for our country."
"He has had more than enough time to prove that he can do the job, but he is clearly in over his head. He cannot meet this moment. He simply cannot be who we need him to be for us. It is what it is," she said.
As well as these comments on Trump, she urged Democrats to get behind Joe Biden, adding: "If we have any hope of ending this chaos, we have got to vote for Joe Biden like our lives depend on it."
Obama's comments mark a high-profile intervention, with her deemed the most admired woman in the U.S. based on Gallup research in both 2019 and 2018. YouGov polling for 2019 also ranked her the world's most admired woman.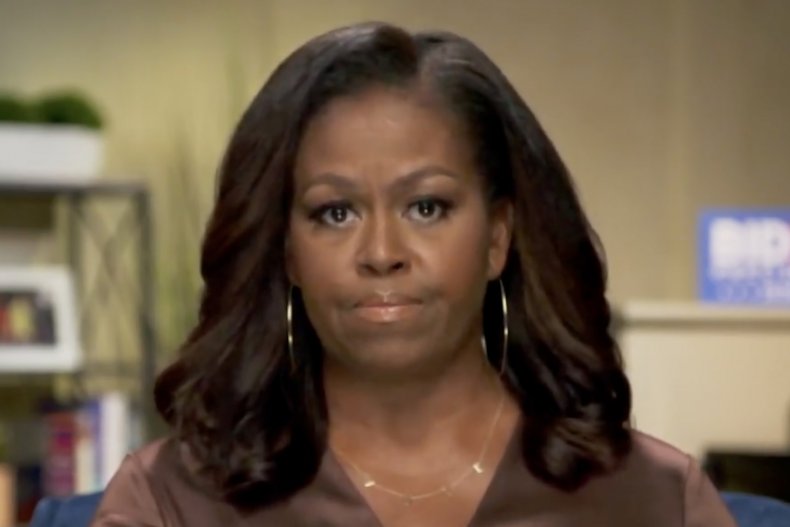 In previous comments, she criticized women who had voted against the 2016 Democratic presidential candidate Hillary Clinton, suggesting they "voted against their own voice."
her latest remarks come as Trump already lags behind Biden in terms of approval—particularly among females across the nation, according to polling.
In a recent YouGov/Yahoo! News survey, 51 percent of females asked said they had a very unfavorable view of Trump. For Biden, this measure was at 30 percent.
Trump also fell behind on a whole, with 47 percent of all 1,529 U.S. adults asked stating they had a very unfavorable view of him. While in comparison 32 percent of those asked, between August 14 and 15, said this of Biden.
This comes after previous polling showed suburban housewives mostly disapproved of Trump, despite the president insisting they will support him come November.
Pew Research Center polling showed Trump lagging behind Biden in terms of support from Biden, with 56 percent either strongly for or leaning towards him, compared to 42 percent the other way.
The gap has been branded a "gender chasm" between the Democratic presidential candidate and the Republican incumbent.
Other polling has also indicated this could be exacerbated after Biden chose Sen. Kamala Harris (D-CA) as his running mate, as she is more popular than both the Democratic presidential candidate and Trump among women.
It comes with Trump still behind Biden in the polls by an average of around 8 points, according to poll trackers from FiveThirtyEight and Real Clear Politics.
Newsweek has contacted the Trump campaign, Biden campaign and Obama for comment.
Trump has hit out at Michelle Obama on Twitter following her comments, criticizing her husband former President Barack Obama.
He said the reaction to swine flu under the Obama administration was considered "weak and pathetic" but they got a "free pass from the Corrupt Fake News Media!"
"Somebody please explain to @MichelleObama that Donald J. Trump would not be here, in the beautiful White House, if it weren't for the job done by your husband, Barack Obama. Biden was merely an afterthought, a good reason for that very late & unenthusiastic endorsement.....," he wrote.
"....My Administration and I built the greatest economy in history, of any country, turned it off, saved millions of lives, and now am building an even greater economy than it was before. Jobs are flowing, NASDAQ is already at a record high, the rest to follow. Sit back & watch!"
Update 08/18/2020: This page was updated to include comments made by President Donald Trump.