Former President George H.W. Bush's state funeral on Wednesday saw the awkward reunion of the Trumps, Obamas and Clintons, and former first lady Michelle Obama seemed to reflect the uneasiness of the encounter on her face.
Michelle Obama sat back in her seat and watched as President Donald Trump and first lady Melania Trump took their seats next to her husband, former President Barack Obama, at the Washington National Cathedral. The former first lady then watched as Donald Trump shook hands with her husband, and after a brief pause, she raised her eyebrows and shook the 45th president's hand herself. But she did not look thrilled.
The interaction between Donald Trump and Michelle Obama may have been particularly strained because the former first lady wrote in her memoir, Becoming, published last month, that she would "never forgive" Trump for pushing the "birther" conspiracy theory that falsely claimed that Barack Obama had not been born in the United States, which would have made him ineligible to be president.
"Donald Trump, with his loud and reckless innuendos, was putting my family's safety at risk," Michelle Obama wrote.
Trump, in a news conference shortly after the book's publication, answered a reporter's question about the memoir by attacking the former first couple again.
"Oh, Michelle Obama said that? I haven't seen it. I guess she wrote a book, she got paid a lot of money to write a book, and they always insist that you come up with controversial–" President Trump said.
"Well, I'll give you some controversy back. I'll never forgive him [Barack Obama] for what he did to our United States military by not funding it properly," Trump said. "It was depleted. Everything was old and tired, and I came in and I had to fix it, and I am in the process of spending tremendous amounts of money."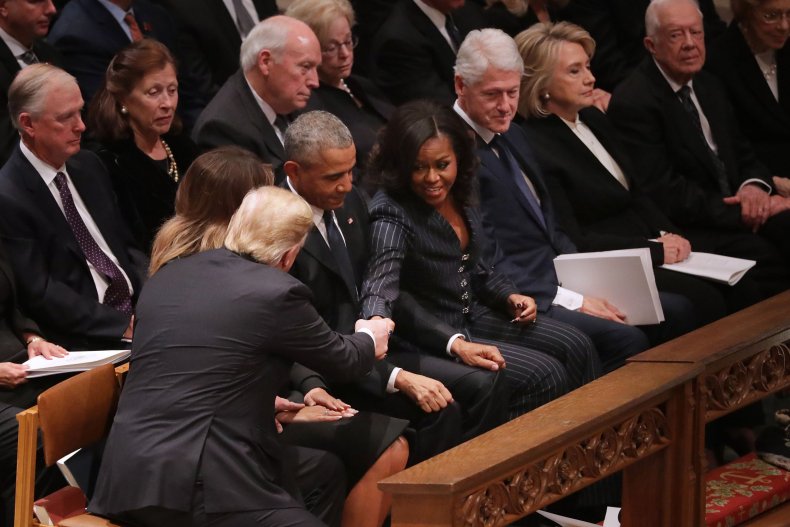 Before the Trumps took their seats, President Trump's 2016 presidential election opponent Hillary Clinton looked over and nodded several times as Melania Trump shook ex-President Bill Clinton's hand and made a hand gesture at her, but the former secretary of state did not extend her hand or crack a smile. Bill Clinton looked over at President Trump, but Hillary Clinton looked away.
Michelle Obama snubbed President Trump during a women's leadership conference in April by saying that Hillary Clinton was more suited for the job in the Oval Office.
"The best qualified candidate in this last race was a woman," Michelle Obama said. "And she wasn't perfect, but she was way more perfect than many of the alternatives."