If Michelle Obama Has Her Way, Trump Won't Stop Healthy Lunches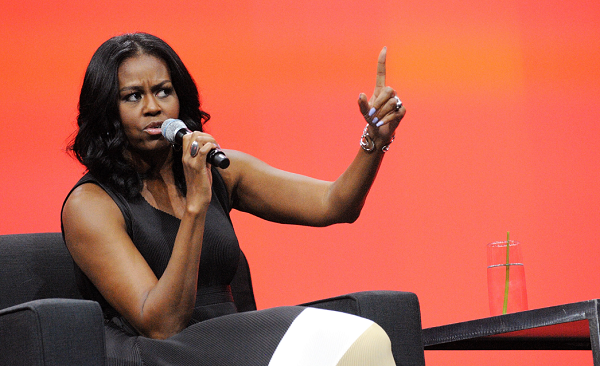 Michelle Obama has something to say to the current government in America: "Don't play with our children's health."
That was the former lirst lady's message when she spoke at the annual Partnership for a Healthier America Summit Friday, Politico reported.
During Obama's public appearance, she advocated for the health-conscious and educational programs she launched while her husband was in the White House, including the Let Girls Learn and Heathy Eating Initiative, both of which were high on President Donald Trump's federal budget chopping block.
"We've got to make sure we don't let anybody take us back," the former first lady said. "If we really want to make this country great, then our kids need to be healthy and they need to have access to the best. Not just some of them, but all of them."
Under her Healthy Eating Initiative, guidelines were changed in the National School Lunch Program to require school cafeterias to make healthier lunches. Servings of fruits and vegetables were increased under the program, while items high in fat, sugar and sodium were limited on school lunch menus. The program rolled out along with Obama's Let's Move campaign, which sought to combat obesity in children.
Obama encouraged parents to speak up to their local governments to ensure their children had healthy options for school lunch.
"My commitment to these issues is real," she said. "When you hear me getting riled up in this chair, it's not politics—it's parenting that's really moving me."
Earlier this month, Agriculture Secretary Sonny Perdue signed off on plans to start rolling back the regulations concerning public school lunches that were put into place under the Obama administration, allowing schools to dictate their own lunch programs.
"This announcement is the result of years of feedback from students, schools and food service experts about the challenges they are facing in meeting the final regulations for school meals," Perdue said in a statement at the time. "If kids aren't eating the food and it's ending up in the trash, they aren't getting any nutrition—thus undermining the intent of the program."
When the Healthy, Hunger Free Kids Act rolled out in 2010, in conjunction with Obama's Healthy Eating Initiative, students were less than thrilled with the new, healthier lunch options, which included increased servings of whole grains, fruits and vegetables.
Perdue said more than 1.4 million school children were deciding against ingesting school lunches, saying in a tweet that meals for students needed to be "both nutritious AND tasty."
During the speaking engagement, Obama blasted Trump's decision to cut the program, without ever directly mentioning the new president.
"You have to stop and think: Why don't we want kids to have good food at schools? What is wrong with you?" she said. "Why would that be political?"