Michelle Obama Drew Most Social Media Interactions Over Biden and Harris During DNC, Data Suggests
Former first lady Michelle Obama received the most social media interactions over Democratic presidential candidate Joe Biden and his running mate California Senator Kamala Harris during the Democratic National Convention (DNC), a study shows.
According to data created by NewsWhip and provided exclusively to Axios, across the 100 most viral stories about the DNC, Obama's speech received approximately 7.6 million social media interactions. The interactions included likes, comments and shares across social media.
Following behind Michelle Obama is former President Barack Obama, who received 1.4 million social interactions, according to the data, while Biden and President Donald Trump both received 1.4 million social interactions.
According to the data, Harris received the least amount of social interactions, with approximately 89,000.
According to Axios, many of the social media interactions Michelle Obama received were focused on her speech, with many news sources published her remarks verbatim for readers to view from a neutral stance.
"That's the story of America. All those folks who sacrificed and overcame so much in their own times because they wanted something more, something better for their kids," Obama said towards the beginning of her address.
As she continued with her remarks, Obama focused on different aspects of the presidency, and said that she was "one of a handful of people living today who have seen firsthand the immense weight and awesome power of the presidency."
She also criticized Trump in his handling of the presidency: "So let me be as honest and clear as I possibly can. Donald Trump is the wrong president for our country. He has had more than enough time to prove that he can do the job, but he is clearly in over his head, He cannot meet this moment. He simply cannot be who we need him to be for us. It is what it is."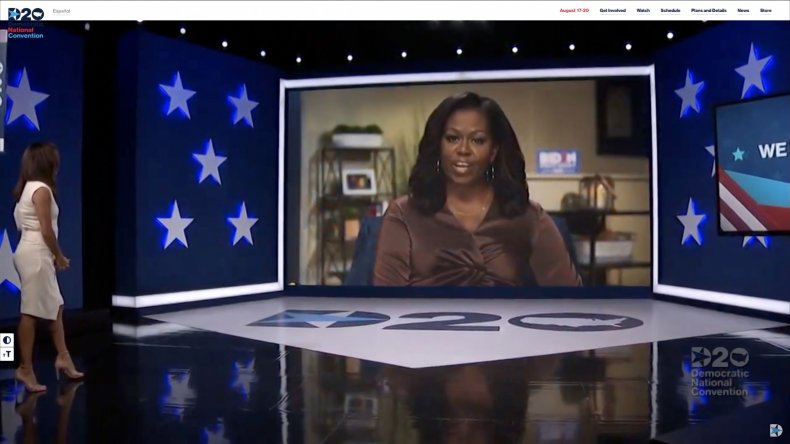 In addition to the speech, many people across social media spoke about the necklace Michelle Obama wore during her remarks, that featured the letters "V-O-T-E."
As reported by CNN, Chari Cuthbert, the designer who created Obama's necklace as part of her Los Angeles-based boutique jewelry line, said that after the speech, orders for the necklace skyrocketed nearing 2,000.
A poll recently conducted by Morning Consult/Politico showed the former first lady as Americans' favorite across the Democratic Party prior to the DNC. According to that survey, 60 percent of all respondents said they had a favorable view of Michelle Obama, the most across all DNC speakers. Following behind Obama was her husband, who received a favorable view from 58 percent of respondents.
The Morning Consult/Politico poll surveyed 1,994 registered voters from August 14 to August 16, and has a margin of error of plus or minus two percentage points.
Newsweek reached out to Michelle Obama's representatives for comment, but did not receive a response in time for publication.