What Michelle Obama Has Said in Final Week of Election
With just one day to go until election 2020, it's been all hands on deck from Republicans and Democrats alike for the final push at the polls.
Former first lady Michelle Obama has been urging the public to get out and vote Democrat in key states as her husband Barack Obama has been on the Joe Biden campaign trail.
Mrs. Obama has been highly active on social media in recent days, sharing resources to enable people to make sure they can vote safely and on time in their state.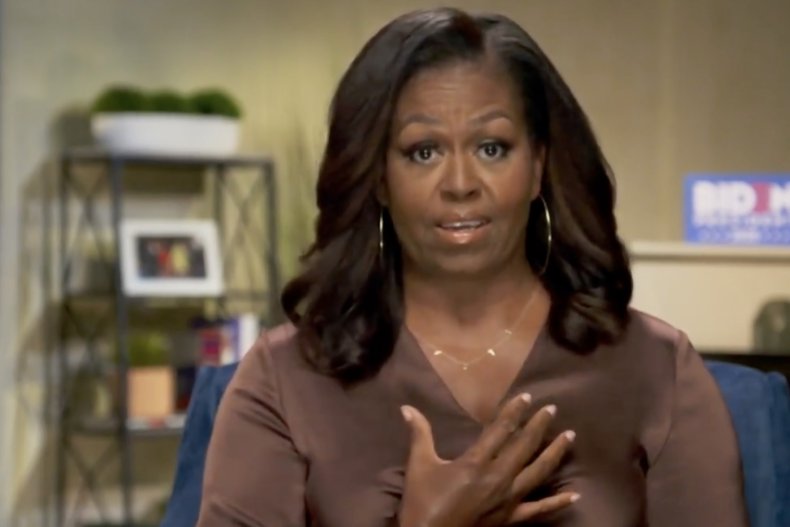 On November 1, Michelle shared a series of photos on Twitter, urging followers to start a "voting squad."
"When we all vote, we can make sure that nobody's left behind," she wrote. "If you haven't voted yet, make sure to squad up with your #VotingSquad and make a plan to vote together on #ElectionDay. You can find your polling place at http://weall.vote/hub."
She also thanked first-time voters for showing up to the polls this year, sharing a video about Lebron James' mother's experience voting.
"I could not be prouder of all the first-time voters out there, including @KingJames' mom!" she said. "There is too much at stake to sit this one out. Make your plan to vote right now."
On October 31, Michelle shared an infographic telling her followers that there was still time to register to vote in some states.
"It's not too late to make your voice heard," she said. "You can still register in some states. And everyone can cast their ballot from now until Tuesday, November 3rd, the last day to vote."
Prior to this, Michelle tweeted about how her and Jill Biden had teamed up to show their gratitude to military families on the campaign trail and over the years.
"Jill and I have done a lot of work with veterans and military families together over the years," she wrote. "Her experience as a military mom was at the heart and soul of that work. The Bidens know the sacred obligation we have to our heroic men and women in uniform—because they've lived it."
On October, 30, Michelle dedicated a special post to women, specifically the importance of the women's vote.
She shared a moving ode to women in politics and women making societal change with a video dedicated to women getting the vote through to recent women's marches.
"There is no limit to what we, as women, can accomplish when we use our voices and vote," she tweeted. "With only days left before the election, we have to keep showing up in numbers that can't be denied and voting like our lives depend on it. Vote for Joe and Kamala."
Previously, the former first lady endorsed Biden back on October 7 in a video where she also launched a scathing attack on Trump.
"In the greatest crisis of our lifetimes, he doubled-down on division and resentment, railed against measures that could have mitigated the damage," Michelle said of Trump and his administration's response to the coronavirus crisis.
"Seven months later, he still doesn't have a plan for this virus. Seven months later, he still won't wear a mask consistently and encourage others to do the same," Obama said. "Instead, he continues to gaslight the American people by acting like this pandemic is not a real threat."