Video: Michelle Obama Takes Out Harry Styles in Star-studded Dodgeball Game on James Corden's 'Late Late Show'
James Corden faced off against Michelle Obama in a star-studded dodgeball game in the latest episode of The Late Late Show, with Harry Styles the main casualty.
To mark the start of a week of London broadcasts, the talk show host took on the first lady in a USA vs. U.K. showdown. The segment starts with 40-year-old Corden driving with 55-year-old Obama in a reference to the viral hit Carpool Karaoke episode the two filmed together back when she was in the White House.
But instead of singing together, the two start arguing over which country is better, America or Great Britain. Corden claims the U.K. is better at sports, to which Obama replies "I don't think that's true, and if it is you have nothing to do with it." They decide to determine it once and for all in an epic game of dodgeball.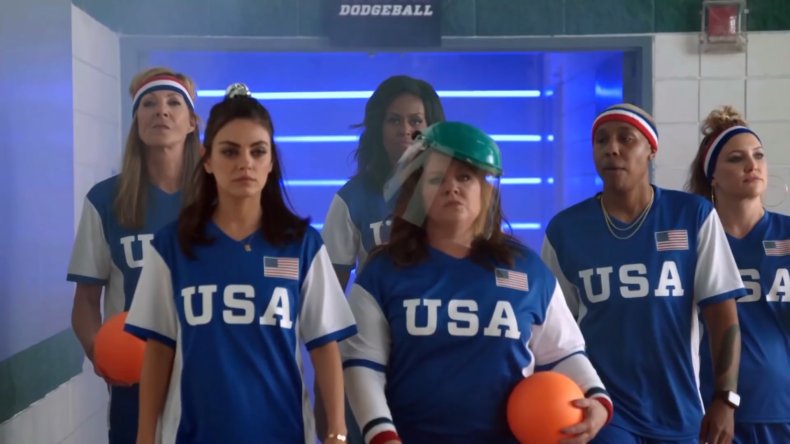 The two then take to the court in respectively star-studded teams. Obama leads an all female American team featuring Melissa McCarthy, Mila Kunis, Allison Janney, Lena Waithe and Kate Hudson, while Corden heads up a British team including Harry Styles, Benedict Cumberbatch, John Bradley (Samwell Tarly from Game of Thrones) and Late Late Show band leader and honoree Brit for the game, Reggie Watts.
35-year-old actress Kunis told the camera, "When Michelle Obama calls and asks you to do anything, you just say yes."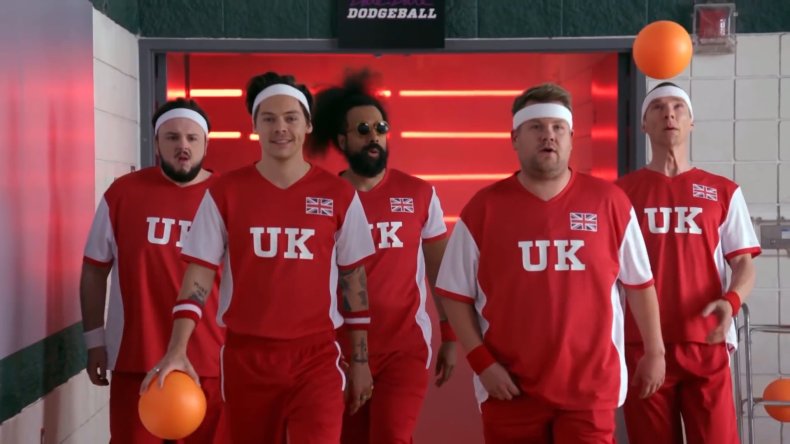 On the other hand, former One Direction singer Harry Styles said, "When James Corden calls you, you initially ignore the call, and then he keeps calling you, and he starts texting saying 'hey did you get my call?' and then he shows up at your house, your work, your hairdresser, your pilates class and your shower."
In the first round of the best of three contest, Team USA demolishes the British celebrities until only Harry Styles is left. The 25-year-old is then viciously dispatched by Obama as she hurtles a dodgeball straight into the pop star's groin, causing him to collapse to the floor in pain.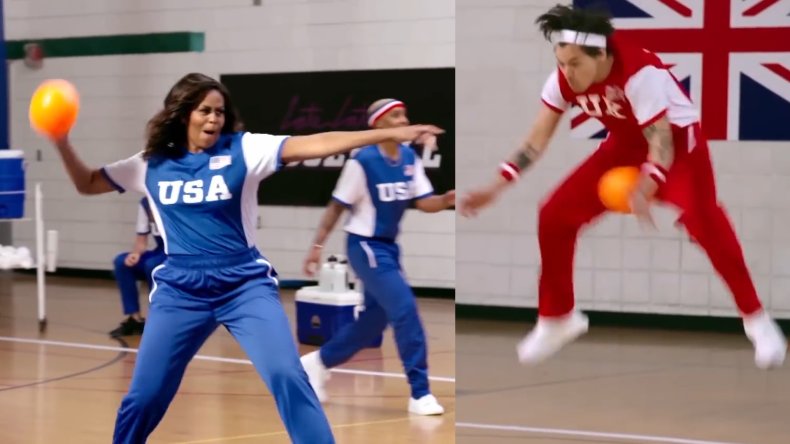 After Team U.K. refreshes with some afternoon tea, the second round sees a reversal in fortunes as Team USA are blown away, setting up a decider. The final round is a close contest between the two, with actor Benedict Cumberbatch looking particularly guilty after he hits Obama. The Sherlock and Dr. Strange star was the final Brit standing, but was hit by Waithe to ensure victory for Team USA.
To rub salt in the wounds, Waithe throws a final ball straight at Corden's face, before the segment ends with Corden handing over the trophy to Obama's triumphant team.
Watch the full video below: